Koreatown is a neighborhood that provides residents and travelers with a diverse and always-active cultural scene. With a central location in Downtown Los Angeles, many must-see tourist-attractions, landmarks, activities and museums are within walking distance.

Koreatown also offers a wide array of premium shopping options, museums, luxury apartment complexes, student housing, and some of the best brunch options in Downtown Los Angeles. That's right! Koreatown, the place that already had it all, is home to a burgeoning scene of brunch restaurants.
The brunch scene in Koreatown is just as diverse as the community and offers a smorgasbord of options. Many of these spots include the basics like coffee, pancakes, and bottomless mimosas. Some places also offer brunch in a fusion or exclusively Korean-style. For the breakfast connoisseurs, Koreatown also has several bourgeois brunch spots.
Keep reading to get an in-depth overview of all the best bets for brunch in Koreatown. Along the way, you'll also develop an understanding of why this unique and growing neighborhood is affectionately loved by so many.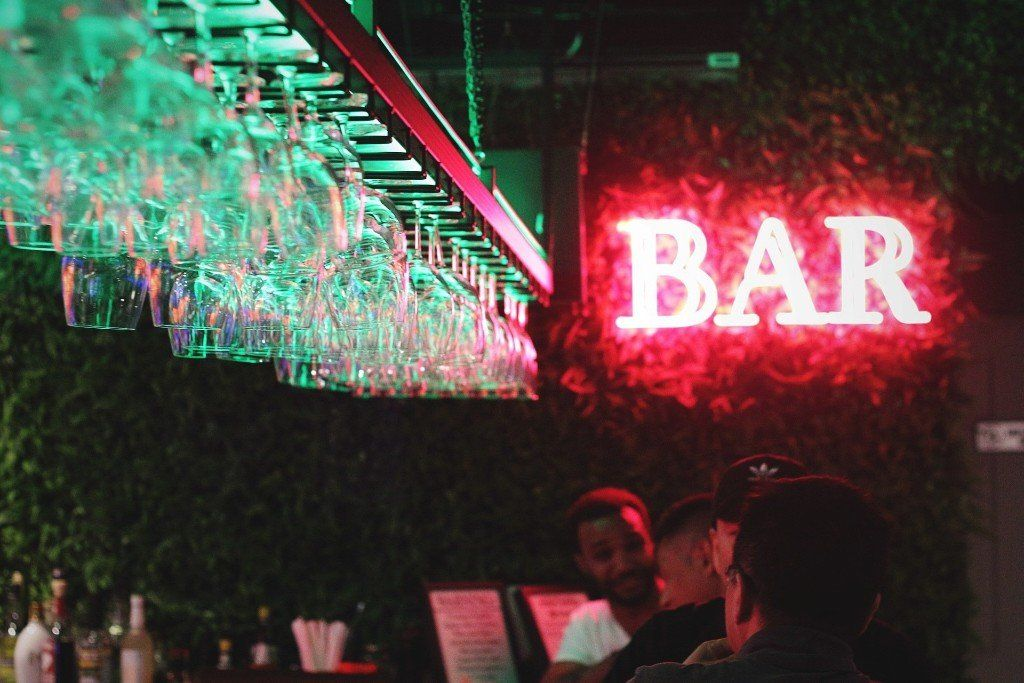 Korean-style brunch in K-town
Korean cuisine is developed from ancient agricultural and nomadic traditions in the Korean peninsula and southern Manchuria. Over the centuries, Korean cuisine has evolved from the complex interaction of the natural environment and cultural trends.
Korean cuisine is primarily focused on rice, vegetables, and meats. Most dishes come with a plethora of side dishes. Ingredients typically include doenjang (fermented bean paste), gochujang (fermented red chili paste), soy sauce, sesame oil, garlic, ginger, red pepper flakes, and cabbage. Kimchi (spicy pickled cabbage) is almost always served with any dish.
Visitors and residents of Koreatown are able to enjoy a meal belonging to any time of the day. We'll teach you the basics of Korean-style breakfast and direct you to the hottest brunch restaurants in Koreatown, where you can relish this tasty cuisine. If you're seeking a more typical Sunday brunch with pancakes, coffee, and a few mimosas, we've found several traditional options as well!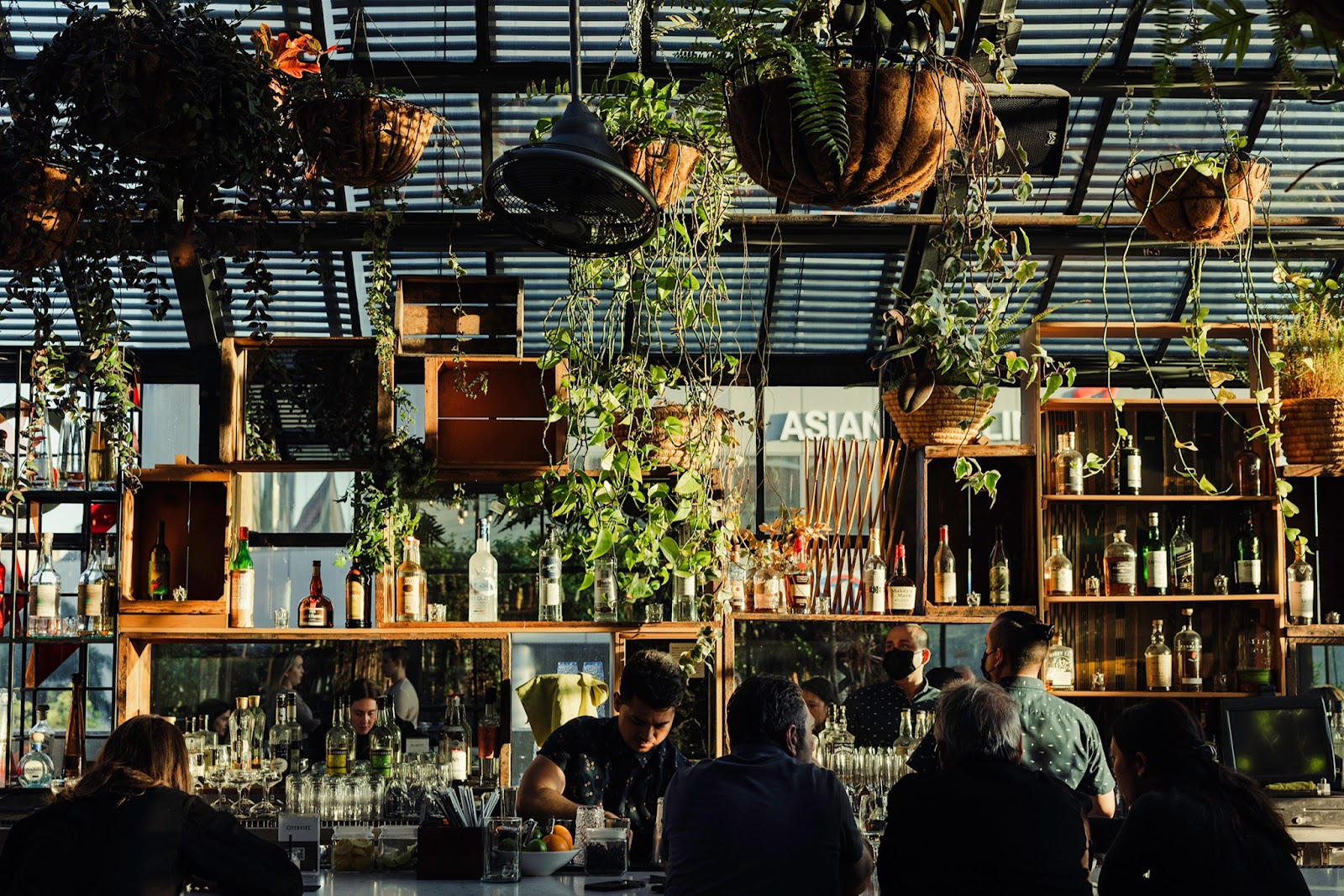 Korean-style breakfast basics
The average Korean breakfast is not too different from a day's other meals, except they come on the lighter side and there are fewer options. A traditional Korean breakfast may include kimchi fried rice, galbi (grilled short ribs), spicy seafood salad, kongnamul bap (bean sprout rice), oi naengguk (cold cucumber soup), or moo saengchae (radish strip kimchi).
While not an official "breakfast" staple, bibimbap is a great choice to start your day especially when ordered with a fried egg. "Bibim'' means mixing, while "bap" refers to rice, so bibimbap is literally a Korean mixed rice dish. It's usually served with namul (seasoned spinach), kimchi, gochujang (red chili paste), and soy sauce.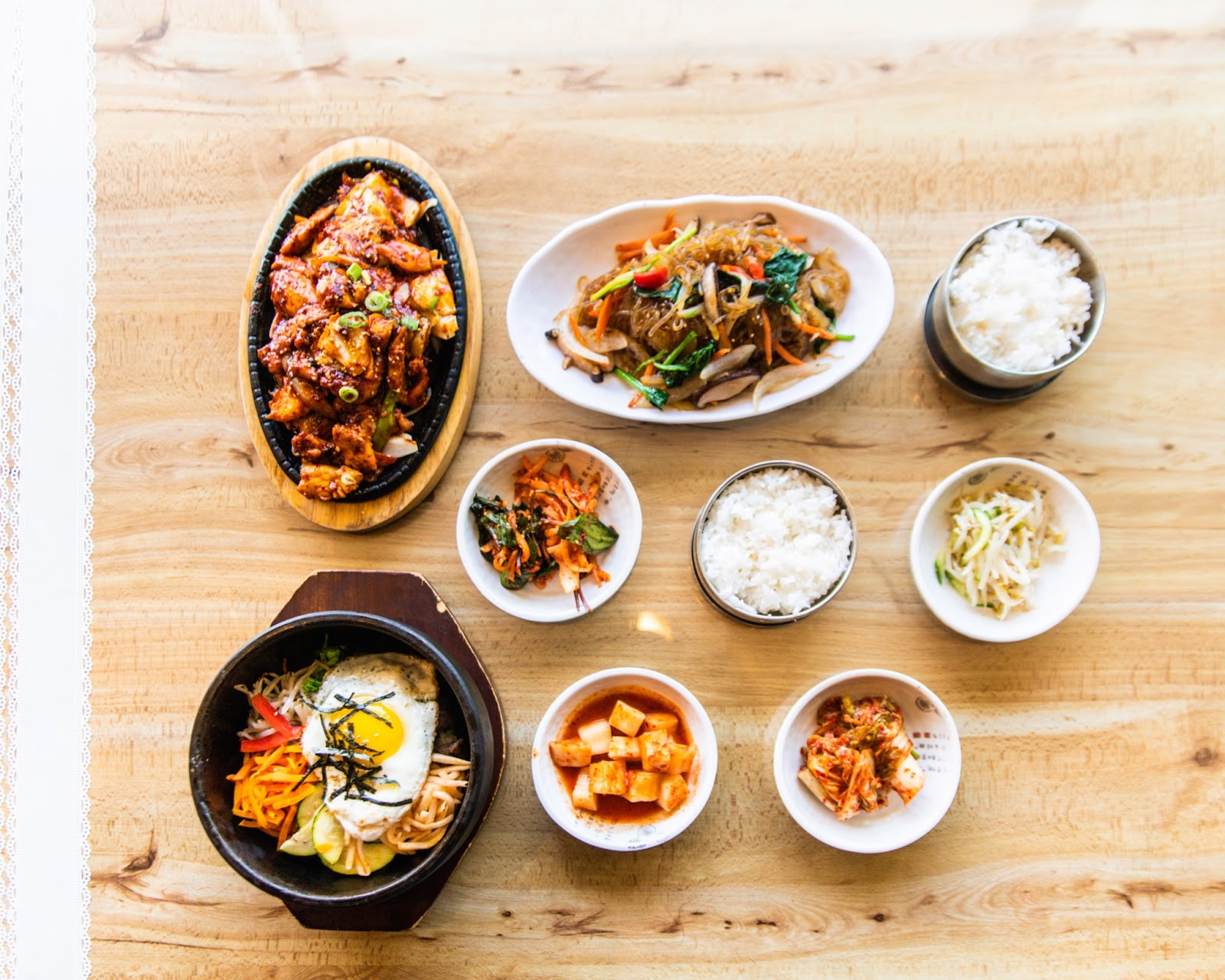 Kongnamul muchim is a popular bean sprout side dish, which is tastefully seasoned with roasted sesame seeds, sesame oil, soy (or fish) sauce, sugar, black pepper, onions, and garlic. Kongnamul muchim typically comes in two varieties, spicy or savory, and is a favorite of Koreans who are after a light snack.
A popular Korean breakfast spread includes a vegetable omelet served with tofu and red- and black-bean rice served alongside kkakdugi (radish kimchi) and Korean coleslaw. Korean coleslaw is basically the same as an average coleslaw with a healthy addition of kimchi.
Kimchi is also added to fried rice (another mixed "bap" dish) along with diced vegetables, and topped with a fried egg, to make kimchi fried rice.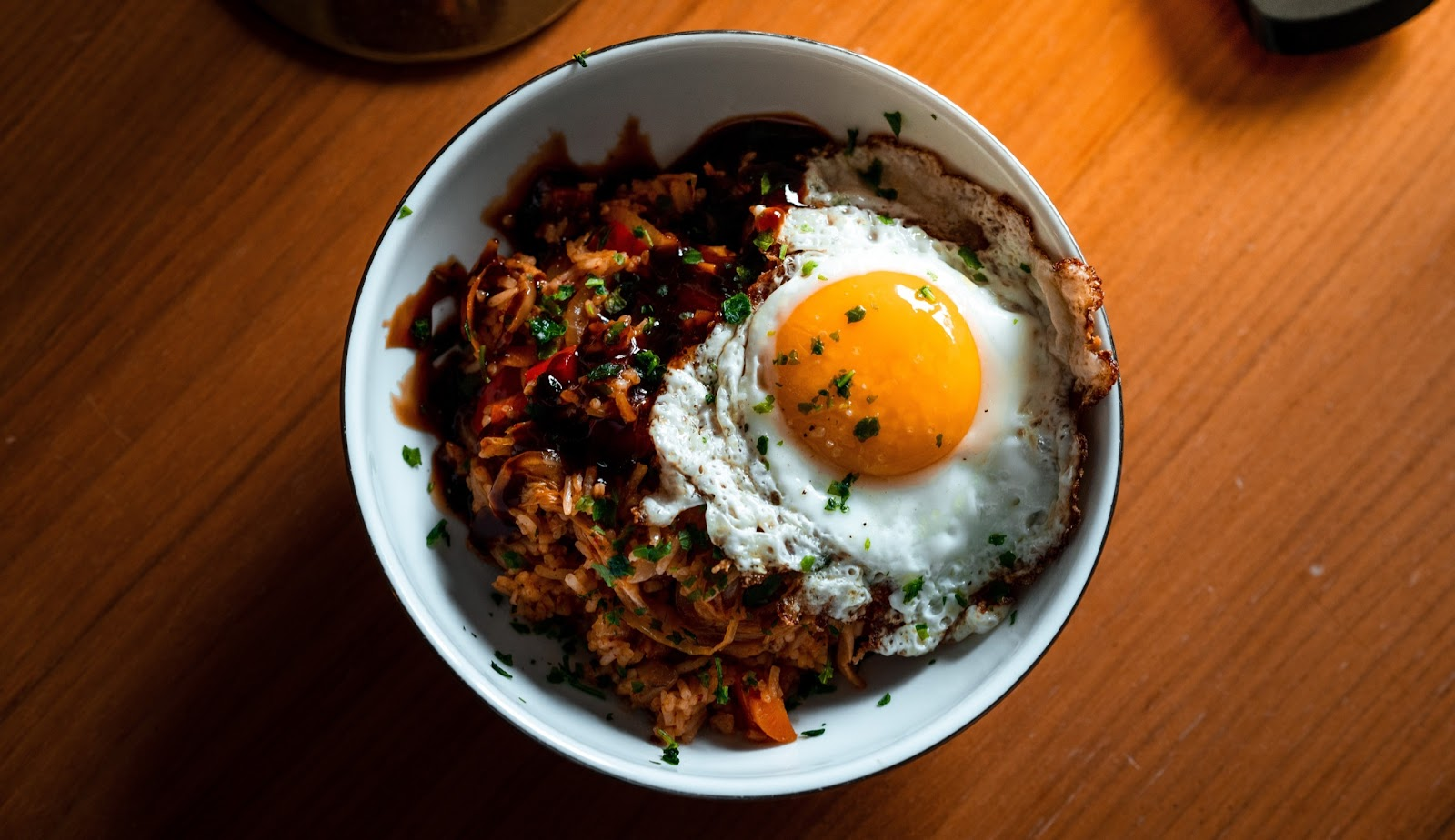 Tost-u or gaeran tost-u is a Korean breakfast sandwich commonly sold by street vendors in Korea. This breakfast sandwich is similar to an American egg sandwich but with cabbage and a dusting of brown sugar. Great with Korean-style coffee, which can be found in many K-town cafes, gaeran tost-u is an excellent way to start off a day exploring Koreatown!
Something Koreans share in common with Americans is a love for java. Naeng-keopi has been around for a while and is a simple iced drink, popular in the summertime. It has a strong flavor balanced with a sweet and nutty taste. Naeng-keopi is usually made with instant coffee, powdered creamer, and a little bit of honey.
Dalgona can also be found in the streets of K-town. It was popularized by a Korean TV show called Pyunstorang, in which actor Jung Il-Woo traveled to Macau to try the drink. He remarked that it tasted like dalgona, a spongy sugar candy in Korea. Dalgona is made by whipping instant coffee with sugar and hot water and is served on top of cold milk.
Great brunch venues for specific Korean meals
Now, let's dive into some of the best spots and our specific recommendations on what to eat there.
1. Chunju Han-il Kwan – Korean hangover cure
Chunju Han-il Kwan is at 3450 W 6th Street to the North of Robert Kennedy Inspiration Park and opens at 8 am. This restaurant has a popular military stew known as budae jjigae and serves kongnamul haejangguk, a bean sprout soup with rice.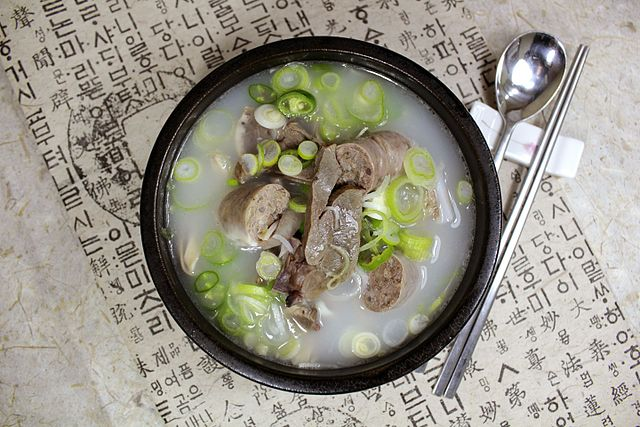 Haejangguk, which roughly translates to "hangover chasing soup," is a definitive Korean breakfast staple that is a spicy tonic of bean sprouts, napa capa cabbage, and green onion served alongside banchan and a steaming bowl of rice. Although this step is not required, the hangover cure is created when the bowl of rice is added to the soup.
After an evening out in Koreatown enjoying the 24/7 nightlife, a quick Sunday brunch at Chunju's is the perfect way to recharge.
2. Yangji Gamjatang – Hearty pork stew for breakfast
Yangji Gamjatang is one of the best options to enjoy a hearty and tasty brunch in Koreatown. Open from 7am to 3am, this spot is a true representation of Koreatown's 24/7 culture! Yangji Gamantang is located at 3470 W 6th Street, across from the bustling H Mart City Center, close to Robert Kennedy Inspiration Park.
Yangji Gamjatang's specialty breakfast dish, called gamjatang, is the namesake of this well-liked brunch restaurant. Matthew Kang, Eater LA's Editor, considers gamjatang to be a near-perfect soup.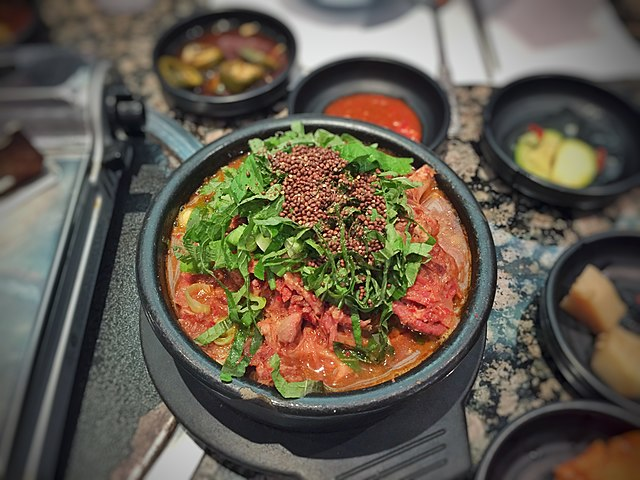 One of the heartiest Korean breakfast dishes, this rich and red-hued stew is an entire meal served in one bowl! The stew consists of pork neck bone that's been boiled to perfection (the meat slides right off the bone), perilla leaves, green onions, red pepper powder, and potato chunks.
The pork is so tender that a separate dish is provided for the bones. Diners typically remove the pork from the bone before adding a bowl of rice. This makes the soup heavier while toning down the strong flavors.
3. Bonjuk – Savory Abalone Rice Porridge
Bonjuk is at 3551 Wilshire Blvd on the Western border of Koreatown and starts serving breakfast at 7am. With comfy chairs and a traditional Korean atmosphere, complete with dark wood paneling in the venue's decor, Bonjuk is another great place to sample a Korean-style breakfast. Juk roughly means "savory rice porridge" in Korean. As expected by its name, Bonjuk primarily specializes in rice porridge but also serves a variety of Korean favorites like bibimbap and noodle dishes on their menu.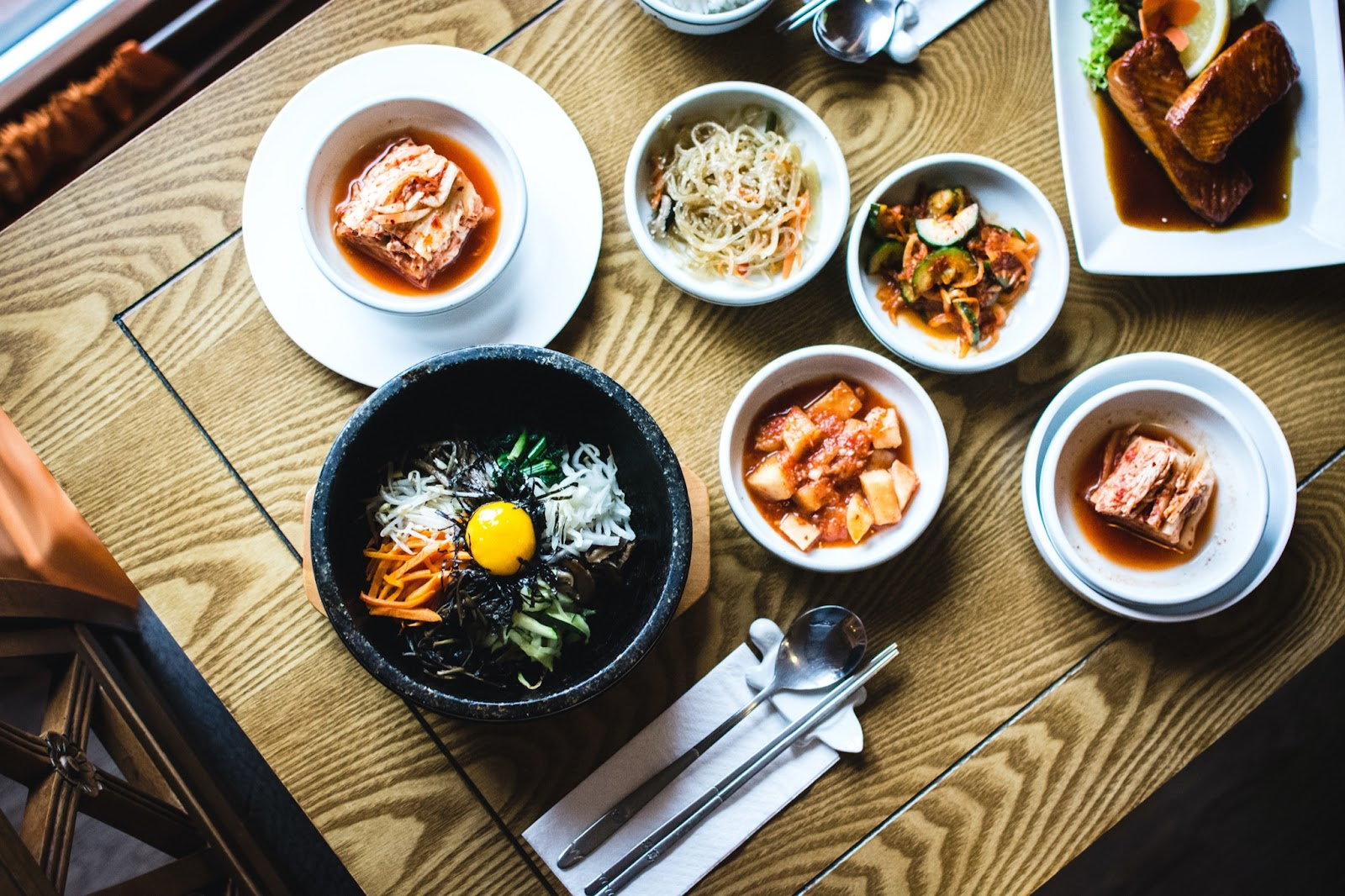 The abalone juk is extremely hearty; the briny taste of abalone is well complemented with sesame oil. Pine nut juk is a lighter option that is also great for breakfast.
Bourgeois brunch spots in K-town
Next up on this list are some of the best K-town restaurants if you are seeking bourgeois brunch offerings with different cultural inspirations. These restaurants are perfect for anybody seeking to enjoy an unconventional (and possibly excessive) brunch.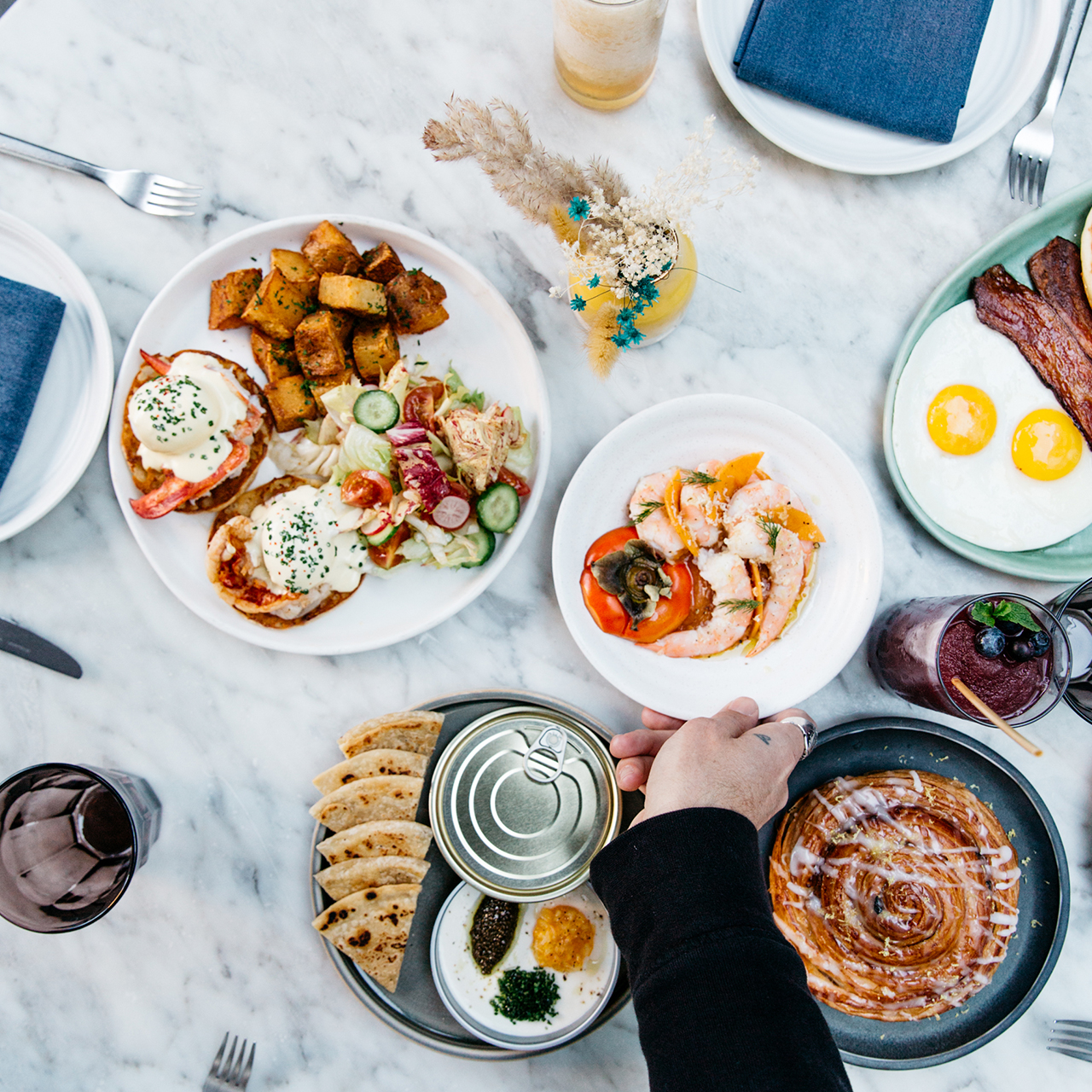 1. Amandine Patisserie Café K-town – Happy Hour brunch
Amandine Patisserie Café has two locations, with the Koreatown venue located at 3121 W Olympic Boulevard, two blocks West of Seoul International Park. Since 2002, this café has combined baking traditions from France and Japan to create unforgettable pastries and breads. Open from 7am to 10pm, you won't find plain pancakes at a spot like Amandine! The menu focuses on French/Japanese foods including all sorts of coffee beverages, macaroons, french pastries, danishes, and omelets.
The all-day breakfast menu features traditional staples like avocado toast, breakfast burritos and wraps, eggs benedict, and steak and eggs served with potatoes. One tip you should know: the K-town location has a 4pm-close Happy Hour during which all croissants, danishes, and morning breads are 50% off, making this a great spot for a very-late brunch.
Do note that the menu is alcohol-free, so you'll have to keep on reading to learn about K-town's best boozy and bourgeois brunch spots!
2. Escala – Bottomless mimosas
Escala is located in the Historic Chapman Plaza at 3451 West 6th St (between Yangju Gamjatang and Chunju Han-il Kwan). The restaurant is half a block away from The Gemma, a new Koreatown high-rise residential building that offers views of the neighborhood and Hollywood from its units and art-lined outdoor patio.
From the exterior to the interior and menu, Escala seems like another one of Downtown LA's Latin-inspired brunch restaurants, but it's not! Reflective of Koreatown's mixed diversity, the menu at Escala was crafted by Korean-American chef Chris Oh and features unique Korean-Latin dishes. Alex Torres, born in Colombia, "remixed" the menu while Og Chino, born in Seoul and raised in Bogotá, Colombia, keeps the flavorful dishes coming from 11:30am till 2am.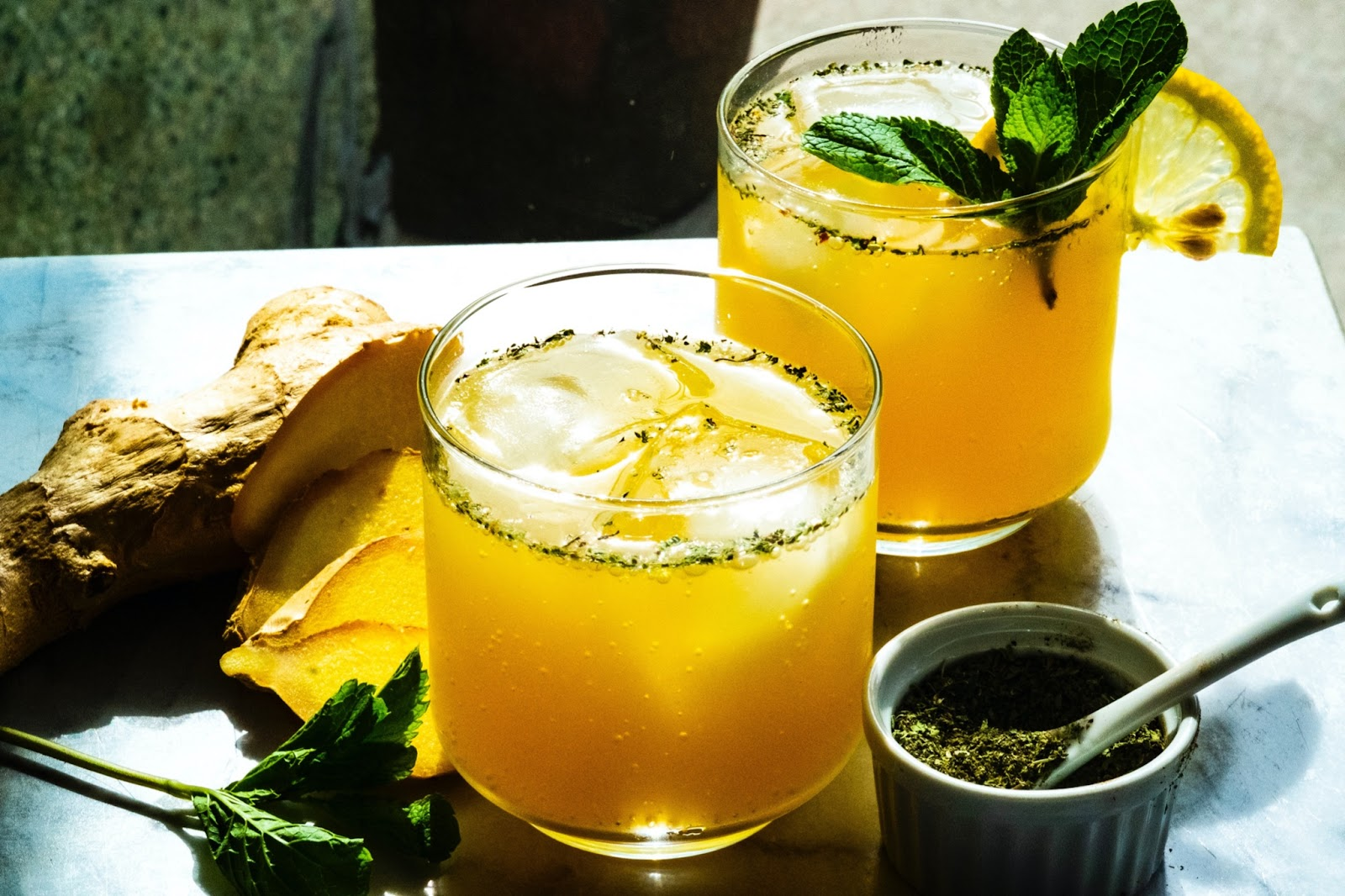 At Escala, the motto is "Good food, Good music, Good people." This becomes a reality every Saturday and Sunday between 11am and 5pm when the Beats and Eats brunch courses are available.
You can enjoy mango chili or maracuya (passion fruit), bottomless mimosas and a variety of fruity and boozy drinks. If dining at Escala for Sunday brunch, you can feast on Korean-Latin fusion dishes like K-town Rice con Pollo, Spicy Fried Chicken and Coconut Waffles, Kimchi Rice Empanadas, or the Pacific Seafood Stew with tilapia, shrimp, manila clams, and green mussels. If you're with a large group and desire a shareable brunch, try out the Picada party platter, which includes galbi (Korean BBQ short ribs), spiced chicken wings, Colombian chicharron and chorizo, sweet plantain, and papa criolla.
The rotating full menu includes tasty dishes like loaded arepas, smoked octopus, braised oxtail, and bistec al caballo. You can also enjoy a healthy selection of adult beverages, including soju, beer from Korea and Colombia, along with various Latin cocktails.
Koreatown's hottest brunch restaurants
By now, it should be clear that Koreatown is home to a variety of traditional and unconventional brunch spots. With this level of diversity, it's no surprise that Koreatown is not just a hot market to rent an apartment in, it's also a culinary hot spot that attracts Michelin-starred chefs. Here's a quick introduction to two of Koreatown's hottest (and highest-rated) brunch restaurants.
1. Openaire – Two Michelin stars and a greenhouse
Openaire is located inside The LINE LA, a boutique lifestyle hotel in the heart of Koreatown. It is right across from The Gemma, a newly-built and boldly designed two-building luxury apartment complex. Saturday and Sunday brunch starts at 10am and wraps up at 3pm. Openaire offers standard day-time menus all week. With an extensive wine and cocktail menu (but no mimosas), at Openaire you can dine on a menu curated by two Michelin-starred chef Josiah Citrin inside the twinkling greenhouse of the Line Hotel's patio. Openaire is a plant-lovers paradise where seasonal California-centric menu items await you. Some choices pay homage to K-town through the inclusion of Korean ingredients. Inside the greenhouse, an immaculate marble bartop contrasts with abundant plants hanging from the all-glass greenhouse. The outdoor terrace offers alternate seating where you can soak up the California sun.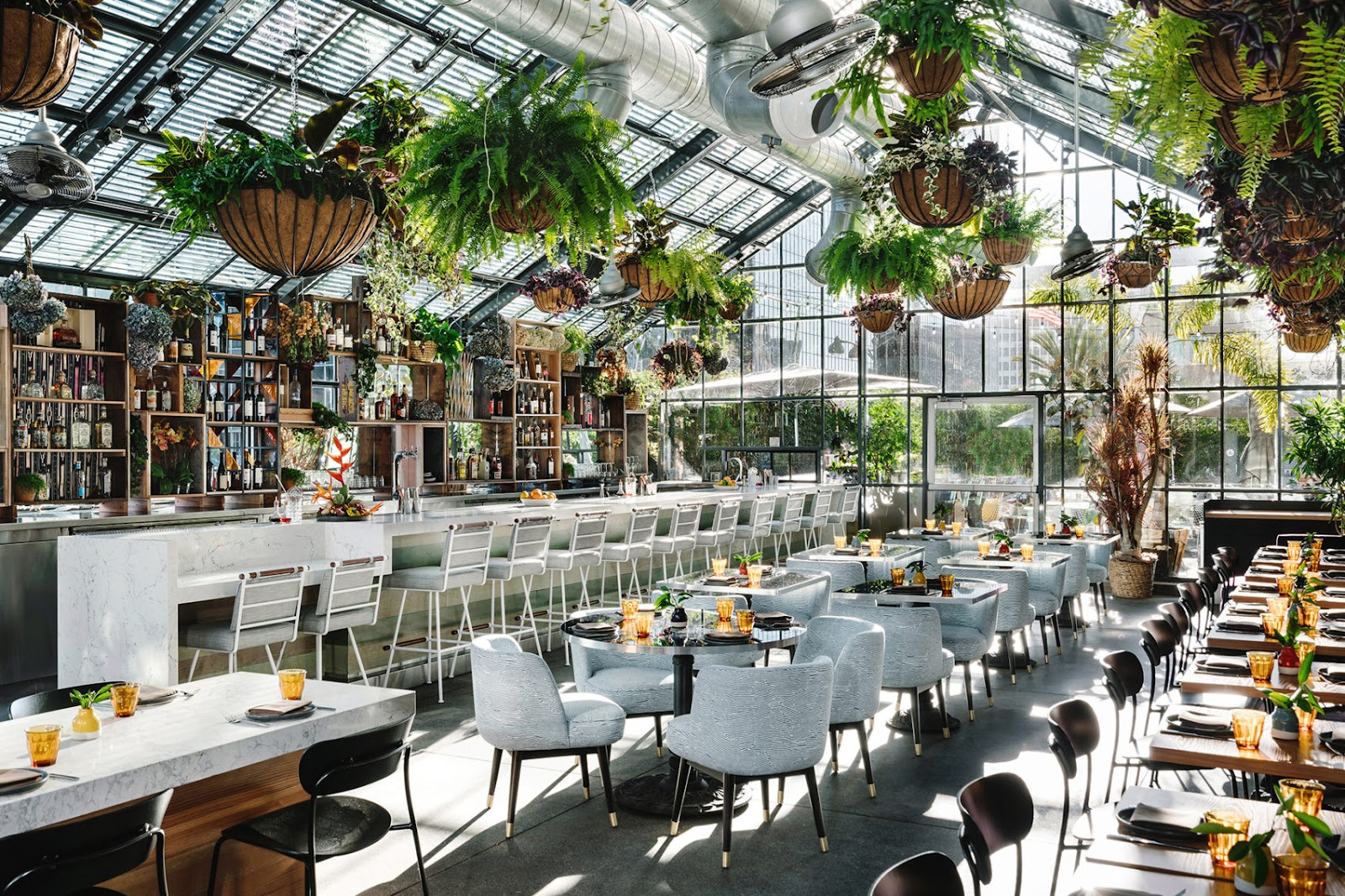 Openaire offers a brunch menu and a multi-course prix fixe menu. Fresh starts include California-inspired dishes like avocado toast with radish and sprouts, ahi tuna tartare served with a yuzu vinaigrette, and smoked salmon plate. The standard menu and prix fixe options share certain options like eggs benedict (with choice of ham, smoked salmon, or crab), huevos rancheros, lobster chilaquiles, and hibachi-grilled flat iron steak and eggs served with kimchi fried rice plus the option of adding a grilled Maine lobster tail.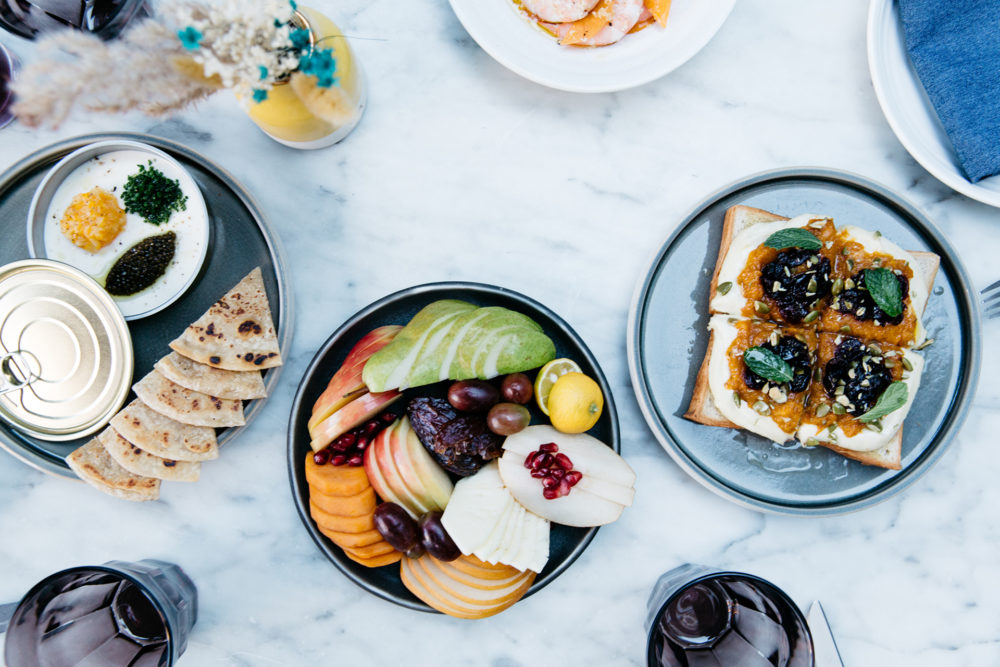 Our recommendation is to order the Line Breakfast if you wish to enjoy a traditional American breakfast, complete with pancakes, two eggs, and bacon or chicken sausage. The prix fixe menu is $60 per person and lets you select six of Chef Citrin's curated offerings.
Openaire almost made it to the "bourgeois brunch" list, but it's solidly one of the hottest spots for brunch in Koreatown.
2. Caffe Concerto, Endless Mimosas
Concerto is located at 610 S Serrano Avenue across from Liberty Park. Ample outdoor and open-air seating is available at all times. It serves Korean-Italian fusion cuisine in the middle of K-town. Caffe Concerto's distinctive culinary style combines contemporary European and Korean dishes with rich flavors. You'll also find cocktails, gourmet coffee, and lavish desserts at this stylish eatery. If you want to eat well-crafted and exciting dishes in an upbeat and vibrant atmosphere, give Caffe Concerto a try.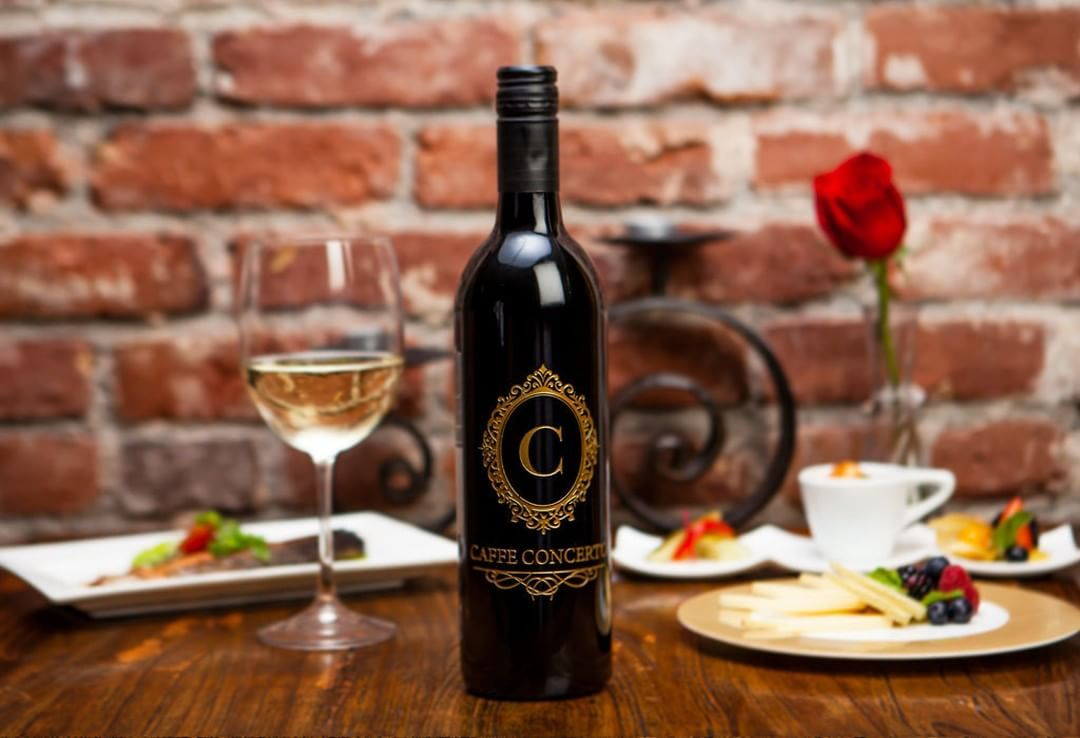 The brunch menu is available from 10am to 3pm on weekends. Caffe Concerto is a great place to enjoy endless pineapple, cranberry, and orange mimosas served alongside a breakfast platter that comes with two pancakes with mixed berries, banana, whipped cream, eggs, and bacon or sausage. Other delectable options for Sunday brunch include fried chicken and waffle, steak or veggie omelet, steak or smoked salmon benedict, and french toast.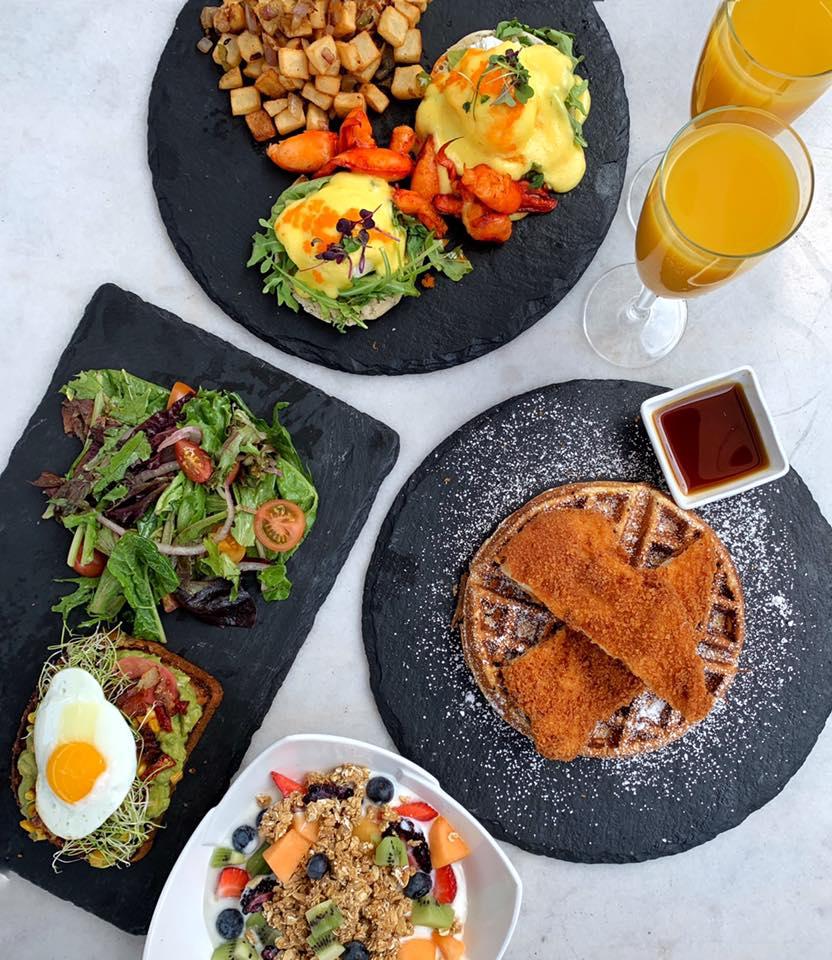 Outside of brunch, the diverse menu includes grilled octopus, truffle fries, blistered shishito peppers, a wide range of salads and pizzas, seafood nasi goreng, bulgogi fried rice, and a gorgonzola crusted filet mignon. You can also enjoy lobster pasta, frutti di mare, vongole, kimchi carbonara, spaghetti, bolognese, and an oriental cold pasta.
This place can easily become your favorite spot for brunch, lunch, and dinner!
Top cafes in Koreatown
It's totally understandable if the brunch options in Koreatown seem a little intimidating. If you just want to sip on some caffeinated beverages or nibble tasty treats while starting your day, there are dozens of spots where you can enjoy traditional or Korean-inspired offerings. Here are three of our favorites.
1. Heuk Hwa Dang – dalgona coffee
You can find Heuk Hwa Dang at 621 S Western Avenue, next door to House of Axe, a famous spot for axe throwing and amazing Korean BBQ. Heuk Hwa Dang is a Korean-based premium tea house with dozens of locations throughout Korea, including Seoul, Busan, Incheon, and Jeju.
At K-town's newest tea house, you'll find an unrivaled dessert menu, a huge variety of tea types (including brown sugar bubble milk tea, brown sugar latte, rose bubble milk tea, and fruit flower tea), and dalgona coffee, which we mentioned in the introduction to Korean breakfast basics.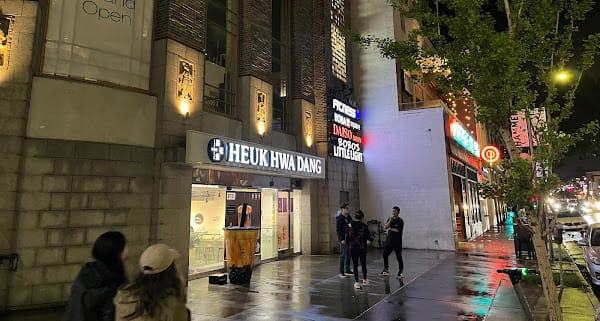 We strongly recommend trying anything with brown sugar bubbles here, especially the brown sugar bubble ice cream. Heuk Hwa Dang handmakes the nation's first brown sugar bubble right in front of customers! Also, park in the Madang Plaza parking garage as you can get your parking validated.
2.Document Coffee Bar – Minimalist space w/ art
Document, located at 3850 Wilshire Blvd, offers patrons an easygoing vibe, pastries, and an extensive selection of beverages. The menu includes tea, Korean tea, tea-lemonade, smoothies, shakes, and cold brew. This is a great place to recharge mid-day.
The wall of portraits is nice to appreciate while sipping on your cup of joe (or tea). Document displays Angeleno artists' work with a variety of themes, including the BLM movement. This spot hosts the occasional art night.
3. Alchemist Coffee Project – Ample room for studying
Alchemist is a New Orleans-style cafe on 698 S Vermont Avenue, between Robert Kennedy Inspiration Park and Lafayette Park. Inside Alchemist, there is a long, dark-wood table where you can meet up with friends or fellow study buddies. An eclectic selection of sconces and hanging light bulbs give this cafe a high-energy vibe.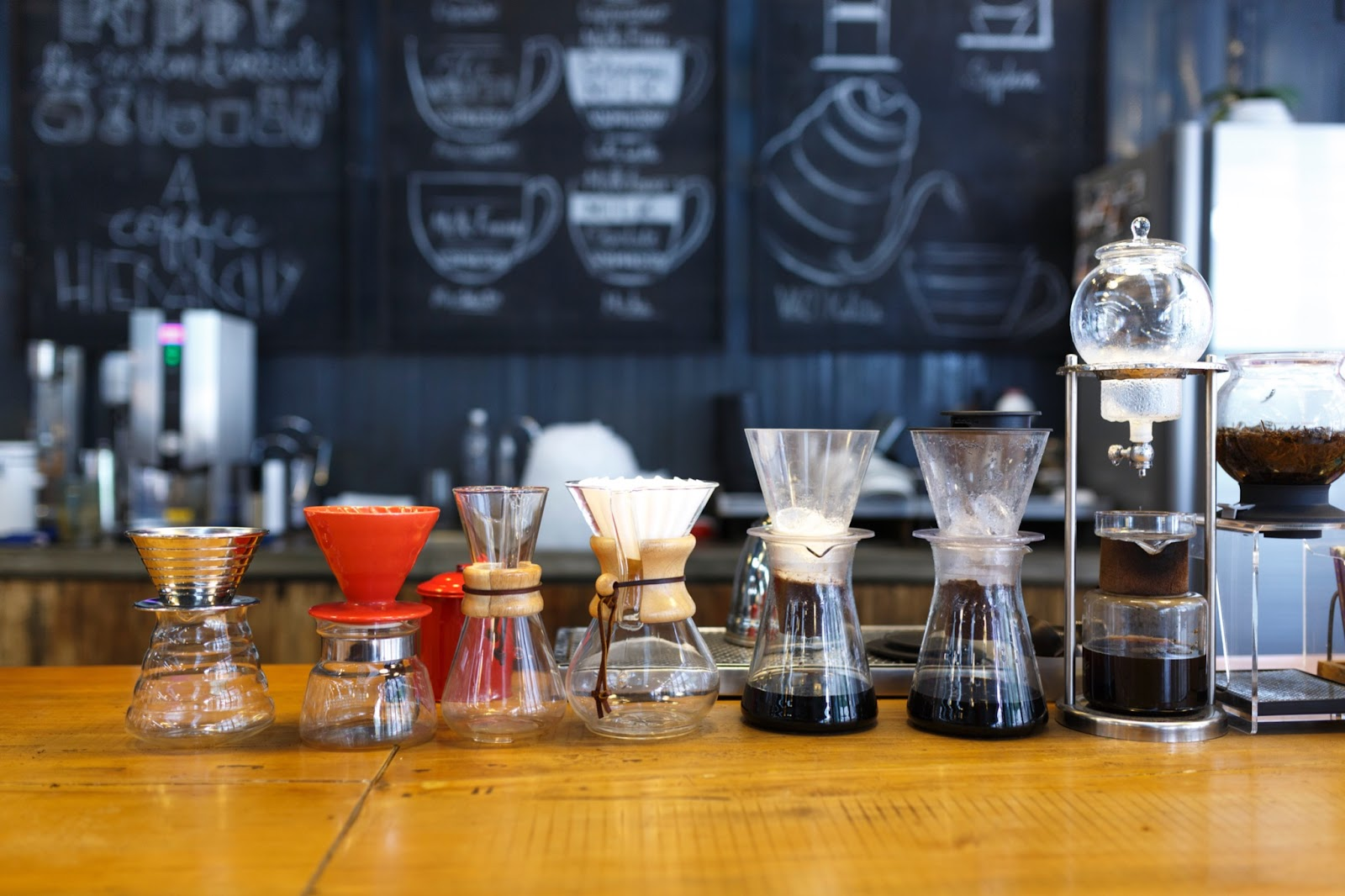 Drinks and pastries are flavorful but not too sweet. You can enjoy specialty drinks like the tiramisu latte, Spanish latte, or alchemy shake alongside a selection of hot sandwiches and pastries. Some items on the menu are vegan-friendly.
Alchemist is close to The NEXEN, a newly-built refined mixed-use building that offers contemporary luxury housing options to residents of Koreatown. The NEXEN hosts several businesses at street level and has two rooftop decks with outdoor grills and cabanas, co-working space, and a pool terrace with a zero-edge pool.
Choose Tripalink for the best housing options in Koreatown
All this talk of delicious food might have you wishing you lived in Koreatown. If you're interested in finding apartments for rent in Koreatown, Los Angeles, so that you can enjoy all of these great brunch options and the other excitement Koreatown has to offer, Tripalink can help. Whether you want to live on your own, or you're interested in co-living in Los Angeles in Koreatown, we have many great listings for apartments, duplexes, and houses in the area.
Visit our website to discover all the housing options Koreatown, as well as all the other homes for rent in Downtown Los Angeles that we have available.