No matter where you live near campus, there are plenty of restaurants around to fill your belly. Brunch is the classic late-morning meal that many students and young professionals seek out on the weekends.
As a mixture of both breakfast and lunch, going out for brunch includes a wide range of foods and the socially acceptable excuse to drink some bubbly in the morning. While there are choices from casual to fancy, any brunch spot is sure to satisfy any appetite. Check out these best brunch spots near UCLA that offer delicious food and a great atmosphere.
Blu Jam Cafe
12400 Wilshire Blvd Los Angeles, CA 90025
Open 9 am-2 pm Everyday
Need a solid brunch spot that won't disappoint? The Blu Jam Café is a great option that is close to UCLA. It is a bit on the bougie side and is very popular, which can mean long lines. However, using the waitlist option on Yelp can help speed things along.
Consider ordering the signature crunchy french toast that is always made to perfection with a crunchy outer layer and tender inside. They also serve a brunch carbonara, breakfast pasta, and scramble that are all sure to fill your belly. The portions are generous, and it is common for a group to order a few things to share. Blu Jam Café is known for its dishes that come with a side of bread and jam.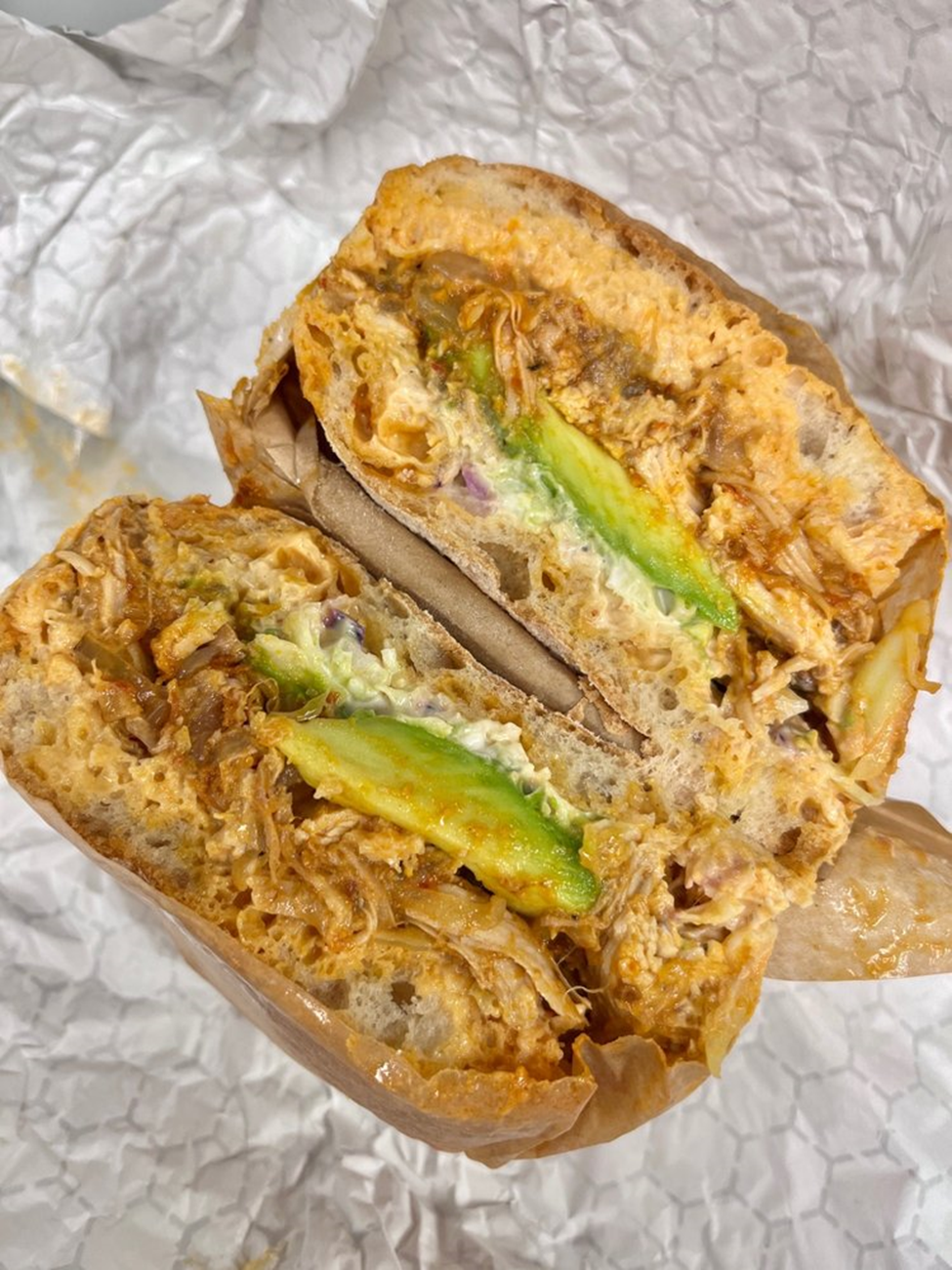 Clementine
1751 Ensley Avenue Los Angeles, CA 90024
Open 8 am-5 pm Monday-Saturday
As a family-owned and operated spot, we love supporting locals who have made the UCLA area their home. Clementine opened in 2000 and has built a reputation for fresh-baked pastries and hot soups offered daily.
They also have some solid sandwich options that are large enough to curb your growling belly and keep you full until dinner. The Fernando Sandwich is a well-loved choice that features plenty of flavor and sauce. Customers also love the chocolate chip cookies as well!
Mary & Robb's Westwood Café
1455 Westwood Blvd Los Angeles, CA 90024
Open 8 am-5 pm Monday-Saturday
When you want a traditional American meal just like mom or grandma used to make, check out Mary & Robb's Westwood Café. This restaurant has a classic American diner vibe that includes plenty of butter and piping hot coffee since 1977.
Check out their no-frills meals that include huge portions and plenty of flavor. You can order scrambles, buttermilk pancakes, french toast, benedicts, and even a smoked salmon platter. If you are craving more lunch food, consider their burgers and sandwiches as well.
Le Pain Quotidien
1122 S. Gayley Avenue Los Angeles, CA 90024
Open 7 am-3 pm Everyday
While you may have trouble pronouncing the name, Le Pain Quotidien in Westwood is a cute spot to pick up a fresh croissant and coffee. They also offer classic Parisian fare, including fancy cheeses and protein pairings. They serve frittatas, scrambles, omelets, and tartines that are worth trying out. You can order the classic Californian staple of avocado toast, of course.
The restaurant name means "the daily bread" which bodes well given that the bakery features freshly made baguettes and bread to take home for lunch or dinner. We love how close the location is to the UCLA campus, making it a staple for Bruins any day of the week. Consider sitting at the large communal table in the middle of the dining area with your study group or friends as well.
The Butcher's Daughter
8755 Melrose Avenue West Hollywood, CA 90069
Open 8 am-11 pm Everyday
Looking for a vegetarian restaurant that even the carnivores in your group would love? Check out The Butcher's Daughter in West Hollywood. The open-air feel of this place adds to the ambiance and beautiful layout. You'll find elevated dishes that mimic favorites without the protein part. Jackfruit is the star of the crab cake benedict dish, and you can also get a smoked carrot lox bagel.
The Butcher's Daughter is open every day of the week, but stop by on the weekends for their special brunch menu. You'll find a range of goodies from buckwheat pancakes to frittatas to eggplant oysters. If you're craving more of a lunch option, order the mushroom burger, gnocchi in prosecco, or a carbonara pizza. Their lineup of brunch cocktails is also on point, with sangrias, bloody marys, mimosas, and pina colada options.
Skylight Gardens
1139 Glendon Avenue Los Angeles, CA 90024
Open for brunch Sundays from 11 am-2 pm
Known for its Italian dishes, Skylight Gardens is the place to visit when mom and dad are in town, and you want to feel a bit fancy. There are two levels of seating to choose from, and the bottomless mimosas don't hurt the vibe at all.
While they only serve brunch on Sundays, they have a wide menu full of different options. Start with some arancini, a classic fried risotto ball, and move on to an omelet, frittata, or benedict. For those looking for more of a lunch-type option, order the pulled short rib sandwich, Atlantic salmon, or any of their to-die-for pasta entrees. You can request a bottomless mimosa as well, making this Sunday brunch stop at Skylight Gardens your own happy hour!
A.O.C.
8700 West 3rd Street West Hollywood, CA 90048
Open for Brunch 10 am-2:30 pm Weekends
This romantic brunch spot is a great option for those who want to cozy up by a fire and indulge in some great food. AOC offers elevated brunch options like a crab omelet, chicken and cornmeal waffles, or the vanilla bean french toast. Sandwiches include your choice of filling with their amazing focaccia bread that comes with fries or a salad on the side. The plates are small, but they feature fresh and locally sourced ingredients that make all the difference.
AOC is also known for its wide range of drink options. While this spot is a bit spendy for a weekly visit, it is a great place to take the parents to Sunday brunch or that new crush on the weekends. Grab a spot inside, or check out the outdoor patio that features plenty of greenery and a space to relax. Want to make sure you get a table? Make a reservation online to skip the wait this weekend.
STK Steakhouse
930 Hilgard Avenue Los Angeles, CA 90024
Open for Brunch 9 am-3 pm Weekends
When you want something fancy, look no further than STK Steakhouse. This uber-elevated restaurant offers brunch on the weekends with substantial plates that include steak, lobster, and wagyu. Try the smoked pork belly benedict or lobster and eggs benedict for a classic twist on a breakfast staple. Other options include hot chicken and waffles, cinnamon french toast, and a raw bar.
We like that STK Steakhouse offers different flavors of fancy butter, like truffle or lobster, and elevated mac and cheese options. This restaurant also has high-end drinks and a bottomless mimosa option with a 90-minute time limit and an entree order requirement. Cheers!
LA Prime Caffe
1849 Sawtelle Blvd Los Angeles, CA 90025
Open 7 am-6 pm Monday-Saturday
There are times when you want a great brunch but don't want to sit down at a fancy restaurant. Enter LA Prime Caffe. This hole-in-the-wall place has you order breakfast at the counter and then head outside to find a table. This little breakfast spot is the perfect place to grab a bite to eat with friends. It is so hidden that you may pass right by it!
Check out their breakfast burrito, which has become a fan favorite, as well as the Caprese avocado toast. The spicy mayo is enough to keep you coming back to LA Prime Caffe, as it has reached somewhat of a cult following on campus. There is no reason not to check out this no-fuss brunch spot that will keep you coming back again and again!
No matter what you are in the mood for or how much money you have in your wallet, there is always a brunch spot near campus that is perfect for the occasion. You can keep it simple and visit LA Prime Caffe, Mary & Robb's Westwood Café, or the Blu Jam Café for a perfect greasy spoon bite that won't break the budget. Or, take advantage of parents coming into town and check out the fancier brunch options near campus that include STK Steakhouse and the AOC.
Again, you can't go wrong by choosing any of these top brunch spots near your UCLA off-campus housing! While some are closer than others, any of these Los Angeles restaurants are a great choice when you want some late-morning grub to help you forget whatever you did last night.