Welcome to The City of Angels
Whatever your reason is for being in the Downtown Los Angeles area, you will have access to endless options for entertainment, enjoy a thriving and abundant cultural scene, and meet people from every walk of life. Thanks to over four major airports that provide 24/7 service to LA, the biggest city in Southern California hosts a steady inflow of culture. This means that Downtown LA offers a fine balance of global diversity and American urban sprawl.

Visitors and residents of Downtown LA enjoy all the benefits of a massive metropolitan area, like world-class dining, huge shopping malls, and a large assortment of museums and world-renowned entertainment venues. Downtown LA is home to countless beaches, beautiful boardwalks, hiking trails throughout the city and in the nearby Santa Monica and San Fernando mountains, and has over five ski resorts within less than two hours driving distance.
Regardless if you're a young student, professional, or burgeoning local, living or visiting Downtown Los Angeles is a step anybody should consider. Los Angeles is home to dozens of iconic landmarks that attract people from all over the world. The art scene is serious, as well: Downtown LA is home to over 90 art museums. If you are looking for a contemporary art museum, you will find over a dozen world-renowned ones, such as LACMA, MOCA, and the Broad Museum. The cultural scene also includes beautifully-designed libraries with huge curated collections, free for the public and visitors to enjoy. In addition to dozens of stadiums and arenas purpose-built for music and sporting events, there are several historic markets one can enjoy in Downtown LA, including Grand Central Market.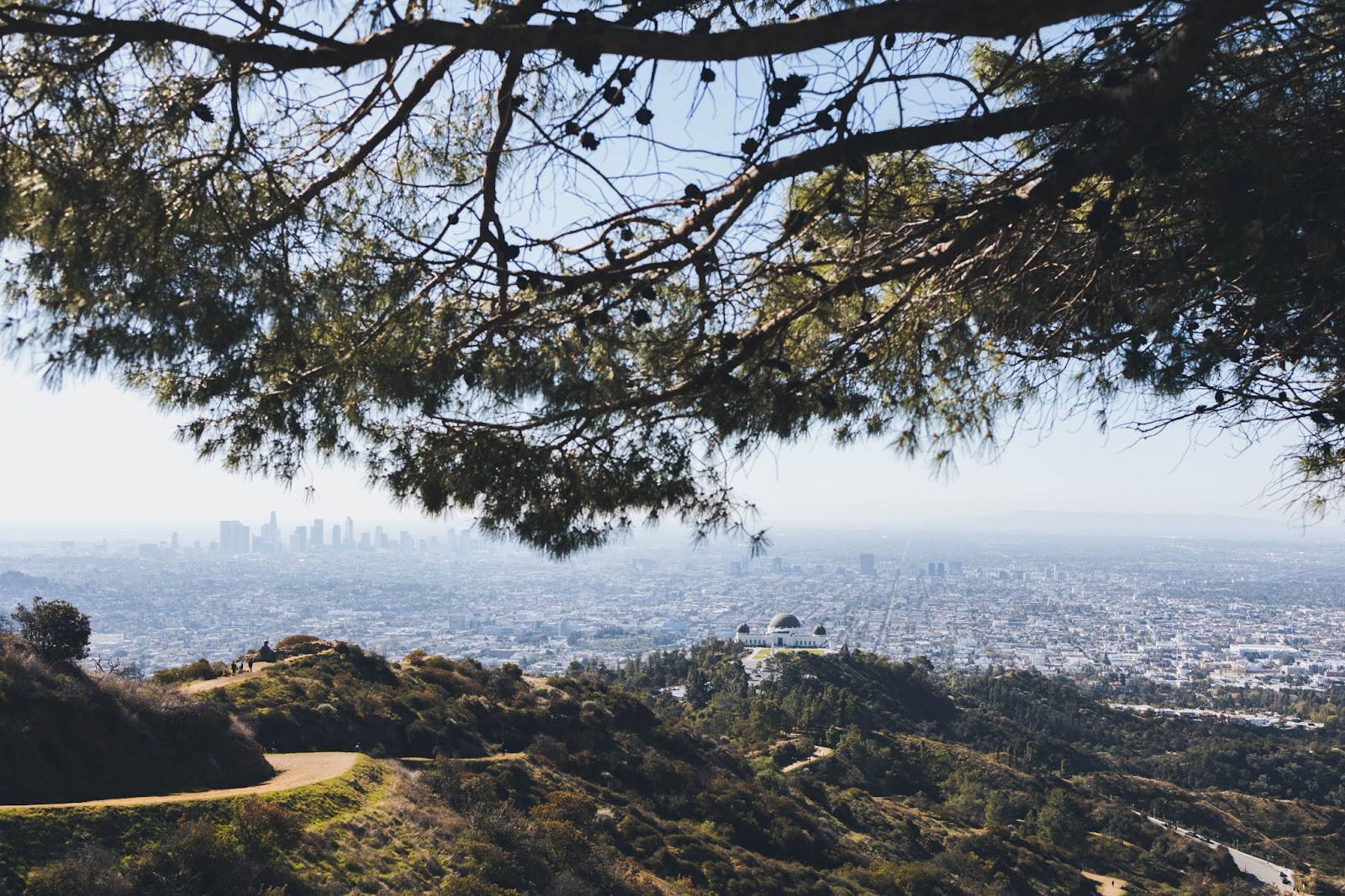 City of Angels aerial, by Gustavo Tiffer
Known for a compact downtown area that seamlessly blends into endless suburbs, Los Angeles is home to over 9.5 million people. Most residents of Downtown LA live in coliving spaces, residence halls, high-end condominiums, or apartments. Due to a tight and pricey market, single-family homes are a distinct rarity. Coliving companies like Tripalink help provide peace-of-mind to anybody searching for the right place to live or for a long-term stay in the Downtown LA area.
Keep reading to get an introduction to all the best things to do in DTLA. We'll give a rundown of top local and historical landmarks, "locals only" tips, scenic and active lifestyle adventures, must-see cultural and civic centers, and finish off with high-end, local, and historic food and shopping markets. Along the way, you'll learn that… YES… Los Angeles is a walkable city, for visitors and future residents alike. No matter what neighborhood you desire to visit or live in, Los Angeles has plenty to offer for you.
Los Angeles' Local and Historical Landmarks
Downtown LA has one of the highest concentrations of landmarks in the world. Throughout this article, you'll be introduced to many cool places, markets, and museums. Here's a collection of some of the best bespoke LA landmarks that should make it onto any bucket list.
Angel's Flight Railway
The world's shortest railway, at only 298 feet long, Angel's Flight is a true historical landmark of LA. Originally built in 1901 to help tourists avoid one of Downtown LA's steepest streets, it was closed in 1969 before being relocated half a block away in 1991. Angel's Flight is a funicular railway with two counterbalanced trains (Sinai and Olivet) that connect Grand Central Market, another Downtown LA landmark, to the Water Court shopping mall. The Angel's Landing skyscraper, currently under construction next to Angel's Flight, will become LA's third tallest building at 854 feet tall. Angel's Landing will evoke a cliff-side Italian village, to pay homage to this iconic and historic LA landmark.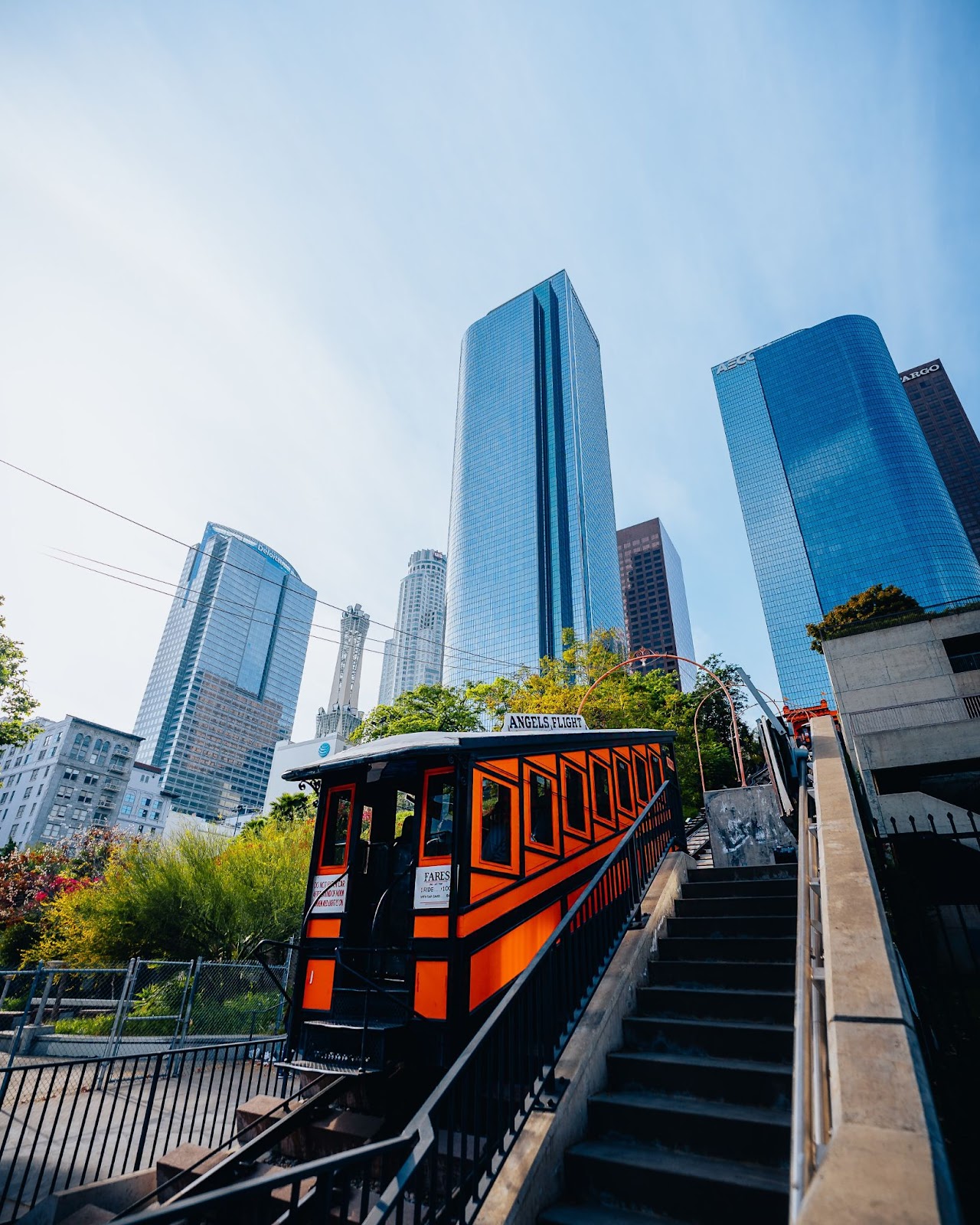 Angel's Flight Railway, by Mos Sukjaroenkraisri
Queen Mary
The Queen Mary is a one-of-a-kind hotel that only a county like Los Angeles would be able to house! This 1930s-era vessel once steamed across the Atlantic Ocean held the Blue Riband from 1936 to 1957. Queen Mary is one of the largest ocean vessels ever constructed, at over 1,000' long and 28% wider than the Titanic. Guests at the Queen Mary enjoy Art Deco staterooms and suites, afternoon High Tea service, full-course dining, and close proximity to many Los Angeles landmarks and attractions.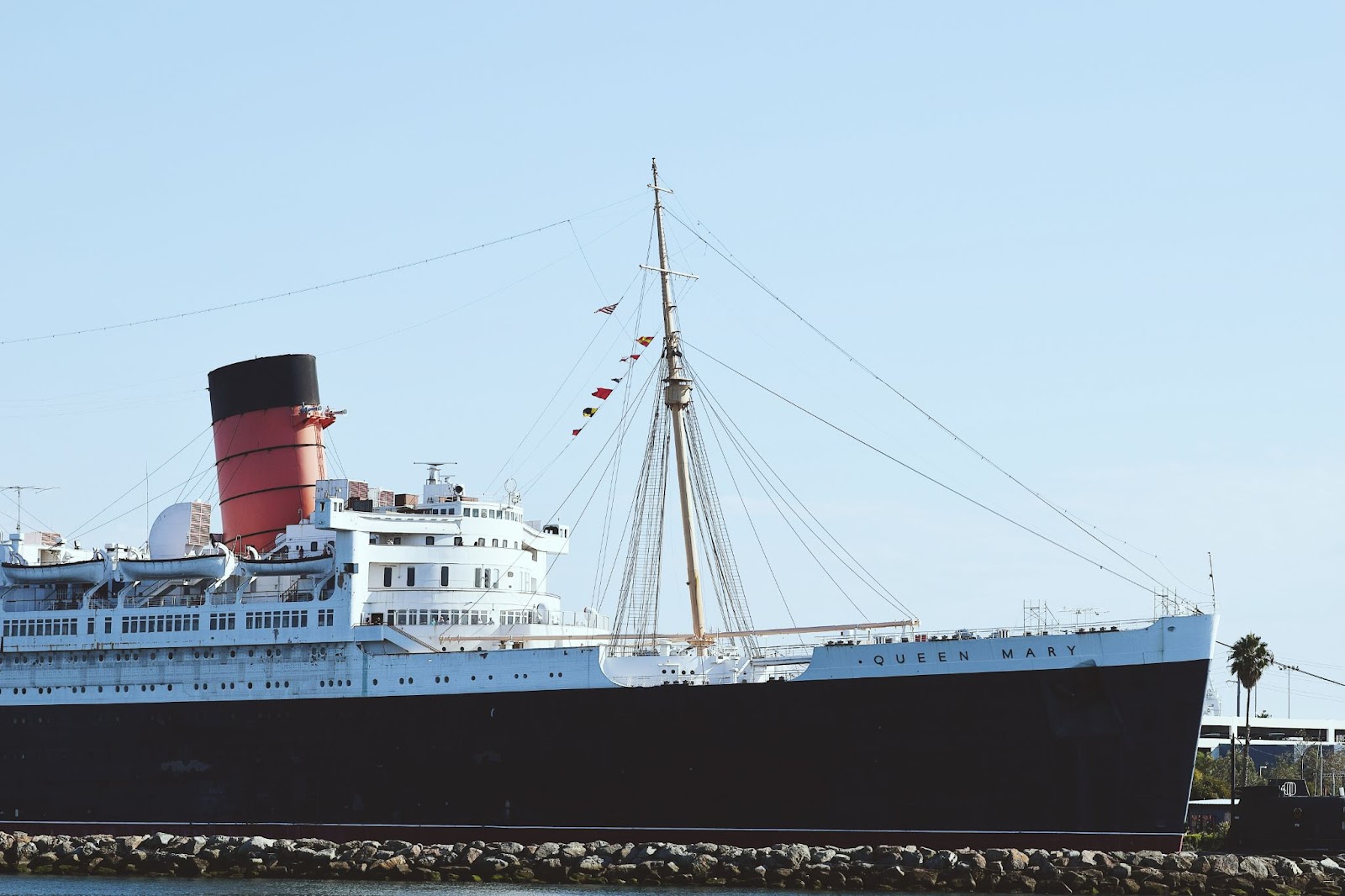 Queen Mary Hotel, by Bradley Pisney
La Brea Tar Pits
While the Tar Pits have been attracting and trapping animals for over 50,000 years, they've only been open to guests of the human variety since 1977. Archaeologists have pulled intact and preserved prehistoric and extinct animals from the tar, including mammoths and sloths. Today, gas bubbles can still be observed popping on the surface. The nearby LACMA art museum and Petersen Automotive Museum help add to the diverse cultural spirit of the area. Residents who live in Koreatown apartments are within walking distance to the Tar Pits!
Hollywood Sign Hike
Although you can see the Hollywood Sign from street-level in, we recommend enjoying a vista of LA from the sign itself! Due to somewhat heavy traffic, some trails have been closed. As of writing, you can still take the Brush Canyon Trail to Mount Lee. The full hike is 6.4 miles long, includes an elevation gain of just over 1,000 feet, and is considered to be moderate in difficulty. If the full distance is too long, there is an overlook 1.25 miles along the length of Brush Canyon Trail that provides a satisfying view of Downtown Los Angeles.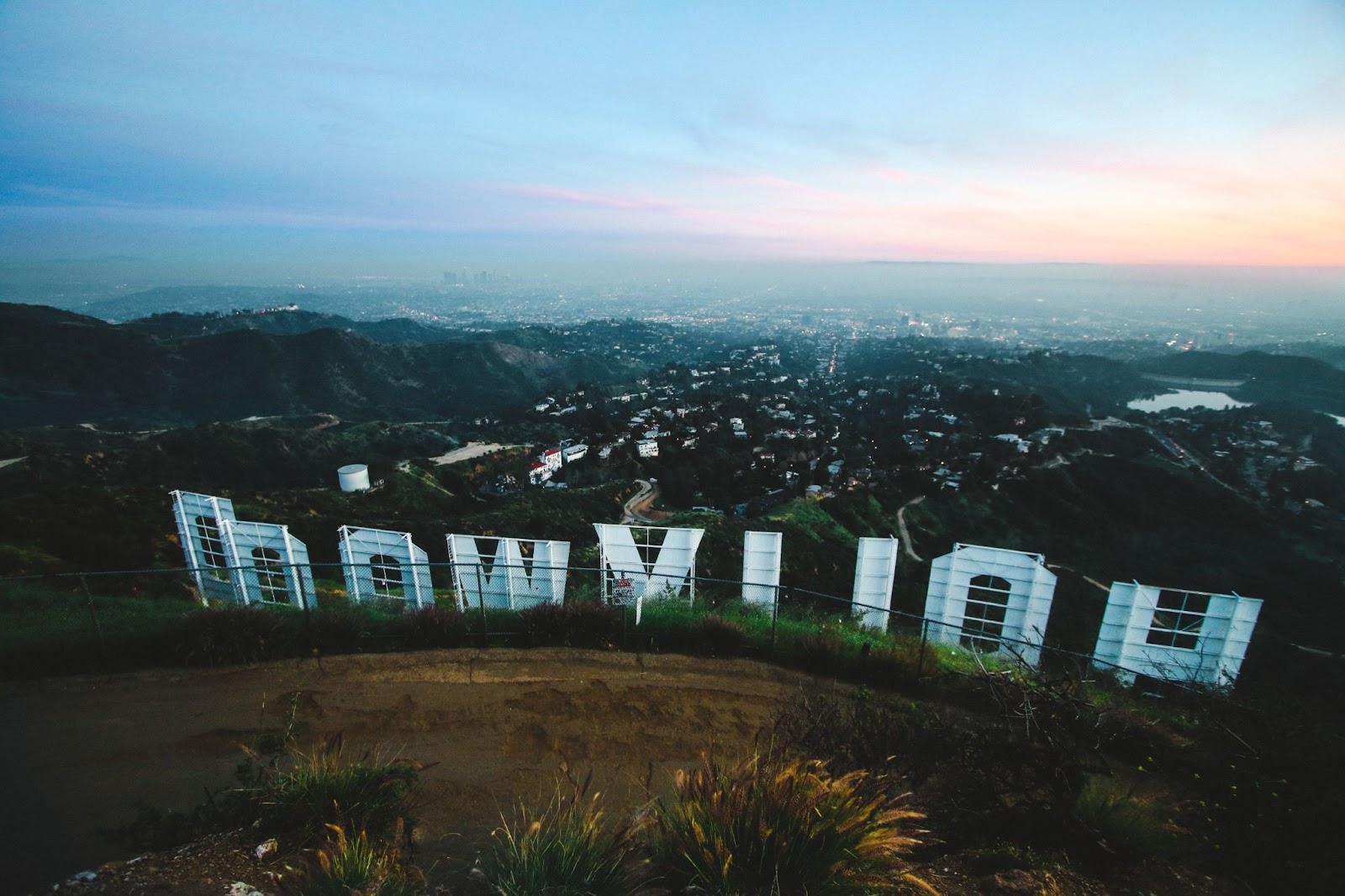 Hollywood Sign view of DTLA, by Jeremy Bishop
Echo Park Lake
Another natural landmark, Echo Park Lake is a must-visit place because, odds are, you have seen it in a movie! Echo Park Lake has been used as an establishing shot in many movies, including the 2011 film Drive, by Nicholas Winding Refn. The lake has been around since 1860, when it was built as a drinking water reservoir for LA. It later became a recreational park with canoes and fishing. Today, you can rent a paddle (or swan) boat or just enjoy lush landscaping from its winding paths.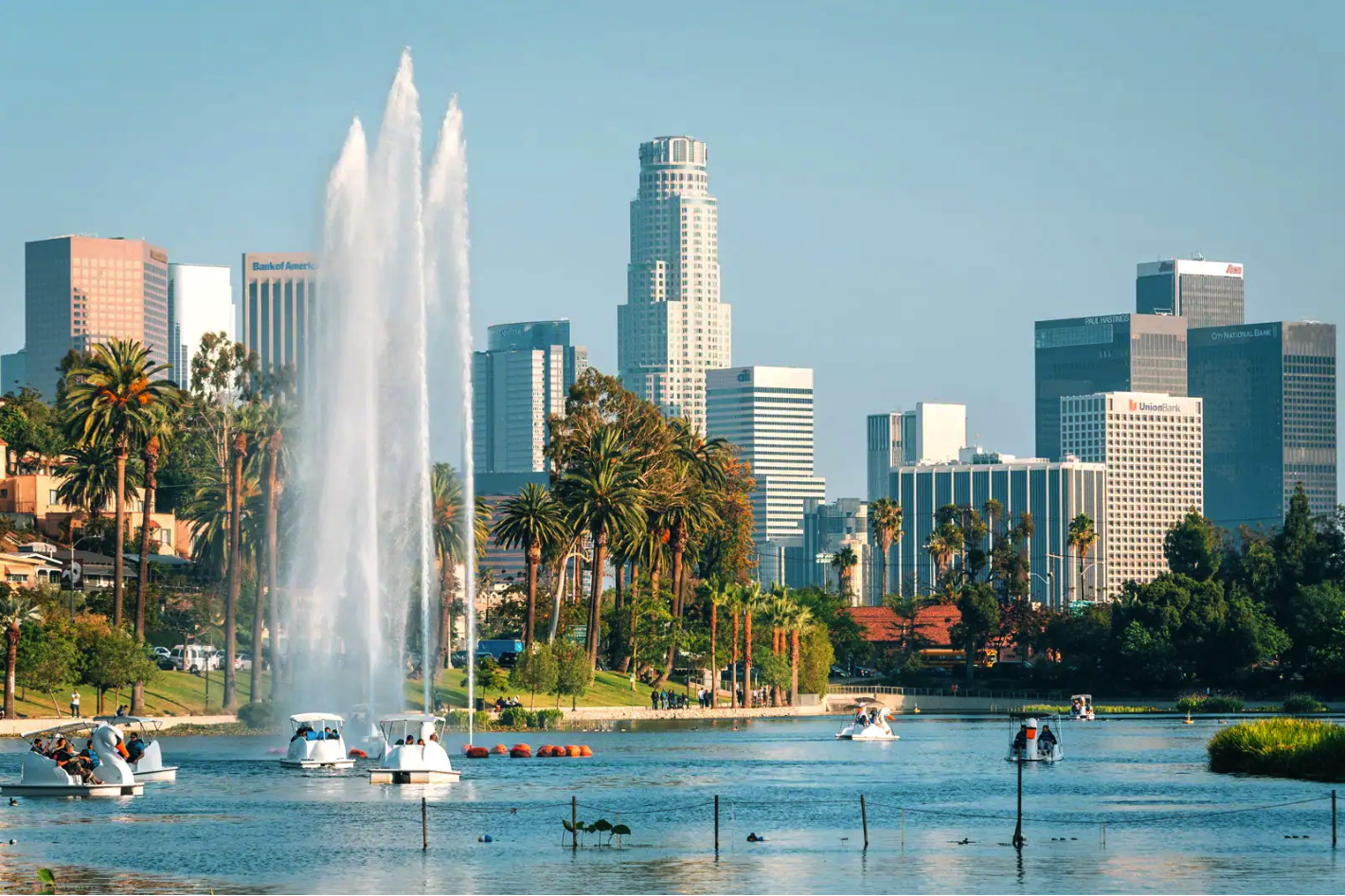 Echo Park Lake, from Hotels.com
LA "Local's Only" Tips
Downtown Los Angeles offers a lot to visitors and residents seeking grand experiences, there are an assortment of activities and tips you should consider if you wish to have a more down-to-earth experience and enjoy LA life like a local would. Here are Locals Only" tips:
Disneyland Fireworks Spectacular (FREE)
Enjoy Los Angeles like a true local by catching the nightly Disneyland fireworks show without paying to enter the park! Stop by the Disney Esplanade to mark an end of a day of exploration or to start your night in town off to a bang. Doing this is a great way to enjoy Downtown Disney's assortment of shopping and dining options, without worrying about parking thanks to an abundance of lots. With a minimum purchase of $20, which is what it would cost you to park anywhere in LA, at any shop or food kiosk in Downtown Disney parking fees are waived. Don't stress too much about parking, as there are ample signs and complimentary shuttles that will get you where you want to be.

*note that the fireworks usually start around 9:30 pm, everyday (off season: Friday thru Sunday)
Visit Silver Lake
Silver Lake is an east-side neighborhood in LA that embraces the hipster lifestyle and is home to a strong mom-and-pop vibe. Named after its picturesque and namesake reservoir, you can walk around to enjoy views of the downtown skyline along with a diaspora of gastropubs, wine bars, and vegan cafes. Not to be mistaken for Echo Lake, which has appeared in countless movies, Silver Lake offers a slightly less touristy ambiance. Silver Lake is a central hub of the gay rights movements and is home to a handful of establishments catered to, owned by, the LGBTQ+ community. Unlike most of LA, lodging options around Silver Lake are relatively sparse, contributing to the "locals only" spirit.
Refer to Freeways with a "The"
Los Angeles is home to a dizzyingly large amount of freeways, many of which merge and intersect with each other. If you're asking for directions, make sure you listen closely, as someone just may tell you, "take the 405, to the 605, to the 91,, to the 710, and back to the 405!" Just asking for the nearest freeway will get you lost, so be ready to pull your navigation apps up!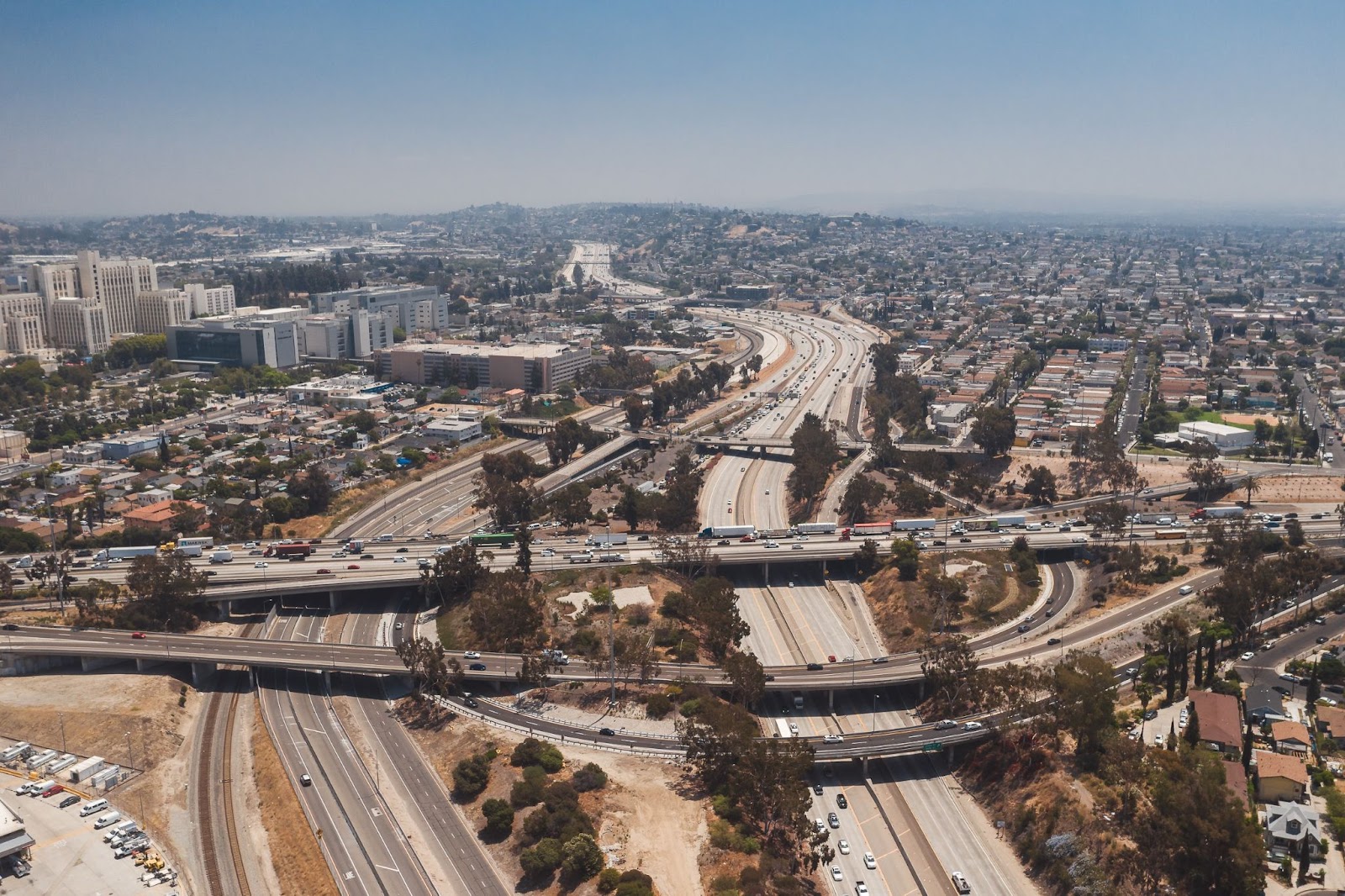 The Freeways of Los Angeles, by Rodnae Productions
Why add "the" to freeways? It's a holdover from the city's younger days. For example, when it was originally built "The 110" was named "The Pasadena" or "The Arroyo Seco" Freeway. As the city grew larger, neighborhoods blended together and freeways kept popping up. Eventually, this meant that a numbered convention system took over for freeways and they were all renamed, but "The" stayed!
Fly LGB, BUR, ONT, or SNA instead of LAX
Yes, just like LA has too many freeways and a lot of different experiences to choose from… visitors and residents even have an assortment of airports to fly into, or from. While LAX may offer the best flight schedule, due to traffic it may be best to consider flying into one of these alternate airports. Make no mistake, although LAX is king these "smaller" Los Angeles-area airports are well-equipped and generally provide the same flight schedule as "main" airports in other parts of the USA. Go for one of these airports if you want to breeze through security or arrive closer to your desired destination.

Delta CSeries at John Wayne Airport, by Sven Piper
Long Beach Airport and Burbank Airport are both in Los Angeles County. Depending on where you want to stay and what activities you have planned, one of these airports might be a better option than LAX! Alternatively, you can fly into John Wayne Airport (SNA), which is named after famous cowboy western actor John Wayne. Travelers using SNA arrive directly in Orange County, enjoy a 20-minute drive to LA county, non-existent lines through security, a relaxed and quiet single terminal, and the chance to pose with a statue of John Wayne! Ontario Airport is a good option if you are flying in from China, as China Airlines now has a nonstop flight to this airport. Ontario Airport is used for the filming of many aviation-based movies and commercials. ONT is owned by LAWA, which operates LAX. All of these airports have plenty of service provided by major airlines like Delta, United, and American and smaller carriers like JetBlue and Southwest.
Just GET OUT and Explore!
Ask any resident of Los Angeles and they'll give you a week-long list of activities to do and places to explore. Ask too many residents, and you'll need to start a journal to decide what to do. The best tip from a Southern Californian? Just explore. Seriously, there is something to do anywhere you go. Just don't become too much of a local and catch a flight to another state, there's plenty to do in Downtown Los Angeles.
LA's Top Scenic and Active Lifestyle Adventures
Downtown Los Angeles, despite being a city known for sprawling suburbs, hosts a large variety of scenic vistas that you can enjoy from the miles-long waterfront to mountains of Toponga State Park, Hollywood Hills, and Griffith Park. Purveyors of an active lifestyle have no shortage of options from beachfront gyms and easy to challenging hikes. No matter what you are seeking, LA offers it all.
Scenic and Active Lifestyle Recommendations near Downtown LA:
Griffith Park/Griffith Observatory
The Griffith Observatory is an Art Deco landmark constructed in 1935. Located to the North of Los Angeles at an elevation of 1,135 feet, you are able to enjoy an expansive view of Downtown LA that is framed by the ocean to the right. At the Observatory proper, you can explore cool attractions like, James Dean Bust, Astronomers Monument, and Greek Theatre.
Active Lifestyle: Glendale Peak Hike — For active lifestyle seekers, park at the nearby parking lot and enjoy some of the Griffith Park Trails, which range from easy to moderate difficulty. We recommend hiking to Glendale Peak via the Riverside Trail and stopping by Vista Viewpoint. This hike is 3.6 miles long with an elevation gain of 830 feet. One of the last stops on this hike is a view of Mount Hollywood.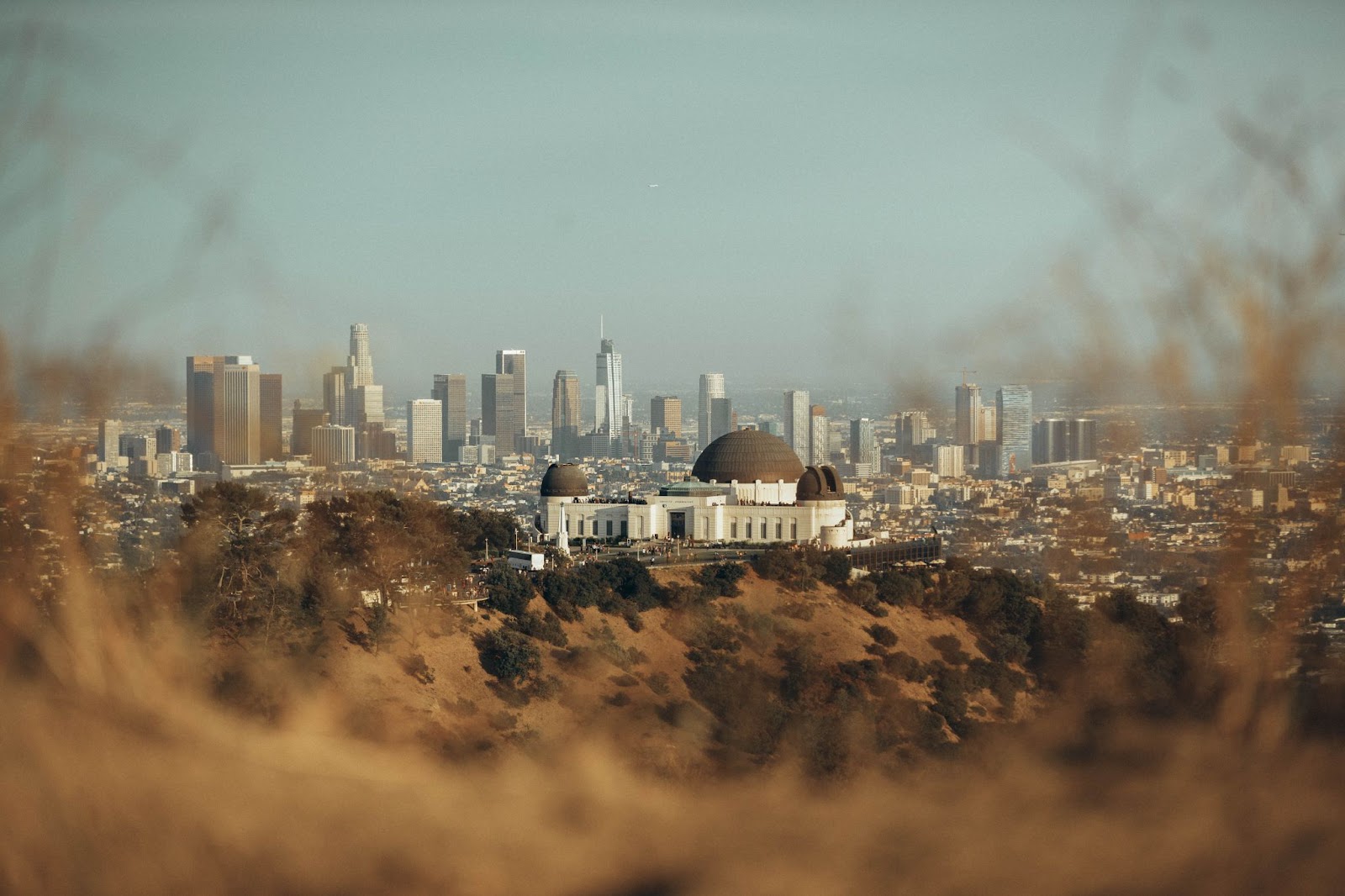 Griffith Observatory, by Roberto Nickson
Hollywood Hills/Runyon Canyon Park
The Hollywood Hills are home to the Hollywood Bowl and the Hollywood Sign is to the North of the 101 freeway. Hikes at Runyon Canyon Park are generally more challenging, but offer beautiful views of the downtown center with the city of Hollywood in the foreground.
Scenic: Wattles Garden Park — Park here and explore one of Downtown LA's most-beautiful historic landmarks. Wattles Mansion and Wattles Garden, collectively known as Jualita, are one of the last remaining vestiges of Hollywood estates from before the film industry came to Tinseltown!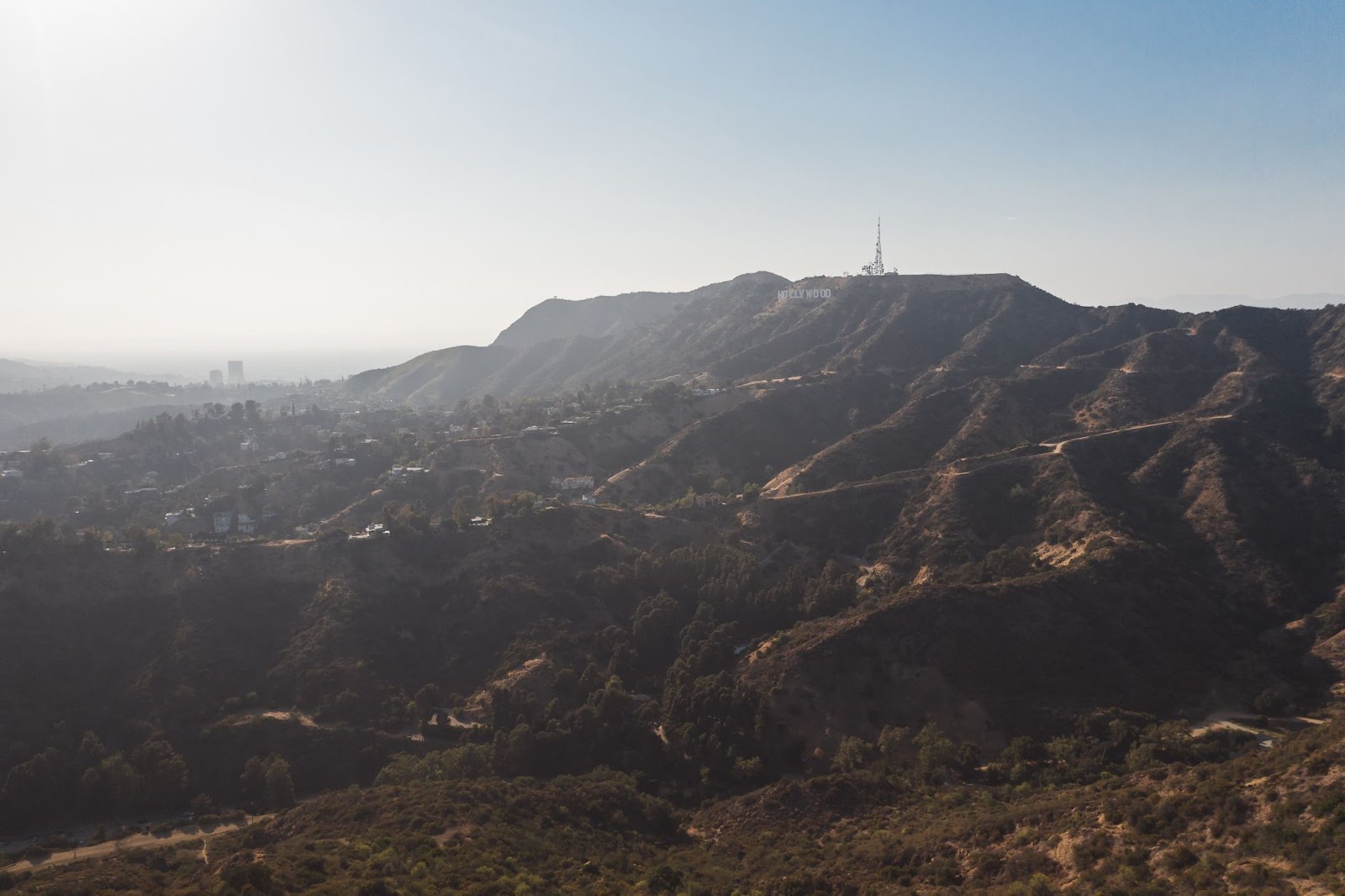 Runyon Canyon Park, by Rodnae Productions
Active Lifestyle: Harper Monkey Trail — This is a challenging hike that will reward you with meditative spots on the way up to breathtaking mountain top views. Park near Wattles Garden Park, as the trail starts at the nearby Japanese Garden. The trail begins with an assortment of meditative installations and progressively becomes narrower and steeper, with loose sand and ever rockier slopes.
Toponga State Park and Surrounding Area
Toponga State Park covers 11,000 acreas and features 36 miles of trails and unpaved roads. The park's boundaries loosely stretch from Toponga Canyon, Mulholland Drive, and the Pacific Palisades. Getty and Getty View Park flank this area directly to the east, by the 405.
Scenic: The Getty Center – Perched above Brentwood Heights, this is an iconic Los Angeles landmark designed by Richard Meier. The grounds boast a 134,000 square-foot "sculptural garden" designed by Robert Irwin. The Getty Center features an artwork collection valued at over $10 billion. The collection includes Arii Matamoe by Paul Gaugin, Irises by Vincent van Gogh, along with other pre-20th-century European paintings, drawings, manuscripts, and sculptures. If you just want to park and enjoy a view from the comfort of development, without any hiking boots, this is your best option!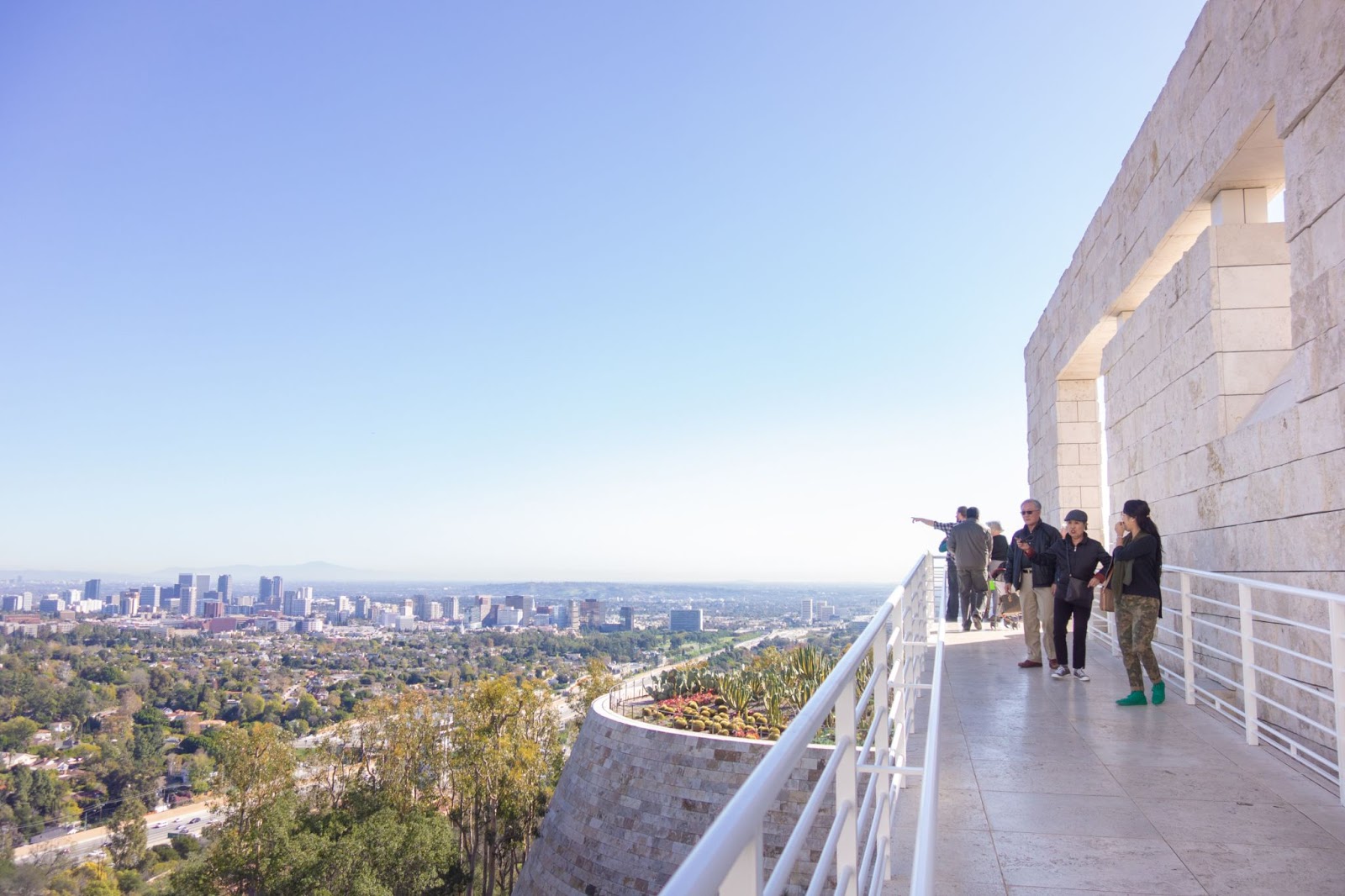 Getty Center, by Lydia Koh
Active Lifestyle: Getty View Park -- Located one-half mile away from the Getty Center, you can enjoy a short 2.6 mile out-and-back hike by walking along the Getty View Trail. This is considered an easy hike and primarily makes you feel as though you are walking in the clouds. For the most part vistas of the city are sparse, but you can check out the winding road up to The Getty.
Santa Monica Pier and Venice Beach
Who says you need to be in the mountains to enjoy breathtaking views or live an active lifestyle? You wouldn't experience Los Angeles without stopping by the Pier and nearby Venice Beach. Coming to the beachfront is a surefire way to experience the best that Downtown LA has to offer.
Scenic: The Pier — This massive 3.5 mile long pier juts into the Pacific Ocean at the intersection of Colorado and Ocean. This is one of the most photographed locations in the world! From foods to a small theme-park, there is always something new to enjoy at Santa Monica Pier. You can enjoy a leisurely walk along the pier or jog from end-to-end. We also recommend visiting Pacific Park, where you can take in breathtaking views of the pier, ocean, and the city of LA by hopping on the Pacific Wheel or West Coaster.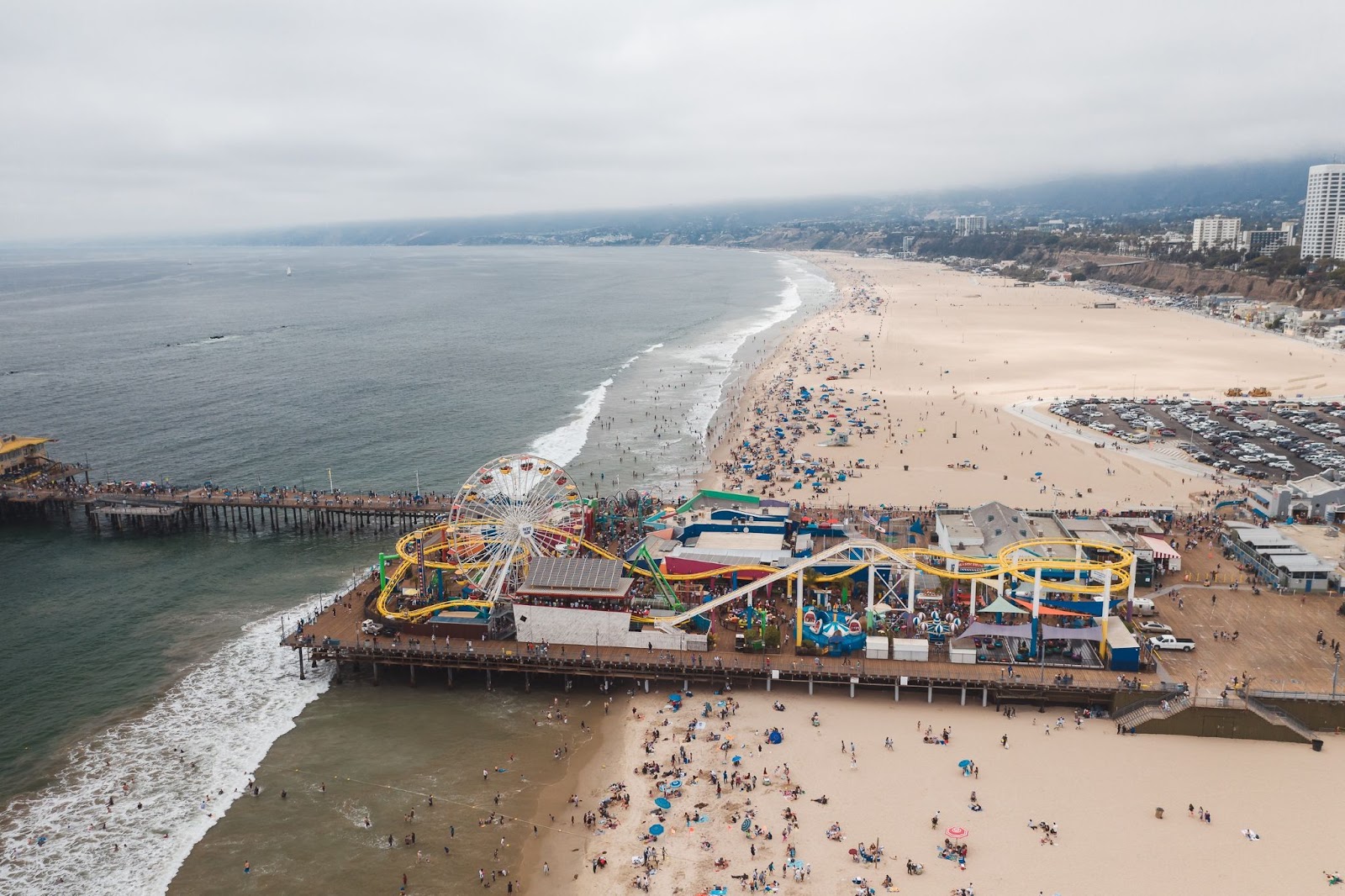 Santa Monica Pier, by Rodnae Productions
Scenic and Active Lifestyle: Venice Beach -- If you prefer exercising around people and cool shops, be sure to check out Venice Beach. Venice Beach offers plenty of people-watching opportunities amongst a picturesque, palm-tree laden beach backdrop. Walk, run, or jog up and down along the Venice Boardwalk and the Venice Canals! Even better, this area has a plethora of dining options, ranging from grab-and-go to tasty "wine and dine" seafood options (pro-tip: The Anchor is a favorite of LA Locals).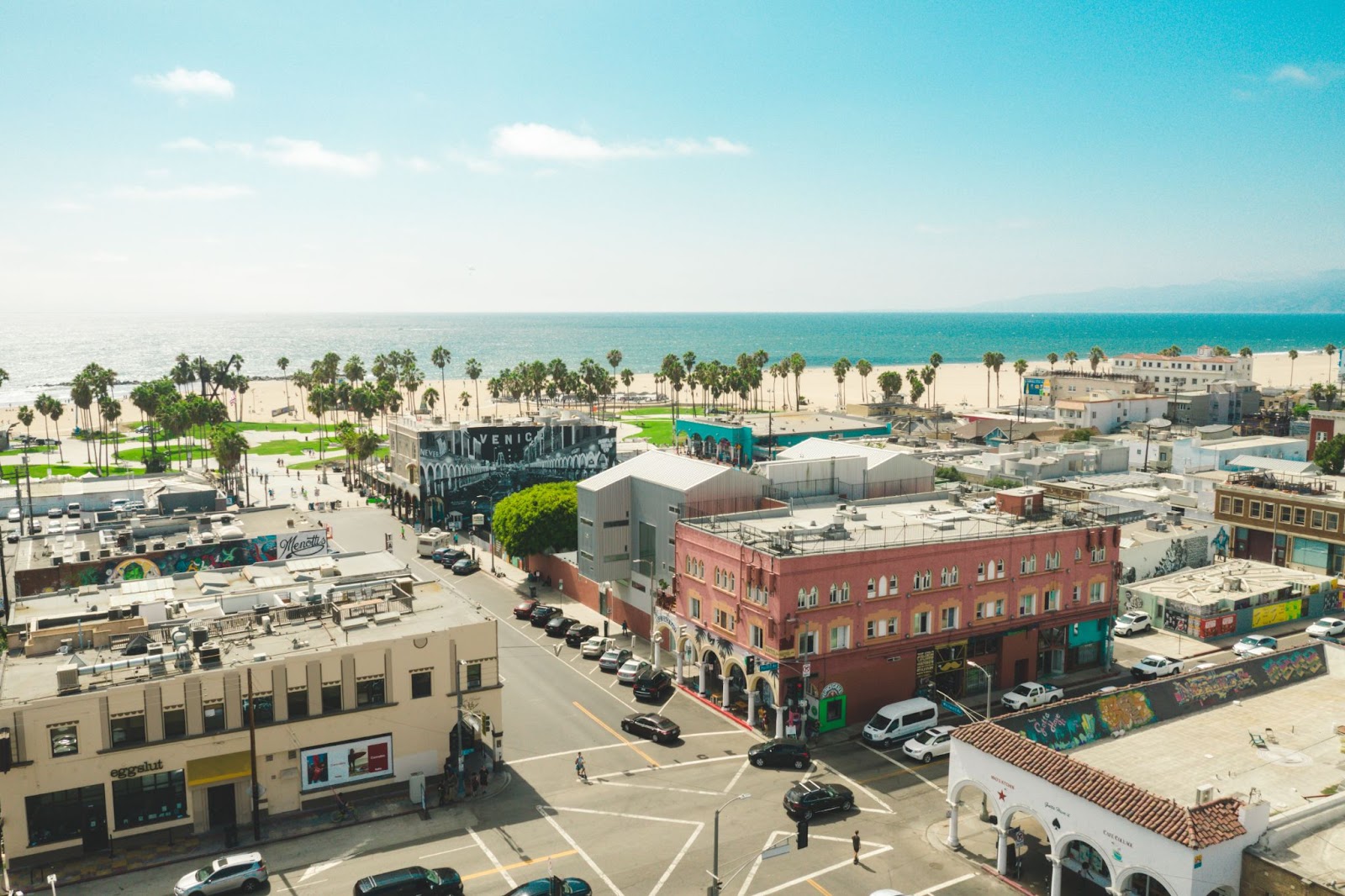 Venice Beach, by Veeterzy
Active Lifestyle: Muscle Beach Gym – Muscle Beach Gym is an iconic outdoor and very public gym. You can purchase a day pass, weekly pass, or annual membership to pose down and pump iron where "The Arnold" got his start in Southern California. If this iconic gym is a little too airy, the nearby Gold's Gym is a popular option to consider.
Downtown Los Angeles Cultural and Civic Centers
As you would expect from any metroplex, there are an abundance of cultural and civic centers one can enjoy. As mentioned above, Los Angeles is home to hundreds of museums that are specialized in showcasing arts and cultural experiences. Civic centers in LA are so plentiful that it's hard to say just how many there are when one considers how big the Downtown LA area is! By our count, there are just under ten in Downtown LA, and at least a dozen more in the greater County of Los Angeles.
Cultural Centers in Downtown Los Angeles
Downtown LA is home to a variety of cultural centers, endless art museums, and grand libraries. Like the city itself, there is a large degree of diversity in each of these cultural center's focus and exhibits. Visiting just one of these places is a great way to develop an appreciation for the community they are located in along with an understanding of the spirit of the culture they represent!
Best Libraries in Downtown LA:
Central Library
Designed by architect Bertram Goodhue, the main branch of the Los Angeles Public Library (LAPL) evokes influences of ancient Egyptian and Mediterranean Revival architecture. The central tower features a mosaic pyramid with suns on the side and a torch that represents the "Light of Learning." Other design elements include sphinxes, snakes, and celestial mosaics. The library features two buildings, the Goodhue Building and Tom Bradley addition, which were built in 1925 and 1993, respectively. Goodhue Building was listed on the National Register of Historic Places (NHRP) in December 1970.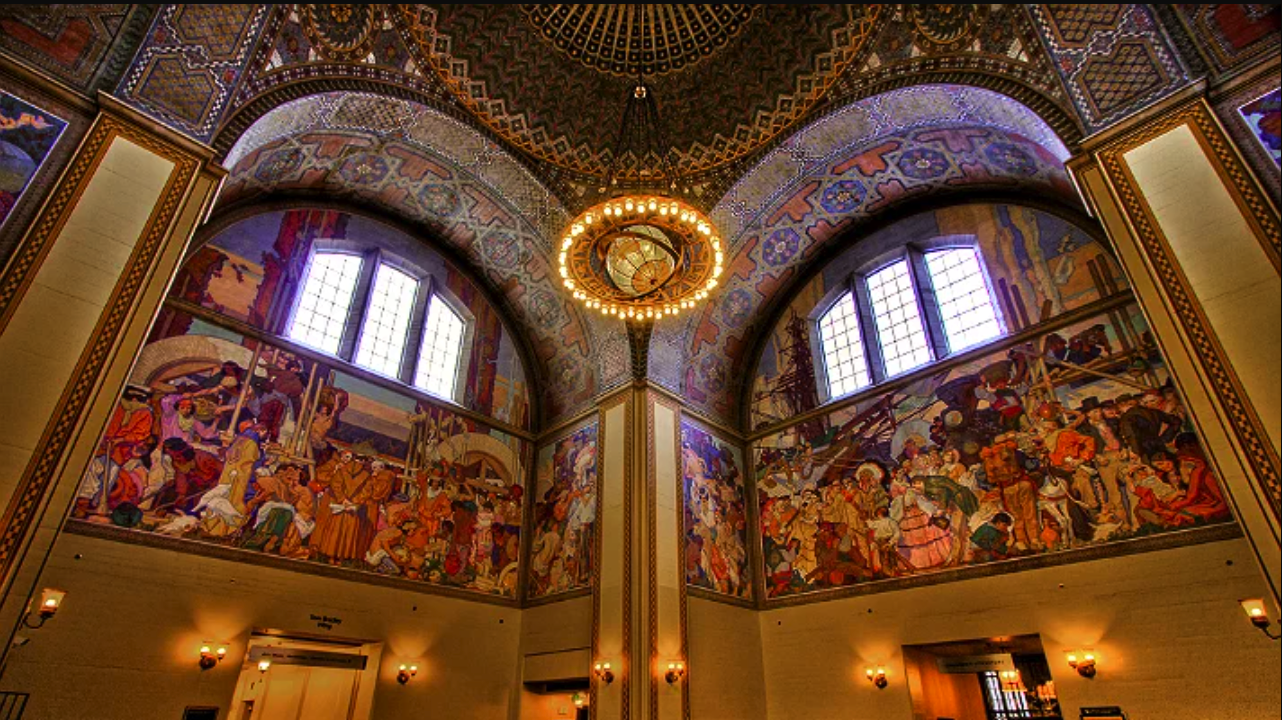 Central Library Rotunda and Zodiac Chandelier, by DiscoverLA
The Rotunda, which serves as the main building's entrance, features the magnificent bronze-clad Zodiac Chandelier designed by Lee Lawrie, who worked on most of the Goodhue Building's metalwork. Julian Garnsey, an LA artist, painted a variety of decorative stencils directly onto the ceiling's concrete surface. Like the exterior of the main buiilding, the painted ceilings play a key role in Goodhue's aesthetic concept of adding color and life to his design's wondrous shapes and stoic concrete surfaces.

Central Library is as huge as it is grand, containing an area of over 500,000 square feet with almost 90 miles of shelving and seating. For visitors and residents of Koreatown, Central Library is a short 10 minute bus ride away. It's a great idea to stop by this iconic LA landmark.
West Hollywood Library
Also known as the WeHo Library, this 33,150 square foot library features impressive murals, a grand staircase with a large coral tree titled "Platanus bibliotechalis," and an ornamental bamboo paneled ceiling with patterns of leaves, petals, and vines. The West Hollywood Library is a treat for visitors who wish to read while enjoying local-inspired artwork. This library and its walking distance proximity from many key LA attractions is a big reason that many people enjoy living in one of West Hollywood's centrally located apartments!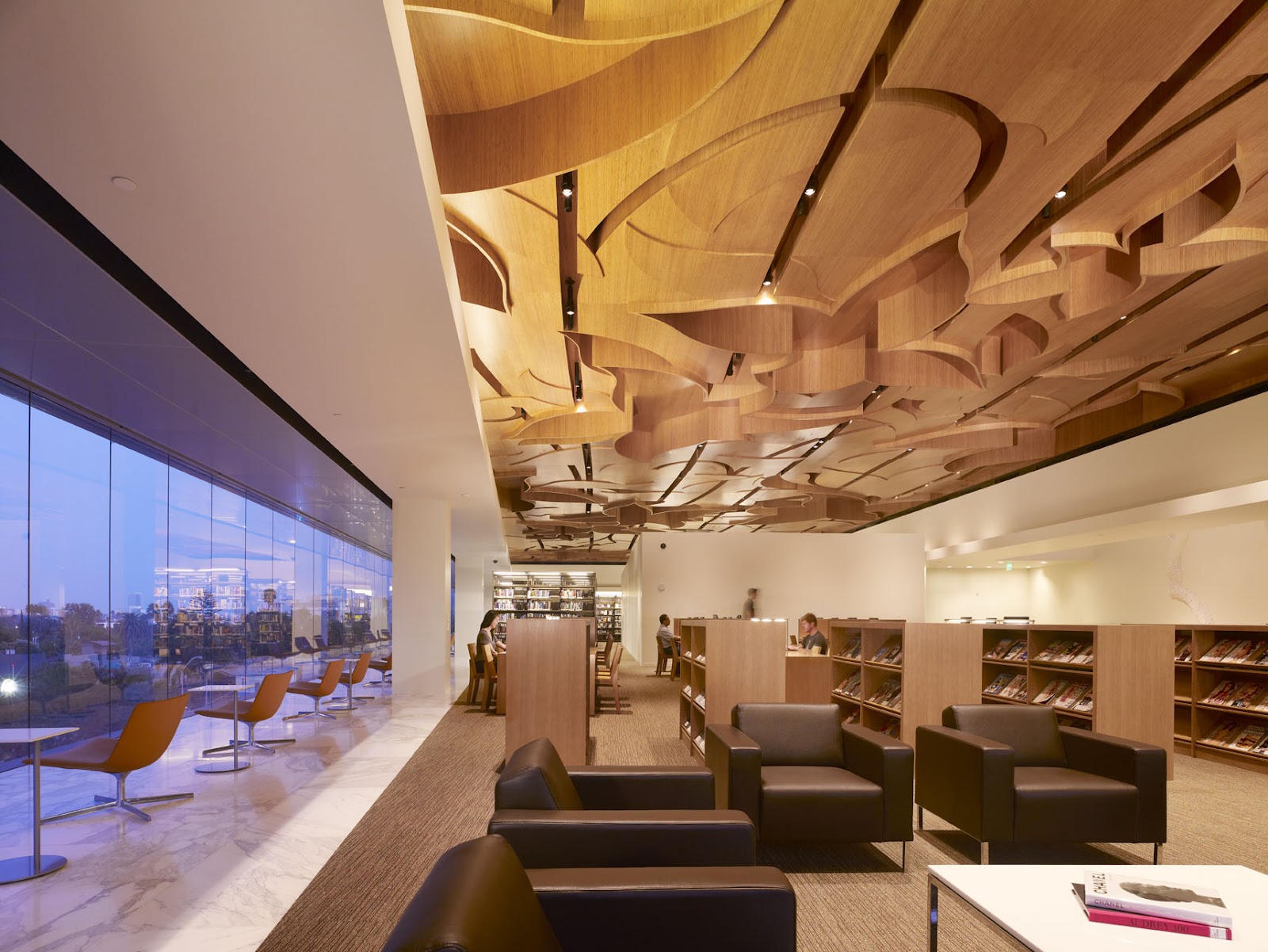 West Hollywood Library ceiling details, by Architect Magazine
Powell Library
For UCLA students or anybody living in one of West LA's beautiful apartments, it's highly recommended to check out this Romanesque Revival-themed library located on the UCLA campus. Modeled after Milan's Basilica of Sant'Ambrogio, you can browse a large collection of texts peacefully under a sanctuary-like rotunda.
Los Angeles is home to several contemporary art museums. A contemporary art collection in Los Angeles generally exhibits art made and produced by LA-based artists living today; this means they are reflective of a global community that is culturally diverse, technologically advanced, and multifaceted. Many of these museums also feature artwork from around the world!
Top Downtown LA Art Museums, enjoyed by locals and visitors alike:
Broad Museum
The Broad Museum is a short walk from Central Library, making it a favorite cultural hub of UCLA students and residents living in Koreatown. Stunningly designed with a honeycomb-like exterior, the building is wrapped by a porous envelope known as "The Veil." With an endowment of $200 million, this contemporary art museum has more funding than any other Downtown LA museum (other than The Getty Museum).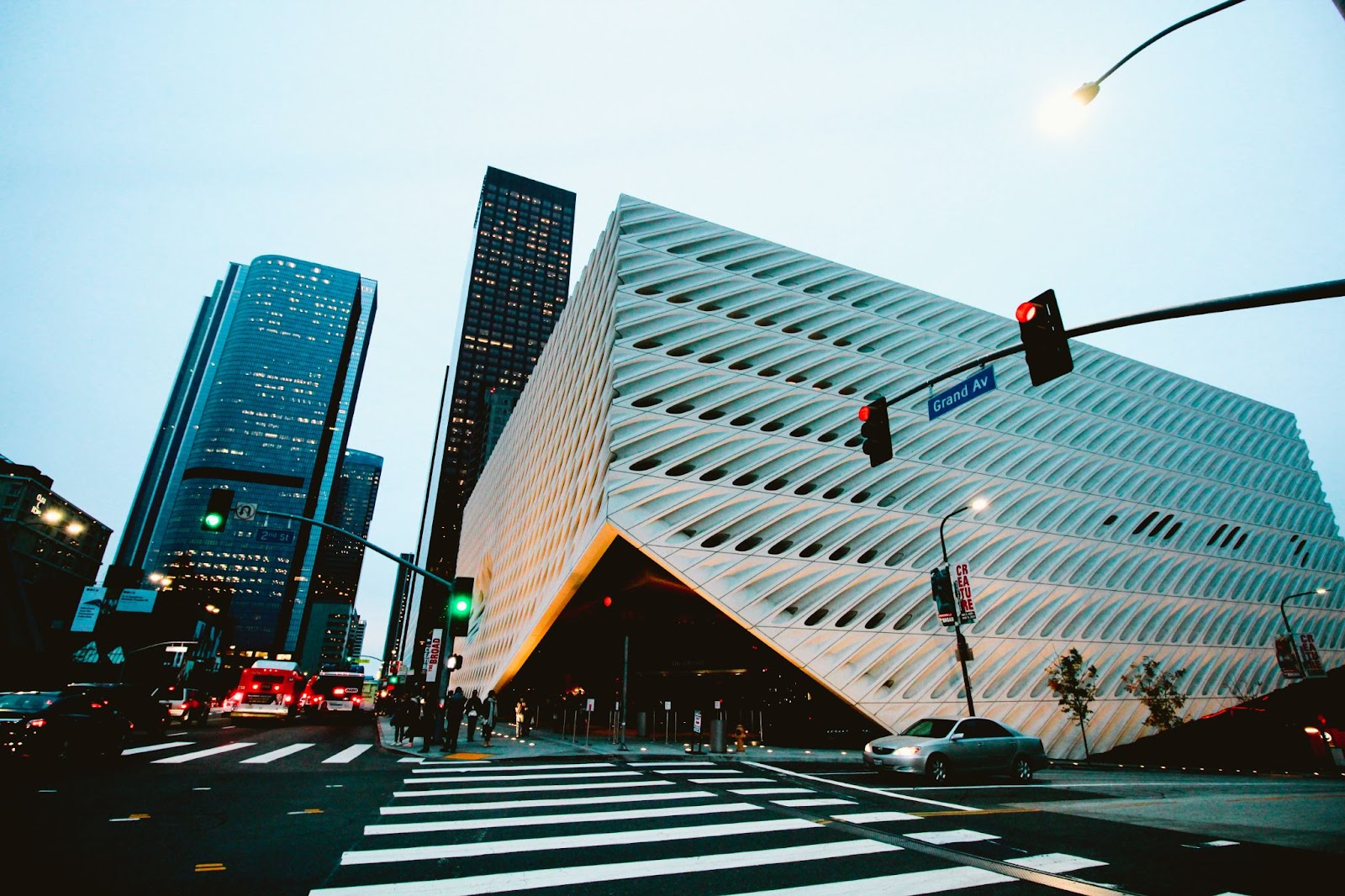 Broad Museum, by Belle Co

The Broad offers free admission to anybody who wishes to enjoy it's 2,000-piece art collection, which includes works from Ed Ruscha, Roy Lichenstein, and Andy Warhol. The Broad also features Yayoi Kusama's Infinity Mirror Room — The Souls of Millions of Light Years Away.
LACMA
LACMA, or the LA County Museum of Art, is directly adjacent to the La Brea Tar Pits and holds over 150,000 works of art from the ancient times to the present. LACMA is within walking distance of the culturally diverse and ever-growing neighborhood of Koreatown, in the opposite (Western) direction from The Broad Museum.

Home to several art installations, social media savants have enjoyed posing with the famous "Urban Light" sculpture by Chris Burden. "Levitated Mass," by Michael Heizier, is another interesting installation at LACMA; it's a 340-ton boulder levitated above a walking path on the museum's grounds. These impressive installations help make the largest art museum in the Western US a truly interesting place to visit!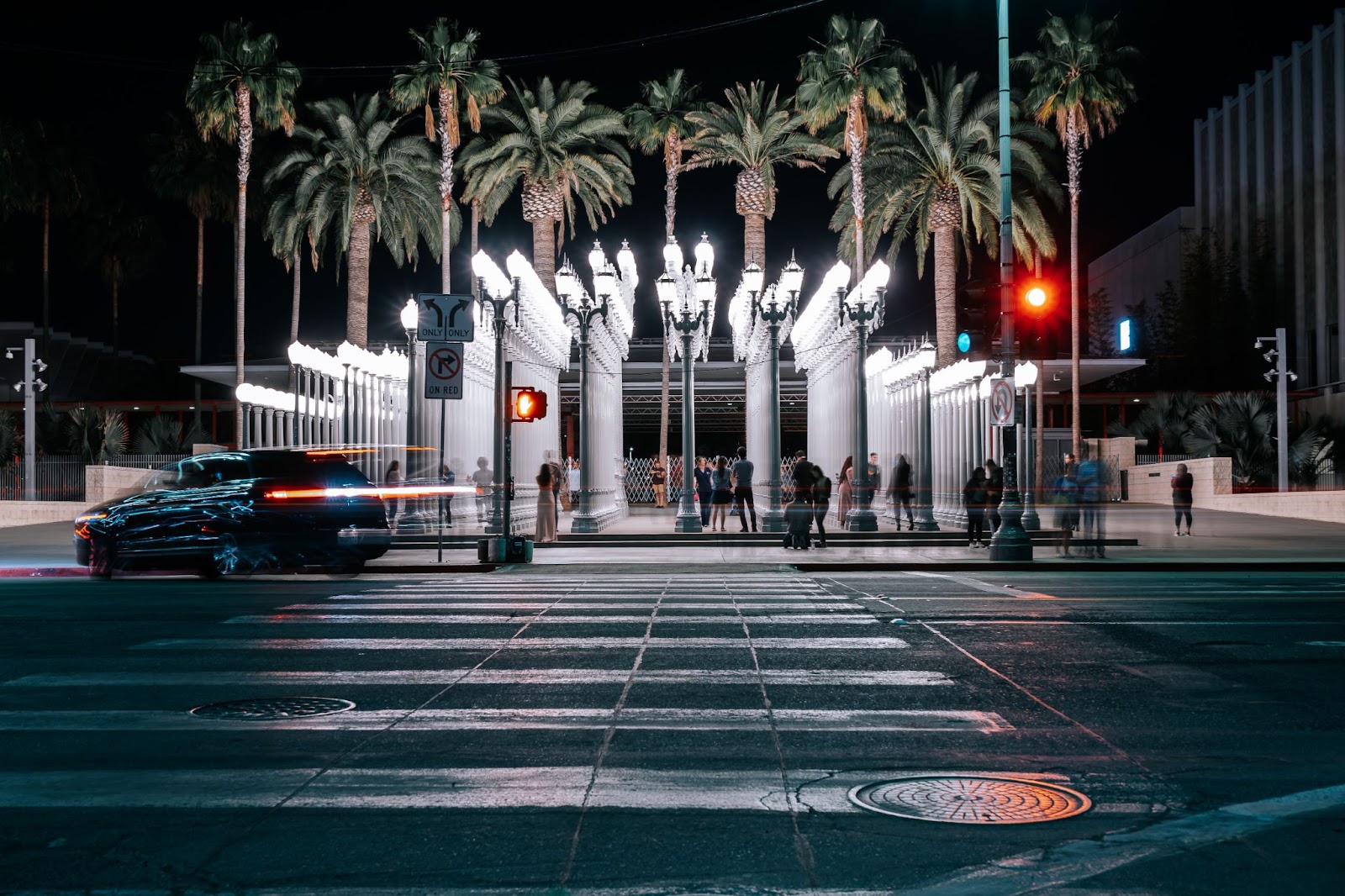 LACMA's Urban Light by Chris Burden, (photo) by Kehn Hermano
MOCA
The Museum of Contemporary Art, Los Angeles (MOCA) actually has two branches. The main branch is located near the Walt Disney Concert Hall. MOCA primarily features American and European contemporary art created after 1940. In 2022, MOCA launched "Building Art" which features local artwork on the facade of the building. MOCA, with several pyramids evocative of the Louvre Museum emerging from the roof, is an art museum anybody would enjoy visiting.
Civic Centers in Downtown Los Angeles
Some of the most famous civic centers in DTLA include the LA Memorial Coliseum, Rose Bowl Stadium, Staples Center (now known as Crypto.com Arena), nearly and the Los Angeles Civic Complex, which is a sprawling and immaculately landscaped neighborhood that hosts federal building and features the only shopping mall built at the historic Los Angeles City Hall.
Why are there so many stadiums? Outside of the powerful influence of Hollywood, it may be because Los Angeles is home to over 20 professional sports teams. Los Angeles owns three basketball teams (Los Angeles Sparks, Lakers, and Clippers), two NFL teams (Los Angeles Chargers and Rams), two MLB teams (LA Dodgers and Angels), two professional soccer clubs (LA Galaxy and Los Angeles FC), and a variety of collegiate teams that play for UCLA Bruins and USC Trojans. When teams aren't filling these world-class stadiums with cheering fans, they're hosting concerts that are headlined by both global and Hollywood-based artists.
Downtown LA's Iconic Civic Centers:
West LA Civic Center
Don't mistake this civic center's seemingly plain name, this is a solid staple of LA! This civic complex is the result of Los Angeles' 1949 master plan to provide more convenient service to the residents of the city. All buildings were designed by architecture firm Allison & Rible in a mid-century modern style.

The complex's amphitheater stands out thanks to a cavernous, parabolic arched roof that is held aloft by tiled pillars, almost like a smaller version of the famous Gin Wong-designed Union 76 Station. By association, this building is meant to look like LAX Airport's famous Theme Building. If architecture is not your thing or you don't feel like visiting a courtroom for fun, we think you'll enjoy the high-end shopping mall that connects all of these historic buildings together.


Crypto.com Arena, formerly Staples Center
This stadium will forever be remembered as "Staples Center" by a true Los Angelenos. Opened in 1999, this multi-purpose arena was officially named "Staples Center" for 22 years. Directly adjacent to the "LA Live" entertainment complex, Crypto.com Arena is the "staple" attraction of a Downtown Sports Park that was purpose-built to host the 2028 Los Angeles Olympic Games.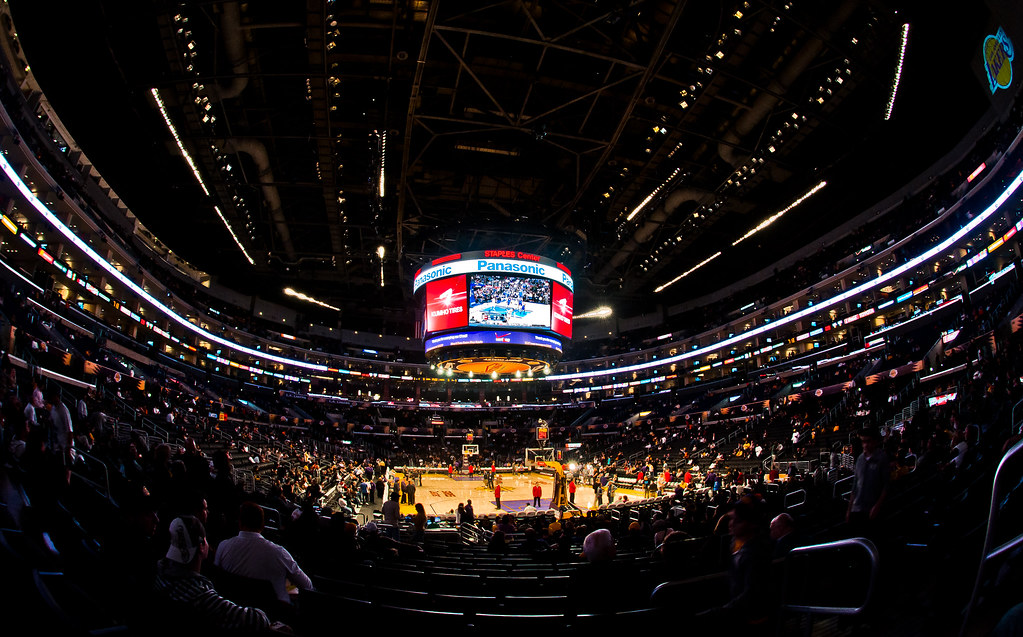 Inside Staples Center, by Valerio Loi

Whatever you consider the name, this arena is well-loved by residents, entertainers, and sports teams alike. It is the home of the LALakers, LA Sparks, LA Clippers, and NHL's LA Kings. Even if you don't directly plan to visit, simply choosing to attend an event in DTLA makes the chances of being at or near this stadium pretty high!
Staples Center has hosted:
LA Kings first Stanley Cup win — June 11, 2012

LA Kings second Stanley Cup win — June 13, 2014

Kobe Bryant (LA Lakers) scores 81 points — January 22, 2006

Four consecutive sold-out U2 concerts, as part of Vertigo Tour — April 5-6 and November 1-2, 2005

Kobe to Shaq Alley-oop - June 4, 2000

Seven NBA Finals

Five WNBA Finals

Four UFC pay-per-view cards

Dozens of championship boxing matches


The Rose Bowl
Considered to be America's most famous college football stadium, The Rose Bowl has been the home of Bruins football since 1982. This iconic stadium has hosted the 1932 Olympic Games, was the soccer site for the 1984 Olympics, four Super Bowls, the 1994 World Cup, and the 1999 Women's World Cup. The Rose Bowl can seat around 90,000 people.
Los Angeles Memorial Coliseum (or LA Coliseum)
Completed in 1923, the LA Coliseum will soon become the only stadium in the world that has hosted three Summer Olympics. Having hosted the Olympics in 1932 and 1984, it will earn this rare distinction after hosting the Olympic Games in Summer 2028. This stadium became a National Historic Landmark the day before the opening ceremony of the 1984 Summer Olympics and is the home of the USC Trojans football team. The Los Angeles Rams were based at the LA Coliseum between 1946 to 1979, before they became the St. Louis Rams, and once again between 2016 to 2019 when the Rams returned!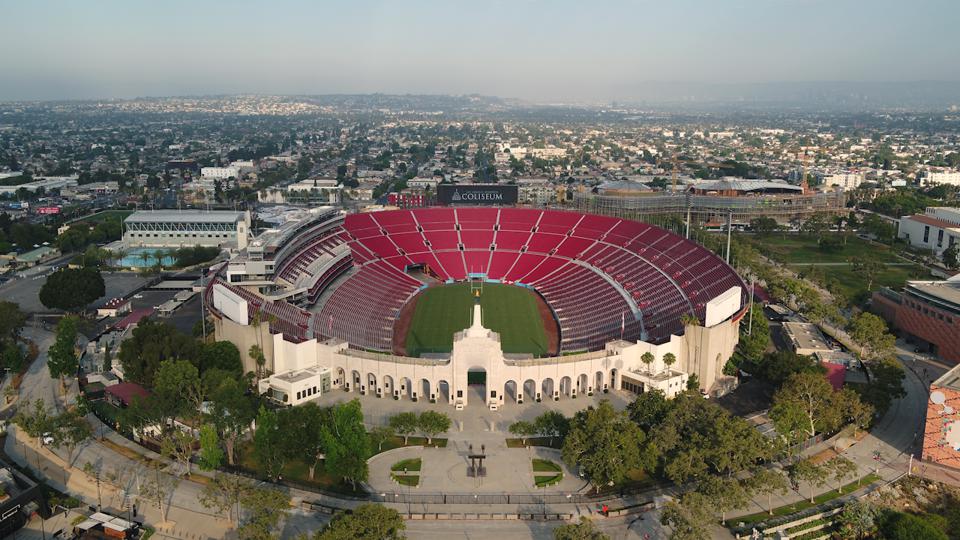 LA Memorial Coliseum, by Forbes
Best Marketplaces of Los Angeles
In Downtown Los Angeles, dining and shopping go hand-in-hand thanks to a huge assortment of mixed-use historic and high-end markets. At these markets, you'll find flowers, tourist trinkets, quick-service and fine dining establishments, bars, and local produce sold in the backdrop of a cosmopolitan city.
Original Farmer's Market
Open since 1934, The Original Farmer's Market offers over 100 gourmet grocers, food stalls, and sit-down eateries. Located at the corner of Fairfax Ave and 3rd Street, the market is a must-see destination for foodies in search of ethnic cuisines and a true LA experience. The iconic clock tower, Farmer's Market Sign, and famous "Meet Me at Third and Fairfax" sign make for wonderful photo ops.
The Grove
The Grove is a 575,000 square foot outdoor marketplace directly adjacent to the Original Farmer's Market. It features buildings designed to pay tribute to LA's classic historic districts with plazas, intimate courtyards, Art Deco false fronts, and a massive animated fountain by WET. The music-fountain plays shows every hour. If you're too tired from walking with heavy shopping bags, feel free to hop onto one of the double-decker trolleys, which are built from historic 1950s-era Boston street cars.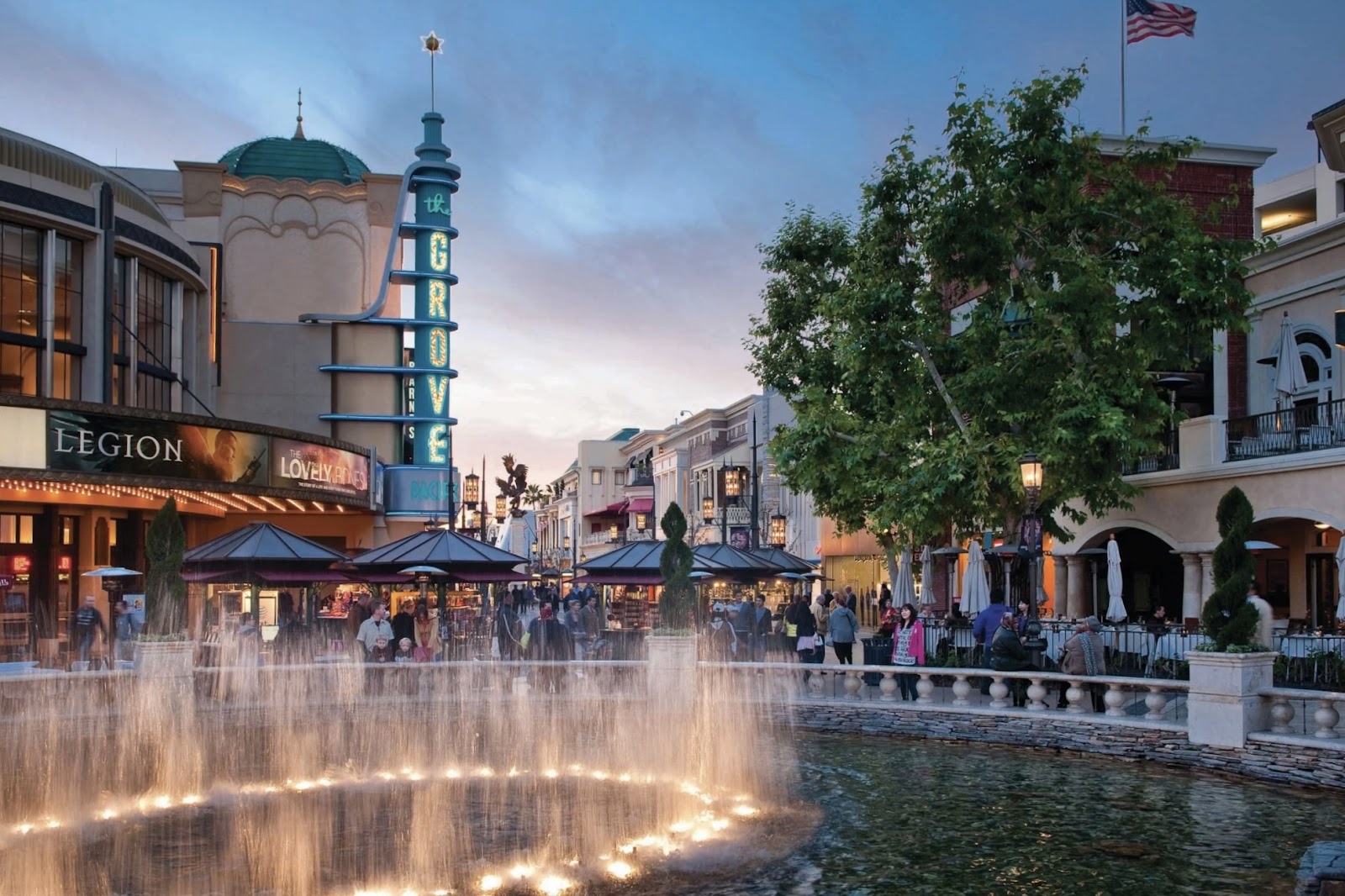 Fountains at The Grove LA, by DiscoverLA
The Grove has 51 premium stores including staples like Nordstrom, Michael Kors, Lululemon, Nike, Ray-Ban, Apple, and Madewell. Fisker Automotive Group will be moving in with a showroom shortly! The Grove and Original Farmer's Markets are walking distance from the LaBrea Tar Pits, LACMA, and several apartments available in Koreatown and West Hollywood.
Grand Central Market
A downtown landmark since 1917, Grand Central Market is home to 40 stalls and acts as a microcosm of historic immigrant communities in Los Angeles. Many of Grand Central Market's stalls all have spectacular neon signage. In the 1990s, the market was renovated and vintage neon signs marking each stall were restored, while new ones were created. At the same time, tiles were removed to showcase the second story's spectacular glass windows. Today, visitors can enjoy many of the building's restored Beaux Arts detailing.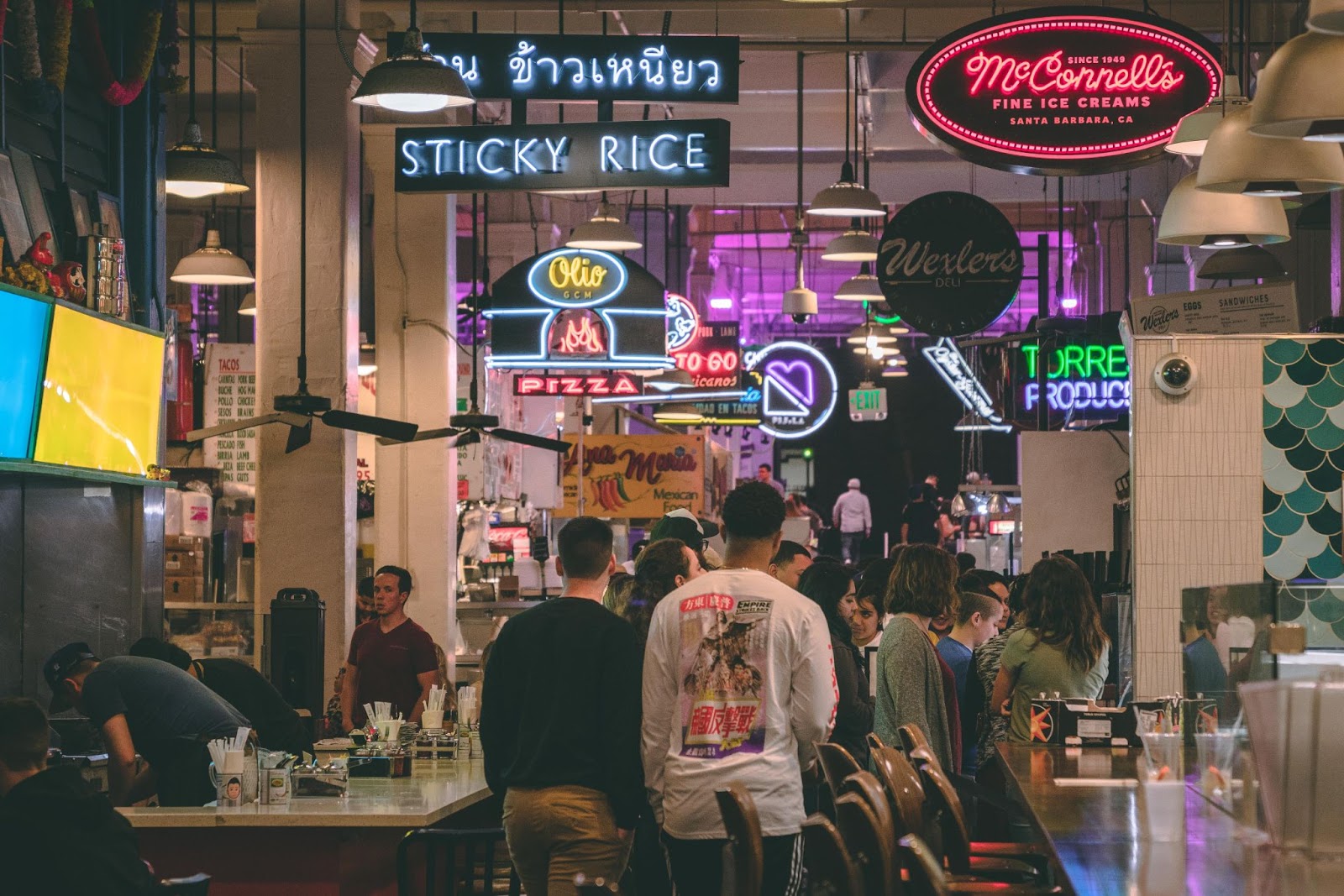 Grand Central Market, by Jermaine Ee
The Bulleit Frontier Whiskey neon sign, designed by Lisa "Neon Queen'' Schulte, is a popular permanent attraction to take photos in front of. Originally planned as a temporary exhibit, Bullet promised to donate $10 for every tweeted photo towards the restoration of the "Dale's Cocktail" neon sign. Thanks to its stunning design and key location, the sign was given a permanent home at Grand Central Market.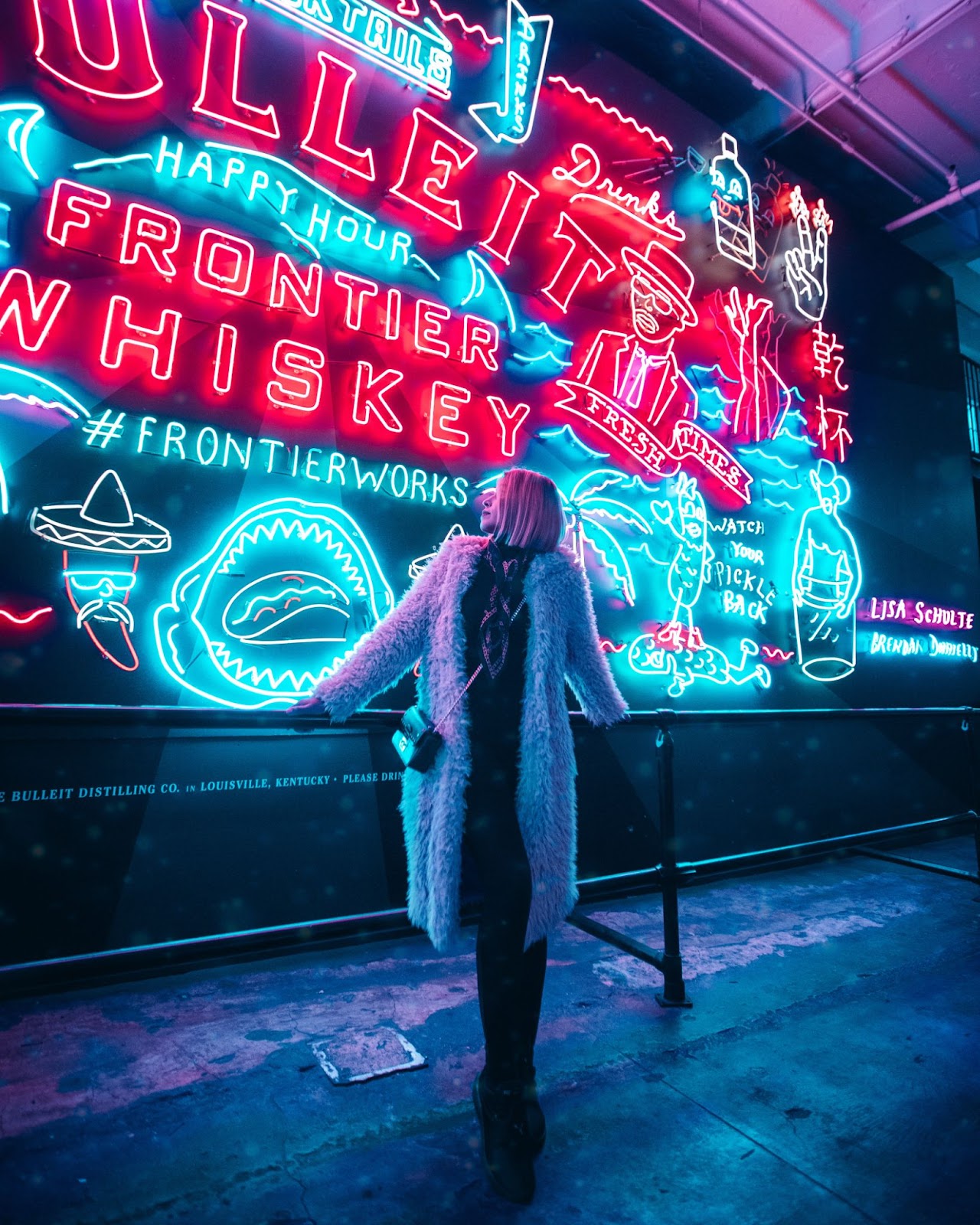 Bulleit's Frontier Whiskey neon installation, by Pawan Thapa
The Original Los Angeles Flower Market
Inspired by the success of local LA-based Japanese-Americans who established the city's first major flower market in 1912, 30 European-American growers came together to create a more efficient way of selling their freshly grown, perishable flowers. The LA Flower Market offers more than 125 different varieties of ccut flowers and other related foliage and floral accessories. Located in Downtown LA's Fashion District, the LA Flower Market is located one-mile east of apartments in Koreatown.
Enjoy your Stay in LA!
There you have it! We've given you a quick rundown of Downtown LA's top landmarks, cultural and civic centers, tips from locals, adventure ideas, and the best marketplaces to visit. There are many neighborhoods in Los Angeles, from Koreatown and UCLA to Hollywood and West LA. All of these neighborhoods offer co-living spaces ideal for long-term visits and studying to full-service apartments with luxury amenities. If you choose to visit or stay for a while, DTLA is ready to welcome you!
If you're ready to catch a flight to Los Angeles and experience everything this fine city has to offer, remember that there are five LA airports ready to welcome you to the City of Angels! If you are ready to make Los Angeles your new home, as a future student of UCLA or young professional, your California dreams can become a reality thanks to ample luxury DTLA apartments.