Welcome to Koreatown, a neighborhood in Los Angeles, California, snugly placed near Eighth Street. Here, you can find some top traditional and modern Korean restaurants, shops, and more. This area offers a way for you to get a taste of Korean culture that is undoubtedly worth your time exploring. Speaking of getting a taste of Korean culture, it's also the place where you can find the best Korean BBQ in LA.

Korean BBQ is a way of grilling meat and other dishes in a way that's a little different from your traditional American BBQ. And as you may have guessed by now, if you want to find out more about this style of cooking, Koreatown is where you'll find the BEST Korean Barbecue (KBBQ) restaurants around — hands down!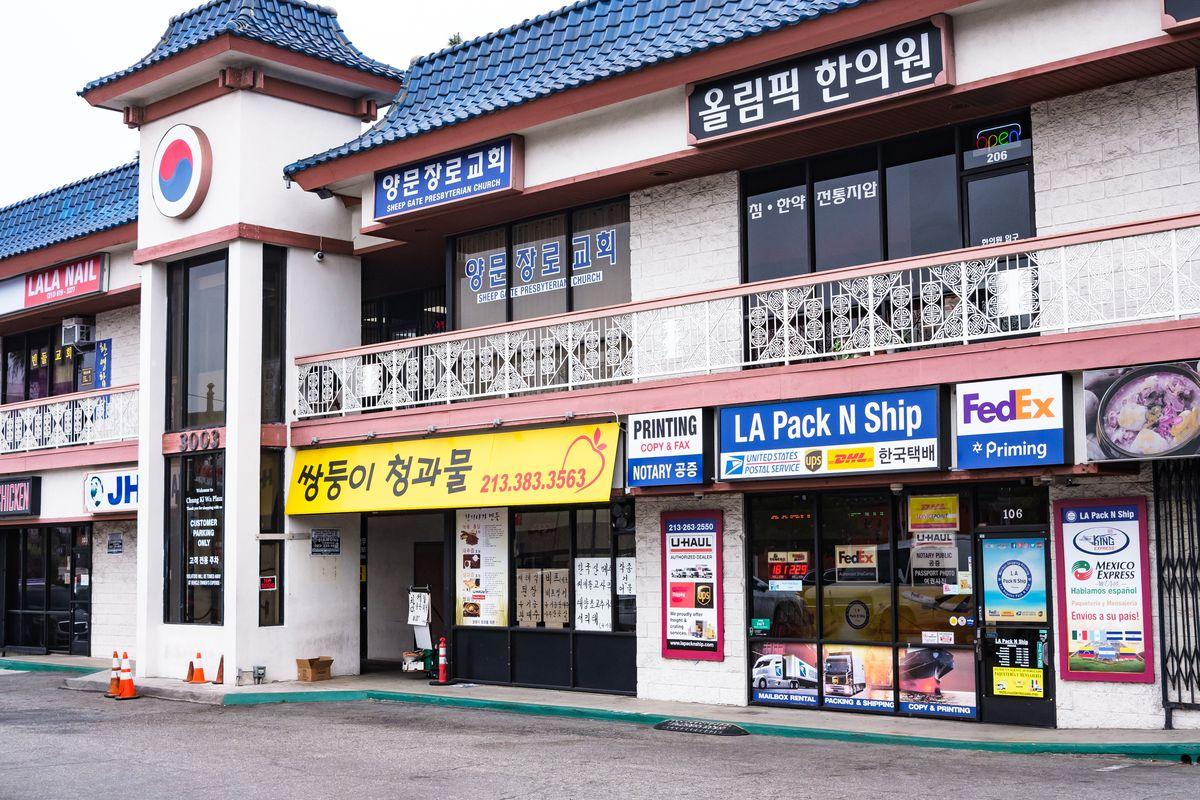 There is a long list of exciting places you could visit in Koreatown, but if you don't stop for Korean BBQ while you're exploring, you're missing out. Whether you're looking for a spot with an upscale feel, or a fun place to settle in for the night, we have you covered. Check out this list of the five most mouthwatering Korean BBQ restaurants that are so good they may just convince some of you to move to Koreatown, Los Angeles!
1. Park's BBQ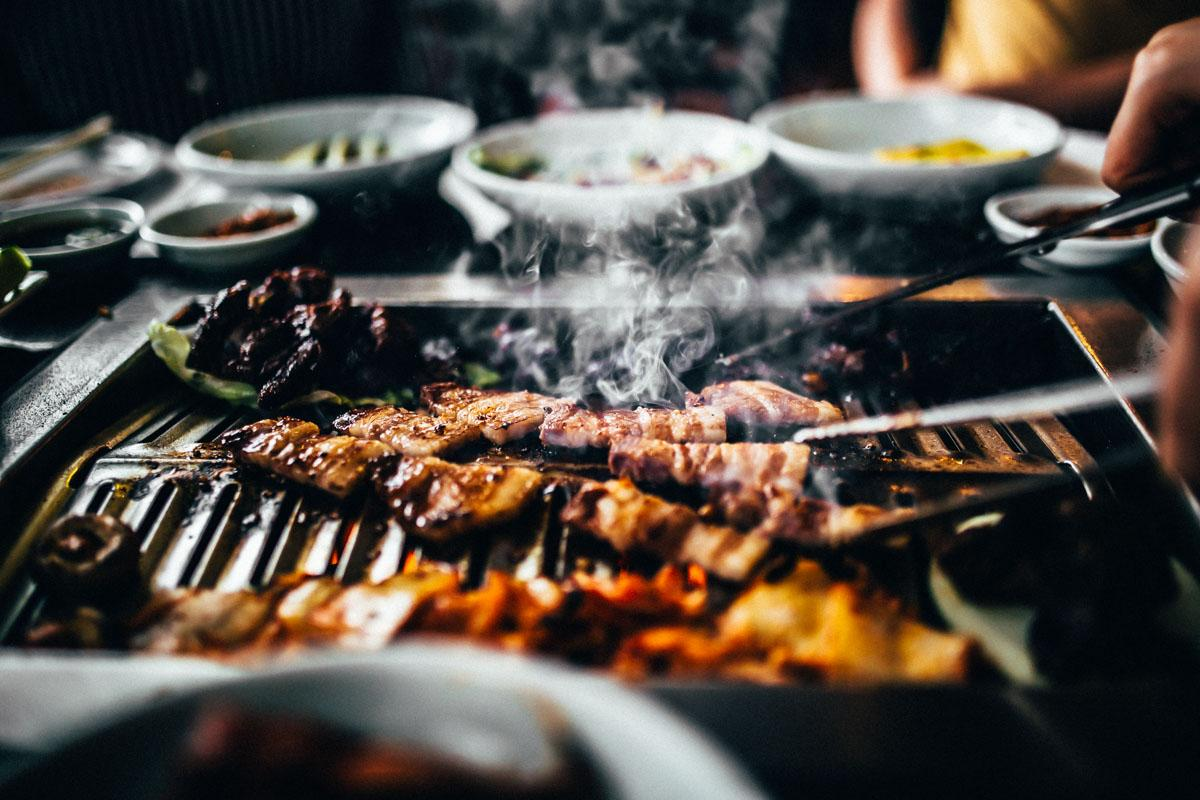 Google Star Rating: 4.5 out of 5
Address: 955 South Vermont Avenue, Los Angeles, CA 90006
Phone: (213) 380-1717
Menu: https://parksbbq.com/menu/
Service options: Dine-in, takeout, and delivery
If you're looking for a step up from a typical Korean BBQ, Parks BBQ is the place to be! Located in the heart of Koreatown, Park's BBQ is a lively and upscale Korean BBQ restaurant with "grill-it-yourself Kobe-style beef and marinated short ribs," which is definitely the talk of the town! This high-end restaurant is considered by many to be the gold standard of Korean barbecue in LA.
Even though their selection is on the pricier side of Korean barbecue, they ensure high-grade and premium cuts of meat are consistently cooked to perfection from start to finish. As with many other Korean BBQ restaurants, the cooking takes place right at your table, which means the meat goes straight from the BBQ onto your plate, ensuring it's hot and cooked just the way you like it.
Some menu highlights include the Parks Gal-Bi and the Boneless Beef Short Rib, the Spicy Cod, and soup. Parks also specializes in true Wagyu beef cuts, which may be tough to find anywhere else. While the meat is the star, Park's selection of non-meat dishes is also incredibly tempting and more than enough to satisfy any demanding taste buds.
To skip the wait, reservations are highly recommended since they're always busy (especially on weekends). Be sure to go with friends because there's a lot of food to feed a crowd! With top-quality meats, ingredients, and service made to order, we'd say Parks is totally worth a visit!
And if that wasn't enough, the restaurant also has a takeaway called Parks2Go, making dining at home a breeze!
2. Ahgassi Gopchang
Google Star Rating: 4.3 out of 5
Address: 3744 West 6th Street, Los Angeles, CA 90005
Phone: (323) 902-6328
Menu: https://www.zmenu.com/ahgassi-gopchang-los-angeles-online-menu/
Service options: Dine-in and takeout
A favorite among students, young professionals, locals, and even K-pop group BTS (according to the restaurant's website), this spot is one of the best Korean BBQ restaurants in LA.
We introduce to you Ahgassi Gopchang!
Specializing in high-quality offal, which is absolutely delicious, this unique Korean BBQ restaurant is considered one of the best for its specialty in roasted beef intestines cooked to perfection. If you're not so sure about expanding your culinary horizons, there's also a wide range of cuts provided, ensuring it is easy to satisfy any Korean BBQ craving.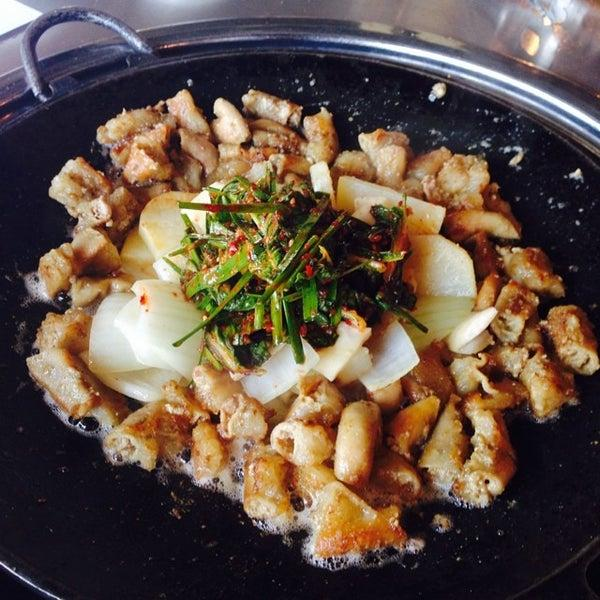 The hosts of this restaurant pride themselves on making their very own tasty sauces to marinate and cook their meats, providing customers with a memorable cultural experience. To maximize their visitor's dining experience, Ahgassi Gopchang also offers multi-meat combos with more recognizable cuts and dishes such as the kimchi stew (which is extremely delicious and flavorful), the prime skirt steak, and thin-sliced beef brisket. Offering some of the finest cuts of meat in the neighborhood, some of our recommendations include the skirt steak, their marinated short rib, and large intestine. One of the downsides to this venue is that you'll have to deal with long lines at peak hours, but we can say it's well worth it.
3. Hae Jang Chon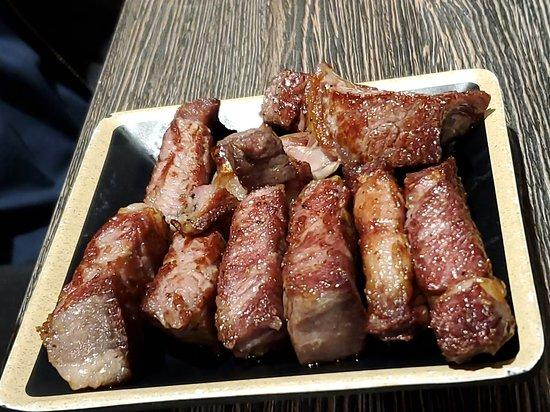 Google Star Rating: 4.5 out of 5
Address: 3821 West 6th Street, Los Angeles, CA 90020
Phone: (213) 389 8777
Menu: http://haejangchon.com/menu/
Service options: Dine-in, takeaway, and delivery
If you're looking for a quality Korean BBQ restaurant with good vibes, flavorful, high-quality meats, great service, and all-you-can-eat, Hae Jang Chon is the spot for you! This Korean restaurant with built-in table grills was opened in 2002 and can accommodate large groups, which is probably why it has such a very busy (and friendly) atmosphere.
Hae Jang Chon offers a premium all-you-can-eat Korean BBQ that offers the same quality of meat you'd find at many other Korean BBQs which don't offer an all-you-can-eat option. For those with a smaller appetite, they also offer a great range of options with their non-buffet menu. This allows you to choose from a list of options; each prepared with exquisite attention.
When ordering, you can choose up to three types of meat from the list of available options, including marinated USDA choice beef short rib with bone, beef abomasum, thick sliced Canadian pork belly, and, of course, BBQ chicken. For sides, you can choose from another great range of options that include steamed rice, kimchi pancake, salad, and much more. And to wash it all down, there's a choice of soju, sake, beer, and Korean wines, as well as sodas, sparkling water, bottled water, and Japanese iced green tea.
4. Magal BBQ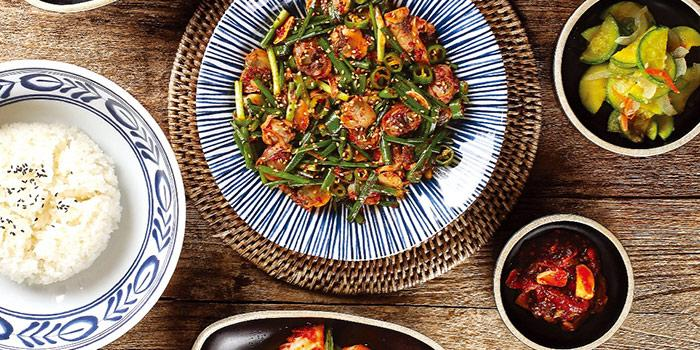 Google Star Rating: 4.4 out of 5
Address: 3460 West 8th Street, Los Angeles, CA 90005
Phone: (213) 383-1909
Menu: https://zmenu.com/magal-bbq-los-angeles-online-menu/
Service options: Dine-in, takeout, and delivery
Hey, everyone! We've hit the jackpot, yet again, with Magal BBQ. This energetic and top choice among students and young professionals is a small but great spot for Korean BBQ. It's definitely aimed at a younger crowd (if the music is anything to go by) who want to sit and enjoy one of their amazing combo meals, with great beef or pork combo deals for up to four people.
Start off with their nice variety of cold appetizers and transition right into their combo meals. While these are all recommended, one of their most popular choices is undoubtedly the Beef Combo, which consists of four beef selections (including beef brisket and short rib) and is the perfect meal for two or four, depending on which size you want to go for. This is definitely a place to bring your friends!
Of course, these combos are much loved because of their banchans or complementary sides. And, for an even more delicious serving, be sure to add the egg soup and cheese corn to enjoy while your meat is cooking. The kimchi and pickled cucumber are the best! Top it all off with a glass of cold, refreshing tea, and you'll be in heaven!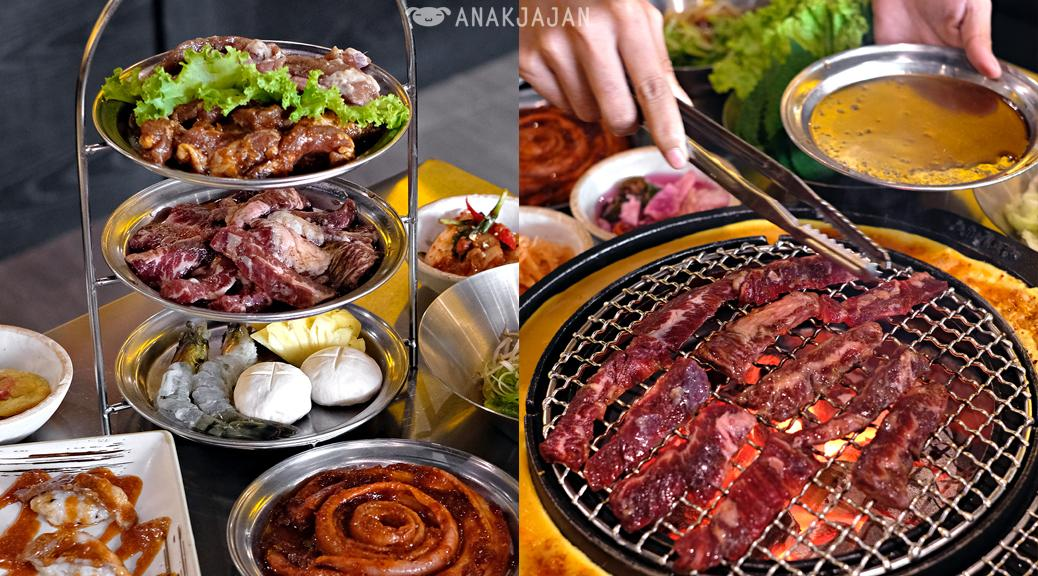 Magal BBQ is definitely a place where both the service and beef quality are great. The staff are phenomenal and can even help to cook your food for you. They serve Prime USDA and more premium meats, which simply means, yes, you got it, they're delicious!
Come here to sit back and enjoy the experience. With affordable valet parking and a progression of different cuts of meats flowing through the grill, this is most definitely a place worth checking out!
5. Kang Ho Dong Baekjeong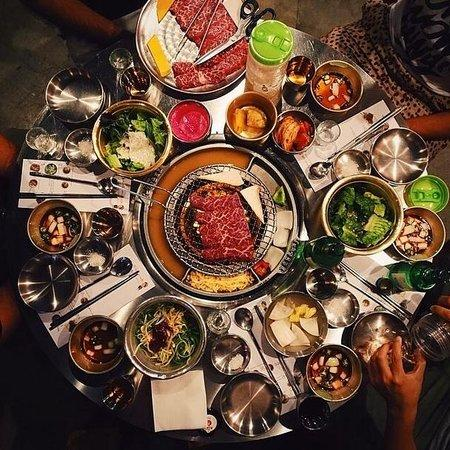 Google Star Rating: 4.4 out of 5
Address: 3465 West 6th Street #20, Los Angeles, CA 90020
Phone: (213) 384-9678
Menu: https://www.baekjeongktown.com/menu
Service options: Dine-in, takeout, and delivery
Kang Ho Dong Baekjeong first opened in Los Angeles in 2012 but has since expanded across the United States as its popularity grew. Originating from the Korean word for "butcher," Kang Ho Dong Baekjeong serves high-quality meats with an exquisite dining experience. As their KBBQ empire grew, so did their reputation. They've gotten glowing reviews for many of their locations from the likes of TimeOut, Thrillist, LA Times, and the Wall Street Journal.
Needless to say, that means this KBBQ spot is worth a try if you're willing to wait! The queues can be crazy long, especially over the weekend – but if you can endure it, it'll be well worth the wait.
Kang Ho Dong Baekjeong offers BBQ, noodles, and other eats from lunch till late nite. The flavors and authenticity of their dishes are spot on, and the quality of food here is really good. They offer premium meat dishes, including prime ribeye, boneless short rib, outside skirt, and many other favorite cuts. Some other loved favorites include the stone pot bibimbap, kimchi stew, Hodong Ramyun, and a seafood pancake. With super delicious and very tender meats as well as many other traditional Korean dishes, Kang Ho Dong Baekjeong is a must!
Bonus dining options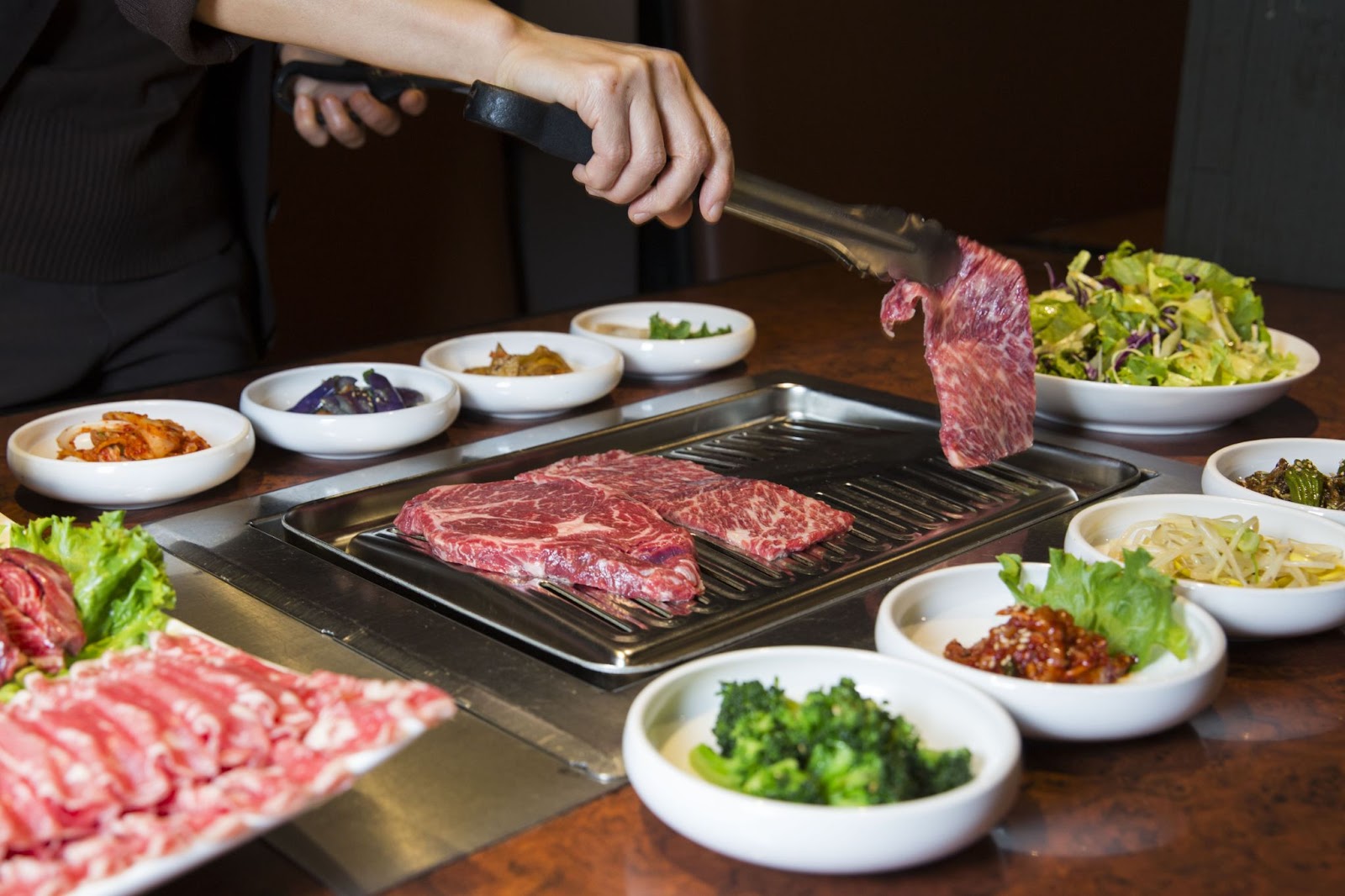 With so many restaurants to choose from, it can be tough to decide where to go, especially since our list doesn't end with our top five. In addition to these barbecue restaurants in Koreatown, here are four more great options to consider when you have the appetite.
Quarters Korean BBQ
This restaurant is known for its unique presentation of meats in individual cast iron grills. The menu offers a wide variety of meats, including wagyu beef, galbi short ribs, and spicy pork belly. The modern and sleek design of the restaurant makes it a great place for a date night or special occasion.
Hae Jang Chon Korean BBQ restaurant
Hae Jang Chon is a popular all-you-can-eat Korean barbecue restaurant that offers a wide variety of meats and side dishes. The restaurant has a spacious dining area, making it a great spot for large groups or families. They also offer private rooms for more intimate gatherings.
Genwa Korean BBQ
Genwa is another all-you-can-eat Korean barbecue restaurant that offers high-quality meats and an extensive menu of side dishes. The restaurant has a chic and modern design and also offers private rooms for groups. Their lunch specials are great value for money.
Road to Seoul Korean BBQ
Road to Seoul offers a wide variety of meats, including beef brisket, pork belly, and marinated short ribs. The restaurant has a casual and relaxed atmosphere, making it a great spot for a casual dinner with friends.
Improving your dining experience
At the end of the day, Koreatown, LA, is home to some of the best Korean barbecue restaurants in the city. Whether you're a local or a tourist, there's something for everyone to enjoy.
From traditional all-you-can-eat options to modern, upscale dining experiences, each restaurant on this list offers a unique and delicious dining experience that will leave your taste buds satisfied. So, grab your friends and family and head out to Koreatown to indulge in some mouthwatering Korean barbecue.
Find the best rooms and apartments for rent in Koreatown with Tripalink
If you're ready to find a place so you can taste all the best that Koreatown has to offer (no matter the craving or go-to option required to satisfy your tastebuds), you can get help from Tripalink, a co-living company that can help students and young professionals to find the best apartments for rent in Los Angeles so that you can experience all this wonderful area has to offer.
Living with like-minded young professionals or students will help you to create a memorable experience within walking distance of the universities around you.

Take a look at our service to find a room or apartment for rent in Koreatown, or reach out to one of our leasing agents for assistance.