Whether you are a student or young professional new to the area, it can be hard to know where to go to learn about your new home. The UCLA campus is beautiful by itself, but there are plenty of other places to visit around town that will make you fall even more in love with the area. Check out these top 8 tourist attractions near UCLA to visit soon!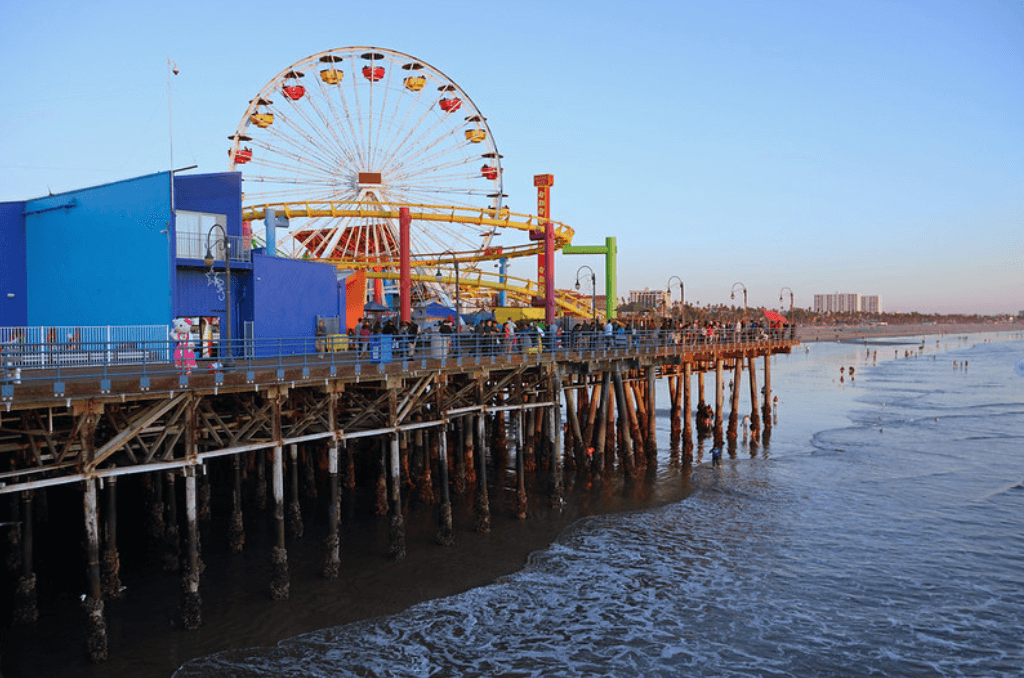 Have Some Fun at the Santa Monica Pier
1550 Appian Way Santa Monica, CA 90401
Open Daily 6 am-10 pm
Since 1909, fellow UCLA students and visitors alike have flocked to the Santa Monica Pier. The location is now a National Historic Landmark, and there is plenty to do at the pier. You can ride a roller coaster, see a street performance, try your hand at a carnival game, or find some delicious treats. Oh, and did we mention that there are awesome views of the Pacific Ocean? You can also dip your toes in the water and access the beautiful sandy beach for a fun day in the sun. The pier is the perfect place for UCLA students to take a break on the beach and soak up some vitamin D that is only about 8 miles from campus.
Take a Ride Down Rodeo Drive
9480 Dayton Way Beverly Hills, CA 90210
Open Monday-Saturday 10 am-6 pm, Sundays Noon-5 pm
If you have never seen the opulence of Beverly Hills, now is the time to see what all of the fuss is about. Hop in the car from UCLA and take a ride down Rodeo Drive to see all of the posh stores that cater to the expensive tastes of the locals. Window shopping is always free, and you may spot a celebrity or two. Check out the ultra-fancy cars that line the street as well.
Spot a Celebrity at the Fox Theater
961 Broxton Avenue Los Angeles, CA 90024
Open Various Hours
Known for its iconic white tower, the Fox Theater has been home to cinema greats since its construction in the 1930s. It is known for hosting movie premiers, making it the go-to spot to see the latest celebrity walk the red carpet. The theater is currently being operated and referred to as Regency Village Theatre, and you can still catch the latest movie when the red carpet isn't out on display. Any new UCLA student should check out this iconic spot if you've never seen a celebrity in person before.
Satisfy Your Sweet Tooth at Diddy Riese Cookies
926 Broxton Avenue Westwood, CA 90024
Open Wednesday, Thursday, and Sunday Noon-11 pm, Friday & Saturday Noon-Midnight
Any newcomer to the UCLA area has to try the infamous Diddy Riese Cookies. This neighborhood staple is known for its amazing ice cream sandwiches that could easily count as your next meal. You can pick your own cookie and ice cream combination, making every order unique and custom to your taste buds. Diddy Riese also sells cookies, ice cream, sundaes, brownies, and Hawaiian shaved ice as well. While you're there, you'll probably see plenty of fellow UCLA Bruins satisfying their sweet tooth!
Get Cultured at the Getty Center
1200 Getty Center Drive Los Angeles, CA 90049
Open Tuesday-Friday 10 am-5:30 pm, Saturdays 10 am-8 pm, Sundays 10 am-5:30 pm
Another top tourist attraction near the UCLA campus is the gorgeous Getty Center. This magnificent museum includes many famous artists over the centuries, as well as beautiful gardens that are definitely worth the visit. The Getty Center features multiple buildings and pathways throughout the campus for a refined look at the creative minds of the past. Enjoy all of this for free, but you may need to secure a timed admission slot.
Stroll Down the Boardwalk at Venice Beach
Windward Avenue and Ocean Front Walk Los Angeles, CA 90291
Open 6 am-Midnight
One of the most iconic places to visit in California is the palm-tree-lined boardwalk at Venice Beach. You'll find plenty of things to see, from local artisans to skateboarders to street performers. Venice Beach is a culturally diverse place where you can appreciate differences and take in a beautiful sunset off the ocean. Take a dip in the ocean or join in on a local game of beach volleyball for an epic day away from UCLA.
Take in the Hammer Museum Campus
10899 Wilshire Blvd Los Angeles, CA 90024
Open Tuesday-Sunday 11 am-6 pm
Just a few steps from the UCLA campus sits The Hammer Museum, which is home to many beautiful pieces of art. This cozy museum isn't the biggest you'll ever visit, but the quality of the artwork is enough to keep you coming back for more. The best part about the museum is that it is free, which can be a great excuse to get out of the house on a minimal budget.
Check Out the Downtown Farmer's Market
Arizona Avenue and 2nd Street Santa Monica, CA 90401
Open Wednesdays 8:30 am-1:30 pm & Saturdays 8 am-1 pm
There is always something to find at the Santa Monica Farmer's Market! The area near UCLA is rich in agriculture, which means that the market is full of super fresh produce and food grown just miles from town. You can find local artisans and fresh flowers at the market and may even bump into a famous chef or celebrity. There are also other Santa Monica farmer's markets open in the area on different days of the week.
No matter your mood, there is always something to do near your UCLA off-campus housing! Choose any of these top tourist attractions near UCLA to get to know your new home.