Brunch is the answer to everything, don't you think? You had a bad night: brunch. You are hungry: brunch. You want to meet up with friends: brunch. You need an excuse to drink alcohol in the morning: brunch.
You need something to drink with your coffee: brunch. It can fill a belly after a long night out, provide comfort for those of us who are a bit homesick for mom's cooking, and help soak up the last effects of whatever we had to drink the night before.
Finding a good brunch spot is a must when it comes to living in downtown LA. Knowing what is close by to your luxury apartment is a priority for many Los Angeles, CA residents. Not only will you have a new brunch favorite soon, but you'll also have your go-to menu item that will help create the perfect weekend vibe.
Whether you need fuel before a local hike, want to meet up with the girls, or just want a warm meal that you didn't have to cook, brunch is always the answer! Check out this list of the top brunch spots in DTLA, and try them all to find your new favorite!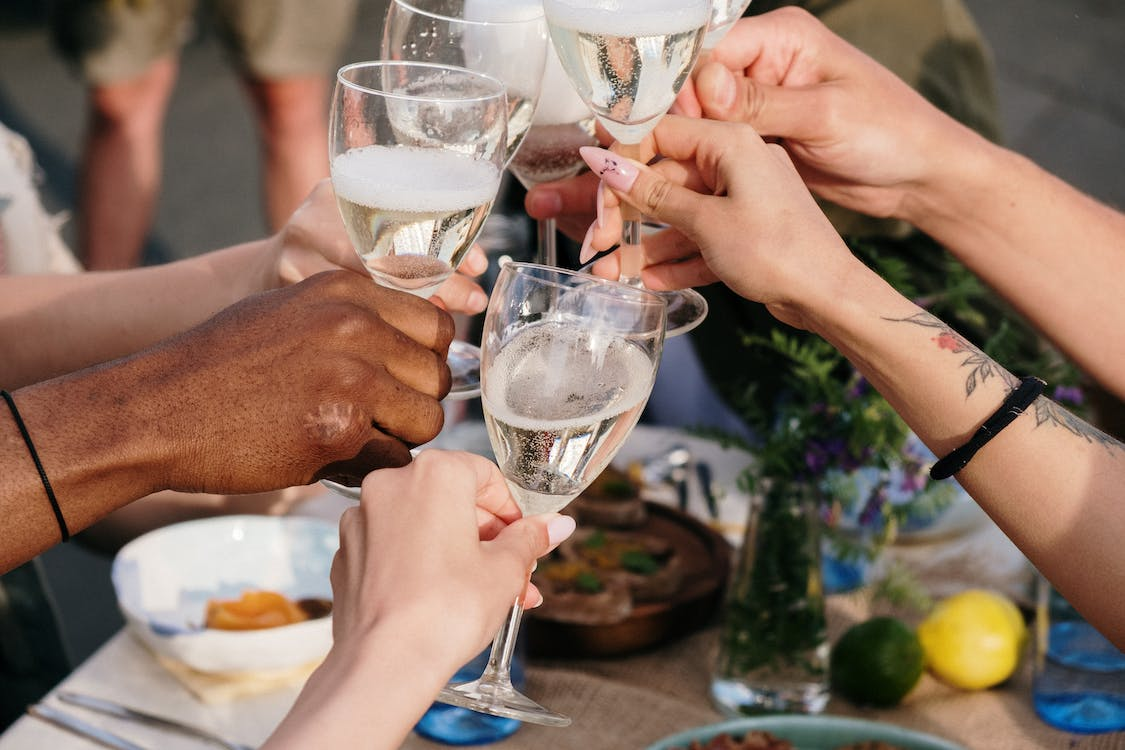 The DTLA Brunch Spots
Poppy + Rose
765 Wall Street Los Angeles, CA 90014
(213) 995-7799
As one of the top brunch restaurants in Downtown LA, Poppy + Rose understands the unique breakdown of locals. They specialize in using organic ingredients with a side of southern comfort. Poppy + Rose is owned by a couple of chefs, making it a win-win for everyone. Add to that their beautiful rooftop table option, and you'll be sitting pretty.
Try out their fresh baked biscuits made every morning or the L.A. chicken and waffles for their spin on traditional classics. The cobbler French toast is also to die for! For savory lovers, check out the salmon and tomato benedict or the pulled pork hash. Order a mimosa or a coffee to enjoy with your brunch as well! Open at 9 am every day of the week.
Blu Jam Cafe
541 South Spring Street Suite 110 Los Angeles, CA 90013
(213) 600-7383
Start the weekend off on the right foot when you order the Crunchy French Toast at the Blu Jam Cafe. This place has been a staple in downtown LA, and it shows. Everything is electronic at this local breakfast spot, so just order your food with your phone via the QR codes on the table. Their chilaquiles are amazing, as well as all of the freshly squeezed juices.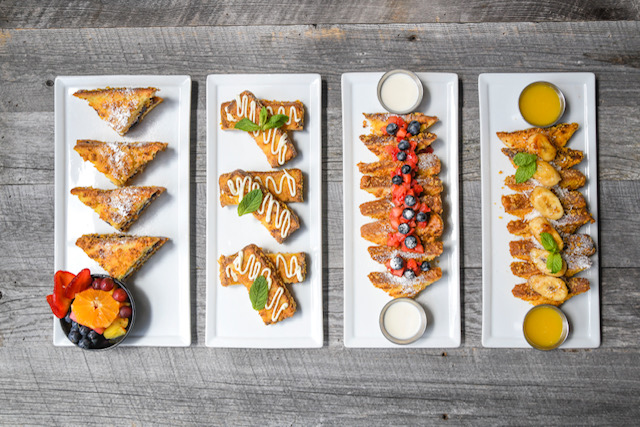 Blu Jam Cafe has multiple locations with produce delivered daily. There are no freezers at any of the locations, so you know that everything is super fresh and locally sourced from area farms. Open 9 am-2 pm every day of the week.

Perch
448 S. Hill Street Los Angeles, CA 90013
(213) 802-1770
Enjoy the rooftop atmosphere and beautiful views of DTLA during brunch at Perch. This french inspired bistro is known for its dinner service, but the brunch is just as good! You can find a gorgeous view of the city 15 stories up during brunch that is served from 10 am-4 pm on the weekends.
You can order brunch items separately or take advantage of their Brunch Prix Fixe options. A 3-course brunch offers choices of lettuce, fruit, or brie to start, along with eggs, french toast, burger, or scampi as a main. The chef then chooses your last course to share at the table for a truly customized dining experience.

Pitchoun!
545 South Olive Street Los Angeles, CA 90013
(213) 689-3240
You can enjoy breakfast all day at the Pitchoun! bakery located in DTLA. This french bakery features all of the finest that Paris can bring to Southern California with crepes, brioche, and macarons. It was started by Frederic and Fabienne Soulies, who hail from South West France and the French Riviera. The couple has three young kids, also known as "pitchouns", that help run the bakery and inspire the menu.
Pitchoun! has outdoor seating and offers other brunch items like eggs benedict, and croque madame as well as mimosas and wines. We like that everything on the menu is clean and sustainably sourced, meaning that you'll get the highest quality brunch that also supports local farmers.

Bottega Louie
700 South Grand Avenue Los Angeles, CA 90017
(213) 802-1470
Decadent options and typical brunch staples reign supreme at Bottega Louie. This top brunch option in DTLA offers heavy brunch plates that are definitely going to satisfy grumbling bellies. Favorite brunch options like steak and eggs, Belgian waffles, and a beautiful spinach and goat cheese omelette are also on the menu.
The Tartufo pizza is a fancy addition to the brunch menu with plenty of truffles that is a unique option, as well as the lobster hash. Open for brunch at 9 am on the weekends.

Redbird
114 East 2nd Street Los Angeles, CA 90012
(213) 788-1191
Head to the outskirts of DTLA and try out Redbird, a trendy breakfast spot located in an abandoned old church. This upscale restaurant features unique flavor profiles like kaya toast with spicy cashew butter, duck confit chilaquiles, and lamb belly hash. For more traditional brunch options, try the blueberry ricotta pancakes and the heavy-handed champagne mimosas.
Add to that the chance to put away some delicious cocktails inside a church, and you'll be ready for the weekend. Open for brunch starting at 10 am on the weekends. Try to snag a spot in the main dining room where the roof retracts for sunny brunch dining.

Public School 213
612 Flower Street Los Angeles, CA 90017
(213) 269-5277
Sleep in and then head out to school for a decadent brunch from 12 pm-3 pm in downtown LA. Public School 213 offers an almost bottomless mimosas option with choices of bloody marys or beermosas as well. Try the eggs benedict pizza, brioche french toast, or shrimp and grits for brunch.
We love how this restaurant stays on theme with composition notebook menus, chalkboards, and classic table games to play while you wait for the ultimate in fresh dishes. Order a coffee and play a few rounds with friends to start your weekend off right.

The Wayfarer
813 South Flower Street Los Angeles, CA 90017
(213) 285-4400
Get your fill at The Wayfarer, which offers a 9-course brunch menu on the weekends! The gorgeous rooftop setting of this hotel, combined with comfortable couch-like seating, invites you to come and stay awhile. Nine courses may seem like a lot, but many of us who live in DTLA eat weekend brunch toward the middle of the day with no plans to eat other meals.
While you can order items from the a la carte menu, why not treat yourself to some glam and experience what a professional chef has to offer? The nine-course menu includes frozen oat milk cocktails, a yogurt and berry parfait, cheese blintze, ceviche tostada, a frozen tequila watermelon margarita, and an arugula and watermelon salad. Then, choose between a Belgian waffle, smoked salmon frittata, grain bowl, or breakfast fried rice for the main course. A churro and frozen vodka cocktails top it all off!
Open for brunch from 10 am-3 pm on the weekends.

Little Sister
523 West 7th Street Los Angeles, CA 90017
(213) 265-7233
Southeast Asian flavors combine with British and Dutch influences to create the beautiful offerings at Little Sister. This restaurant in DTLA includes an atmosphere where East meets West in the food, flavor, and ambiance. Chef Tin is at the helm of the restaurant and has created a beautifully inspired menu packed with fresh flavor.
While Little Sister doesn't have a specific brunch menu that we could find, they are open at 11 am every day, making this a great way to mix things up a bit. You'll find comfort foods like dumplings, spring rolls, meatballs, pork belly, and flavorful rice options.

Girl & The Goat
555-3 Mateo Street Los Angeles, CA 90013
(213) 799-4628
As a newcomer to the DTLA brunch scene, the Girl & The Goat is making waves with Chef Stephanie Izard at the helm. This new restaurant features unique brunch options like pb&j sourdough pancakes, potato crepes, and a chocolate croissant egg combination with spicy pineapple.
The sorbet scoops are a nice and refreshing end to the meal, and the donut hole-churro option is a must-try for anyone who stops by. Open for Sunday brunch from 10 am-2 pm. Try out this new option to spice things up a bit this weekend.

Caldo Verde
1100 South Broadway Los Angeles, CA 90015
(213) 806-1023
Located within The Proper Hotel, Caldo Verde offers brunch on the weekends from 10 am to 2:30 pm. This favorite spot features Portuguese-inspired dishes with deep flavor profiles that are sure to soothe your soul. Caldo Verde offers unique options like cornmeal waffles, carnitas with sweet potato hash, and a wide range of pastries.
Chef Suzanne Goin and Restaurateur Caroline Styne are a James Beard Award-winning team that offers plenty of meal options no matter when you are hungry. The ambiance of Caldo Verde is beautiful, historic and features natural California light.

Cafe Fig
939 South Figueroa Street Los Angeles, CA 90015
(213) 660-3006
When you want a simple meal that isn't pretentious or fussy, Cafe Fig is the place to go! This local staple features fresh and organic options that stem from local farms and sustainable sources. You'll find dishes with a twist of Mediterranean and Southwest profiles with plenty of gluten-free and vegan options.
Create your own omelette for a truly customized brunch, and try the breakfast burrito, buttermilk pancakes, and waffles & berries as well. Try sitting in the patio area for an open-air meal with plenty of people-watching views. Open for breakfast and brunch daily from 7 am-11 am. Stop by for a coffee on the way to work or school during the week.
Tips for a Great Brunch Experience in DTLA
To truly make the most of your brunch experience in DTLA, there are a few things you should keep in mind. First and foremost, arrive early! Many of the top brunch spots in DTLA can get crowded quickly, so if you want to avoid a long wait time, it's best to get there early.
Additionally, consider making reservations ahead of time to ensure a table. Secondly, don't be afraid to try new things! Brunch is the perfect opportunity to try out new dishes and drinks, and many of the best spots in DTLA offer unique and inventive menu items.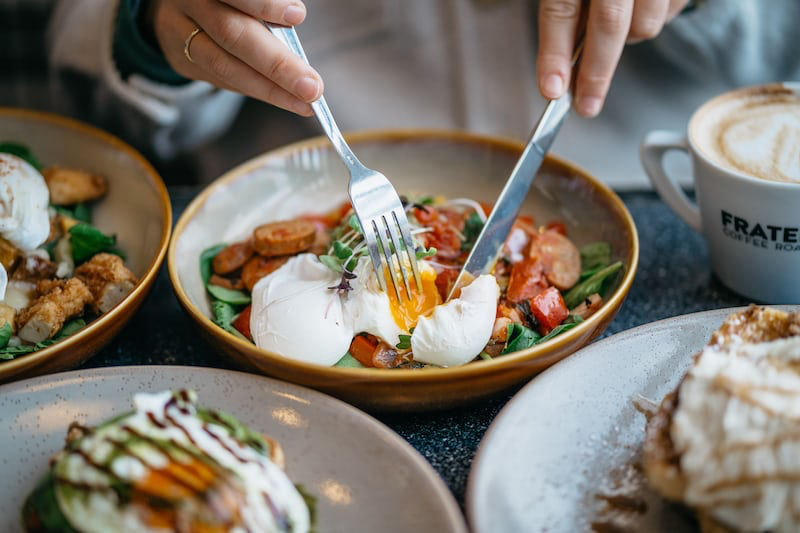 Finally, be open to different atmospheres and vibes. DTLA is a diverse and vibrant neighborhood, and the brunch spots reflect that. Some spots might have a more laid-back vibe, while others might be more energetic and bustling.
Embrace the different atmospheres and see what feels right for you! By keeping these tips in mind, you're sure to have an unforgettable brunch experience in DTLA.
Conclusion: Brunch in Downtown Los Angeles
While there are plenty of other brunch options in DTLA, these restaurants are all easy to get to from your luxury downtown Los Angeles apartment. You could walk or easily grab an Uber or Lyft to any of these places for a meal that will fill your belly with brunch food and help you forget about any of the bad decisions you may have made last night.
When you have had a long week working in the office or studying, it is important to find refreshment on the weekends. All of these top spots allow you to find comfort and love as you sit back and relax a bit. Try out some unique flavor combinations or sip on bubbly mimosas to start the weekend.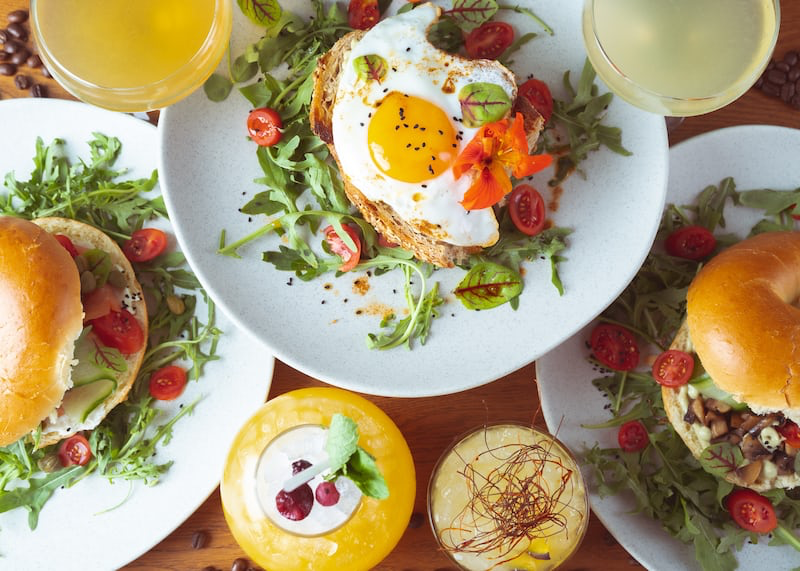 Find any of these top restaurants near your Luxury Apartments DTLA to fill up on scrumptious food that is just walking distance from your front door. No matter which best brunch spots you choose in downtown Los Angeles, you know that you'll get an exciting meal in a unique atmosphere that other parts of the world just cannot offer. That's the beauty of living in LA; the sky is the limit when it comes to working, studying, or living the California dream.