Are you looking for the best brunch spots near USC? We've got you covered! Our team has scoured the area to bring you the top-rated brunch places that offer delicious food and a great atmosphere.
At each of the brunch spots we recommend, you'll find a detailed menu with prices, hours of operation, and COVID-19 safety measures. We understand that your health and safety are important, and we want to make sure you have all the information you need to make informed decisions about where to brunch.
Our team consists of experienced foodies who have tried and tested each of the brunch spots we recommend. We have carefully selected the best brunch places that offer a wide variety of options, including vegetarian and gluten-free dishes.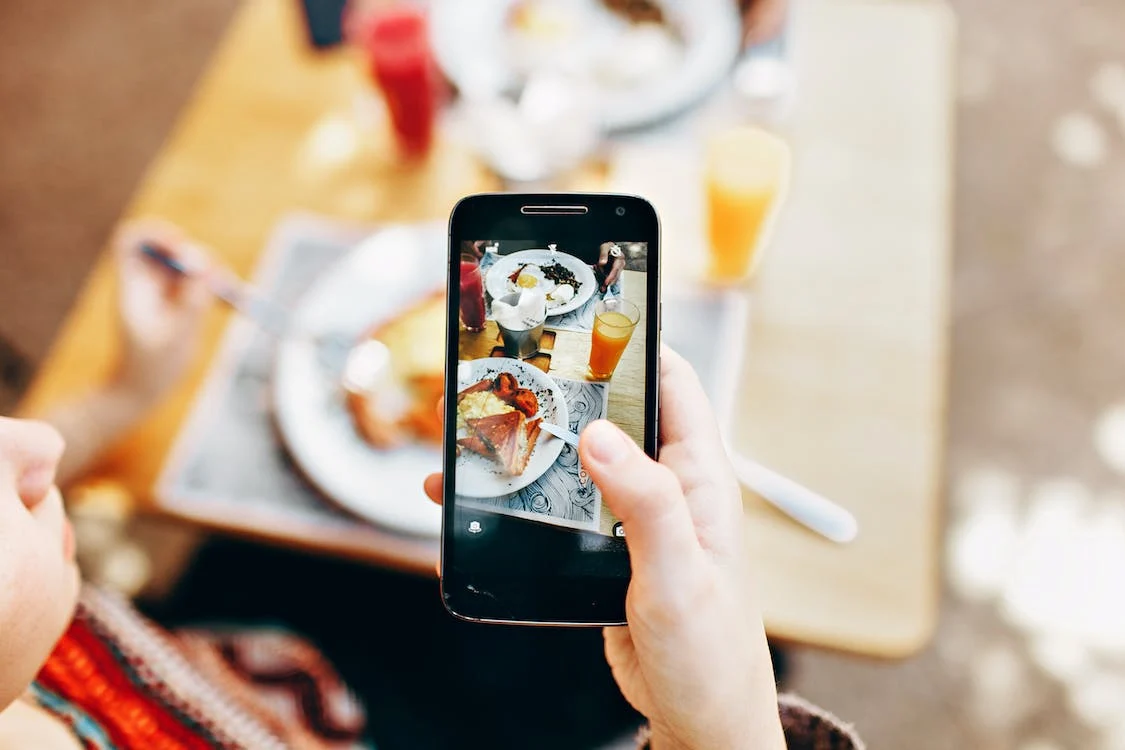 The Brunch Spots near
University of Southern California
The Butcher, The Baker, The Cappuccino Maker
This trendy cafe offers delicious breakfast dishes and pastries, including gluten-free options. The cafe is following all COVID-19 safety protocols to ensure your safety while you brunch.
Located in West Hollywood, The Butcher, The Baker, The Cappuccino Maker, or BBCM for short, is a popular brunch spot that offers a chic and stylish ambiance, great food, and excellent coffee. Their brunch menu features a variety of dishes, including classic breakfast items like eggs Benedict, omelets, and pancakes, as well as healthier options like quinoa bowls and avocado toast. They also have gluten-free options for those with dietary restrictions.
In terms of safety measures, BBCM is following all COVID-19 protocols, including social distancing, mask-wearing, and frequent cleaning and sanitizing. They also have outdoor seating available for those who prefer to dine al fresco.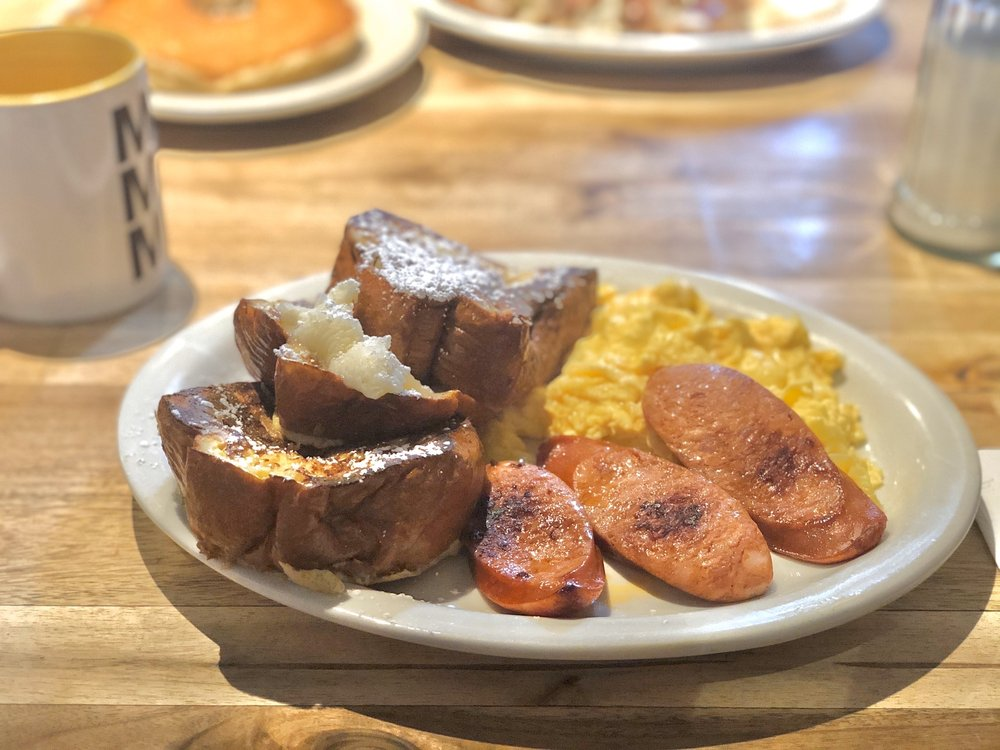 Jacks N Joe
2498 S. Figueroa Street
Los Angeles, CA 90007
Open 7 am-1:30 pm Tuesday-Friday, 8 am-2:30 pm Weekends
Everyone loves a brunch spot that serves breakfast all day! Jacks N Joe is the kind of place where you can get a solid meal that is close to campus. Try out all of their versions of flapjacks that include tasty combinations like peanut butter and banana or pineapple and coconut. The french toast and omelets are also great or go with a combination when you can't decide.
The place is pretty small, but you should be able to grab some outdoor dining seating on the weekends to enjoy brunch. Parking can get tricky here as well, so consider parking a little further away and taking a quick walk to get the best breakfast around. As one of the closest brunch spots to campus, you should be able to walk from your USC off-campus housing to this location with no trouble.
Bacari W. Adams
This cozy spot offers brunch dishes with a Mediterranean twist. They have a spacious outdoor patio that's perfect for enjoying brunch with friends or family.
Bacari W. Adams is a hidden gem located in the heart of West Adams. The cozy and intimate ambiance, combined with the Mediterranean-inspired brunch dishes, makes it a popular spot for locals and tourists alike. Their brunch menu features items like shakshuka, lamb hash, and a Mediterranean breakfast plate, all of which are bursting with flavor and made with fresh ingredients.
One of the highlights of Bacari W. Adams is its spacious outdoor patio, which is perfect for enjoying brunch with friends or family. The patio is shaded and features plenty of greenery, making it a tranquil and relaxing oasis in the middle of the city.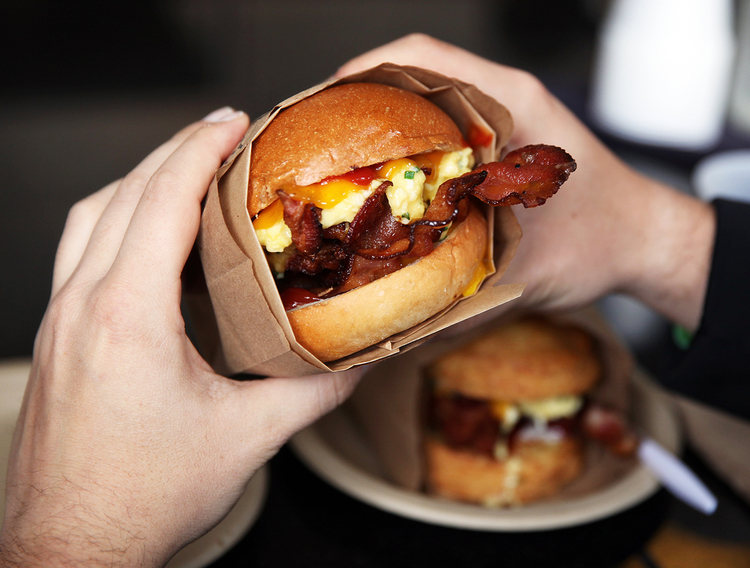 Eggslut
317 S. Broadway, Stall D-1
Los Angeles, CA 90013
Open 8 am-2 pm Everyday
Let's be honest; you can't really go wrong with sitting down for a late weekend morning meal at a place called Eggslut. You know just from the name that you are in for a treat. You can bet that the line will be long to get your order placed, but it is oh, so worth it!
Located in Downtown LA, Eggslut offers dishes around their love for eggs. The bacon, egg, and cheese sandwich is the go-to favorite, but don't overlook the "Slut" specialty that includes a coddled egg and potato puree served with salt, chives, and bread.
Pitchoun! Bakery & Cafe
If you're looking for a French-inspired brunch, Pitchoun! Bakery & Cafe is the perfect spot. They offer a range of pastries, croissants, quiches, and other brunch dishes that will transport you to France.
Located in Downtown LA, Pitchoun! Bakery & Cafe is a charming and authentic French bakery that offers a range of pastries, croissants, quiches, and other brunch dishes that are sure to delight your taste buds. The bakery uses only the finest ingredients and traditional French baking techniques to create their delicious pastries and dishes.
In addition to the pastries, Pitchoun! Bakery & Cafe also offers a range of brunch dishes, including omelets, quiches, and sandwiches, all made with fresh and locally sourced ingredients. They also have a selection of gluten-free options, so everyone can enjoy their brunch.
The ambiance of Pitchoun! Bakery & Cafe is cozy and inviting, with a rustic French charm that transports you to the streets of Paris. They have a spacious indoor seating area as well as a small outdoor seating area that's perfect for people-watching while enjoying your brunch.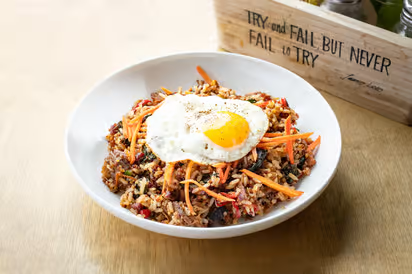 Poppy + Rose
765 Wall Street
Los Angeles, CA 90014
Open Everyday 9 am-3 pm
If you want a no-fuss type of sit-down breakfast, Poppy + Rose is the place to head this weekend. You'll find the classic Cali option of avocado toast but also some inspired creations like avocado benedict, along with chicken and waffles. The kitchen sink bowl is a great option when you want more of a lunch-inspired meal or just order the huge lumberjack breakfast to hold you over until dinner.
No one can pass up the homemade biscuits that are made from scratch every morning and served with real butter! You'll get a good size portion of whatever you choose off the menu as well. Poppy + Rose is pretty popular, and some customers have said that there is a 90-minute time limit for tables, which makes sense, given that it is one of the best breakfast spots around the USC campus!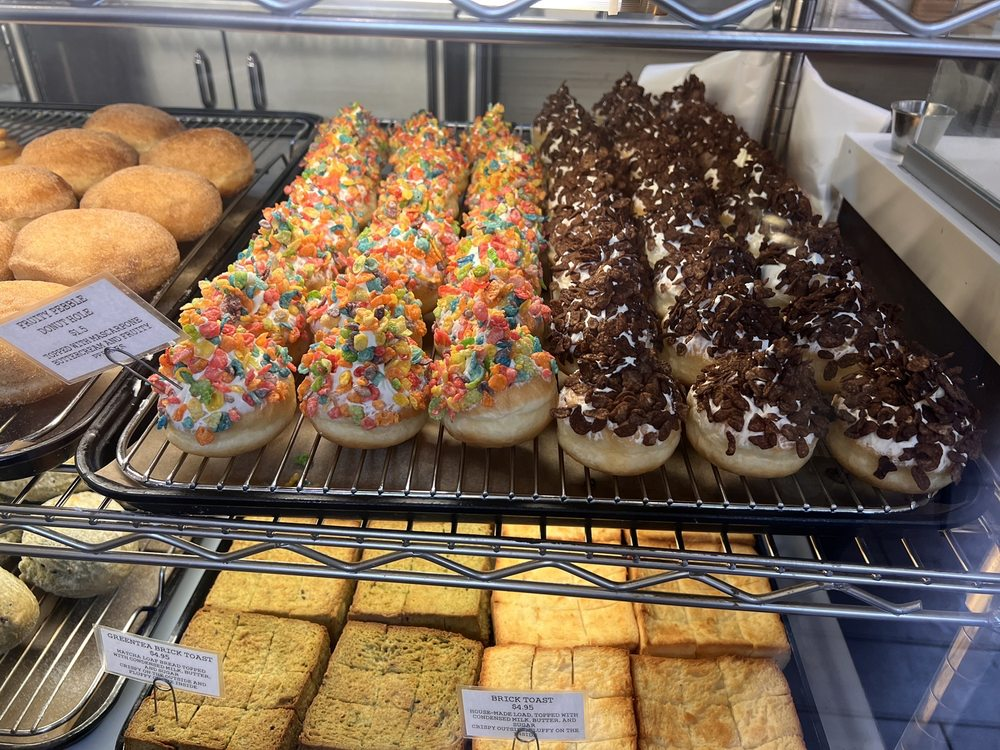 Café Dulce
134 Japanese Village Plaza Building E
Los Angeles, CA 90012
Open 8 am-8 pm Everyday
Located in the heart of Little Toyko, Café Dulce is one of the best brunch spots in town. It is a classic bakery and coffee house that offers some great brunch options as well. The breakfast burrito is a common order, and you'll find plenty of fun spins on donuts and breads as well. Try a fruity pebbles donut hole or a matcha donut for a unique flavor profile that you can't find everywhere.
Many of Café Dulce's customers enjoy the Japanese coffee that isn't too sweet and is the perfect mix to enjoy with a sweet treat from the bakery case. We were also impressed with the fruit tarts that are piled high with fresh berries and the Asian chicken salad that is scrumptious for lunch. You know that any place with a line is a great option, but the line moves fast here so that you can get on with your day.
Republique
This elegant French-inspired restaurant offers a luxurious brunch experience with a touch of California flair. They have a gorgeous outdoor patio and an extensive menu with something for everyone.
Located in Hancock Park, Republique is an elegant French-inspired restaurant that offers a luxurious brunch experience. The menu features a range of dishes, from classic French dishes like croque-madame and quiche Lorraine to California-inspired dishes like avocado toast and smoked salmon benedict.
One of the highlights of Republique is its gorgeous outdoor patio, which is beautifully decorated with plants and features plenty of seating. The ambiance is sophisticated and chic, making it the perfect spot for a special occasion brunch.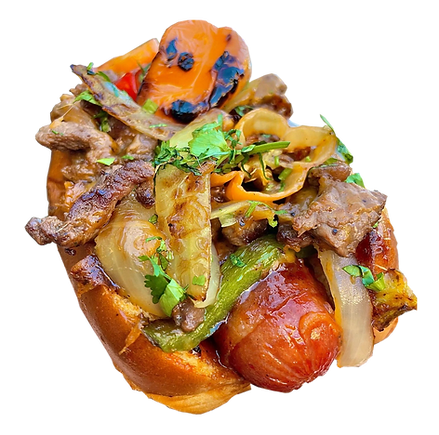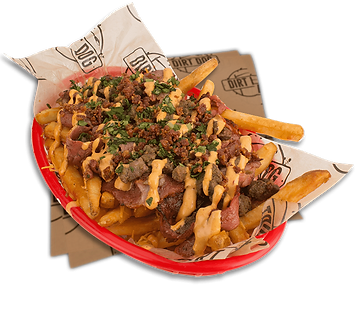 Dirt Dog
2528 S. Figueroa Street
Los Angeles, CA 90007
Open 10:30 am-11 pm Monday-Thursday, Open 10:30 am-Midnight Friday-Sunday
When it is brunch time, but you want something substantial with great flavor, check out Dirt Dog. This LA hot dog shop is pushing the limits when it comes to how most people think of the typical hot dog. Dirt Dog offers a unique take on hot dogs by piling them high with toppings.
You can order anything from the BBQ-inspired flamethrower dog to the patty melt dog or even check out the veggie dog option for those who want a vegetarian option. The dirty fries are also to die for, and the dirty corn is a must when you want something fun to eat on a stick. A definite option for those who are hungry and want something that will blow your taste buds.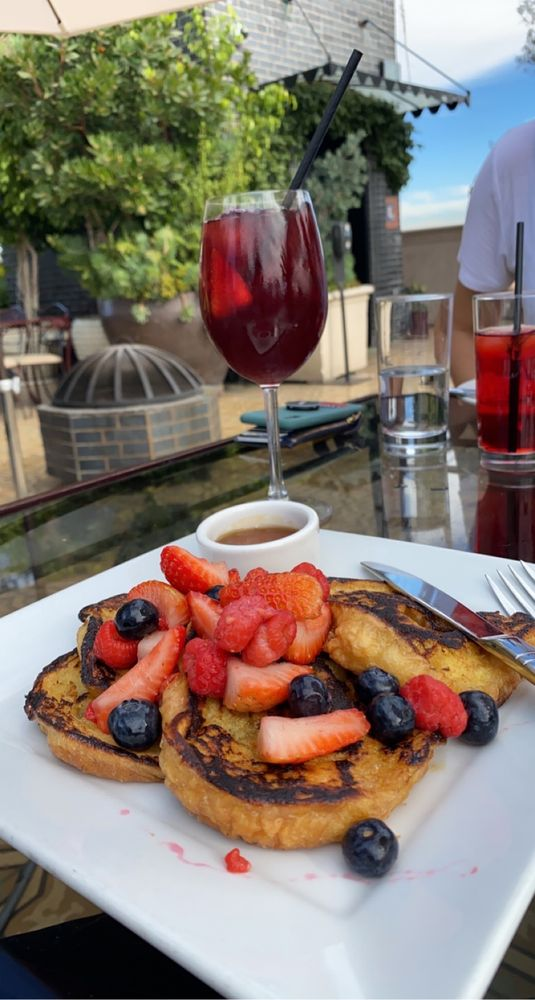 Perch
448 S. Hill Street
Los Angeles, CA 90013
Open Weekends 10 am-4 pm
Take the parents out to a fancy brunch this weekend that has a view of the city! Perch offers brunch on the 15th floor and features amazing food with an ambiance that is hard to beat. Check out the different benedict options that include smoked salmon, crab, or Canadian bacon. There are plenty of lunch and dinner-inspired options for those that want to skip over breakfast food too. Don't forget the bubbles or cocktails as you toast over the sprawling cityscape below!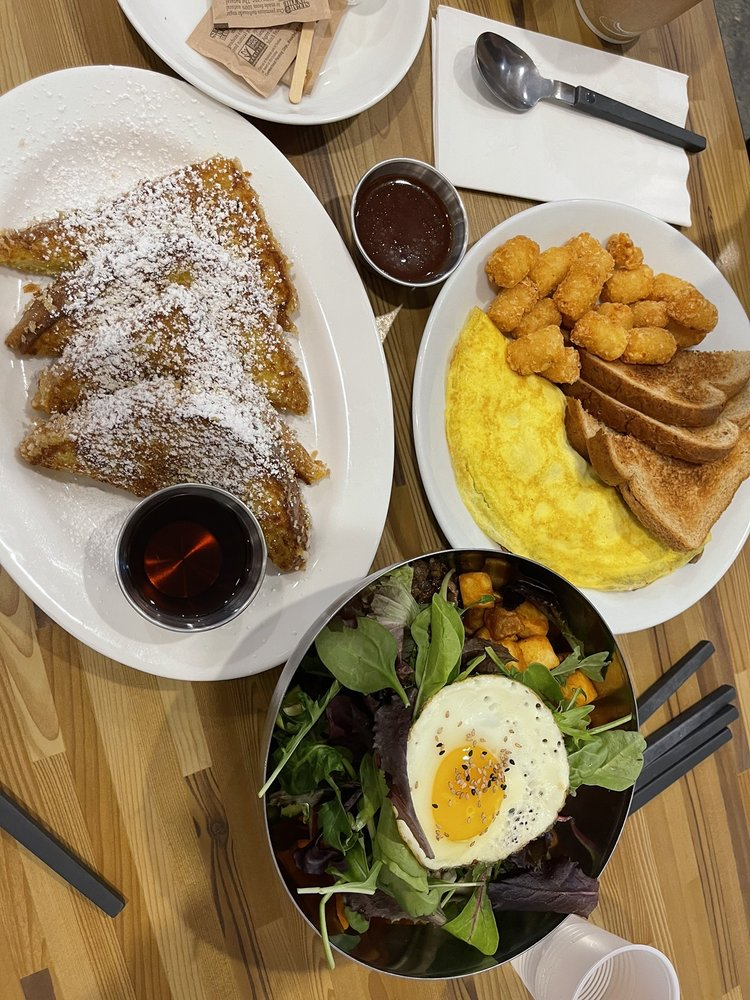 The Potato Sack
3068 W 8th Street
Los Angeles, CA 90005
Open 7 am-2 pm Monday-Friday, 8 am-6 pm Weekends
Check out this great breakfast place in the heart of Koreatown. The Potato Sack offers comfort food that will make you feel like mom's cooking, along with fast service so you can get on with your day. Check out the different selections of omelets, like the jalapeno teriyaki or the more classic mushroom spinach and cheese option.
Although The Potato Sack isn't huge, there is some indoor seating available in this unassuming strip mall location. Some other substantial meal options include the Arugula Pickle Rice Bowl, which is guaranteed to fill you up. If your heart is set on breakfast, order the french toast and take another order to-go because you'll be thinking about it all day long!
Sqirl
720 Virgil Avenue #4
Los Angeles, CA 90029
Open Everyday 8 am-8 pm
Other super popular brunch spots near campus include Sqirl, a fun take on healthy dining-out options. Check out the sorrel pesto rice bowl that features vegetarian, gluten-free, and nut-free pesto with lemon, feta, and poached egg. Sqirl has a rotational menu as well, which is a great excuse to head there frequently for brunch.
You can also order a classic pancake, get a fruit and seed bowl, or sink your teeth into the famed ricotta toast that features house-made ricotta and a trio of seasonal jams that Sqirl is so well known for.
The Guild
If you're looking for a cozy brunch spot with a laid-back vibe, The Guild is the perfect choice. They offer a range of brunch dishes and cocktails, and their outdoor patio is the perfect place to relax and unwind.
Located in the heart of West Hollywood, The Guild is a cozy and casual brunch spot that's perfect for a lazy Sunday morning. The menu features a range of classic brunch dishes, as well as some creative twists, like the breakfast poutine and the breakfast burrito.
One of the best things about The Guild is their outdoor patio, which is spacious and shaded with plenty of seating. The atmosphere is relaxed and laid-back, making it the perfect spot to enjoy brunch with friends or family.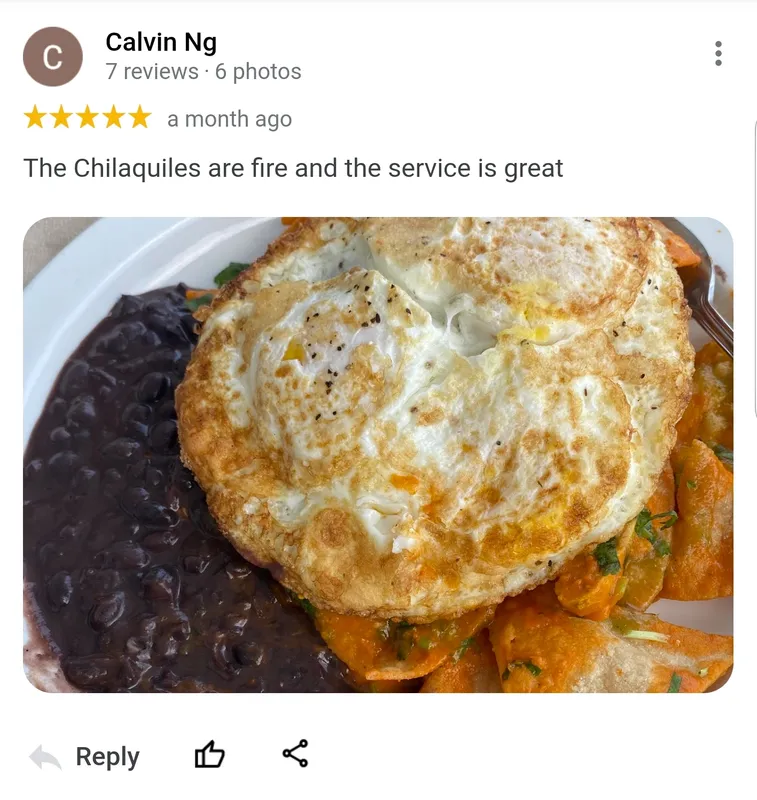 Fleur Café
1300 W Olympic Blvd Ste 102A
Los Angeles, CA 90015
Open 7 am-2 pm Mondays, 7 am-3 pm Tuesday-Saturday, 9 am-3 pm Sundays
It is easy to miss this little hole-in-the-wall brunch spot, but once you do, you'll always be ready to find it again! Fleur Café is a great spot to fill up on breakfast or brunch any day of the week. You can sit outside and enjoy the sunshine or take your brunch to go.
Fleur Café is a family-owned and operated spot, and it shows in its service. We love supporting small places like this where you can fill up on good food and know that you are supporting the local economy. Check out the burritos and chilaquiles, or order a stack of pancakes! The roasted potatoes on the side are also a big hit with customers.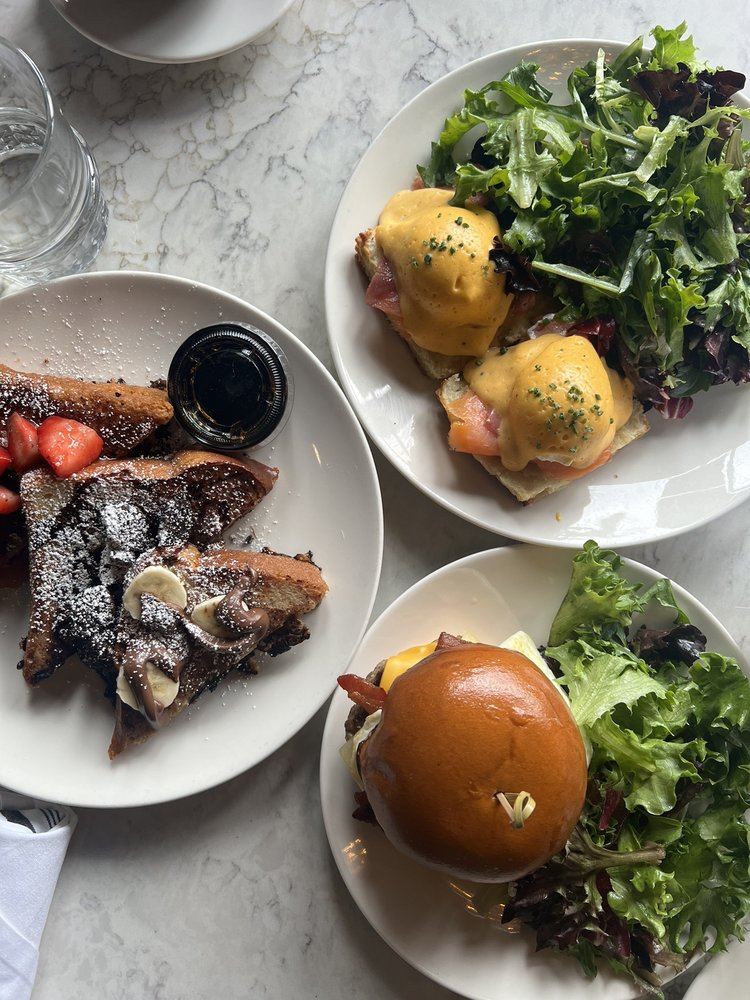 H Cafe
3200 W 8th Street
Los Angeles, CA 90005
Open 9 am-4 pm Everyday
While this brunch spot is a little bit of a way from the USC village, it is worth the effort. H Cafe is located in Koreatown and is a solid place to get brunch all day long! What is better than that?
H Cafe is a trendy and modern place to get your fill of delicious cocktails as well. You use the QR code to order, and the food service is pretty quick! The restaurant does have a parking area, but you may have to wait a while to get a table. H Cafe does offer a waitlist option on Yelp, making it easier to snag a spot without waiting too long.
Try any of the stuffed brioche french toast for a delightful bite, or go classic with an egg dish, sandwich, or the fried chicken and waffle options.
Mercado La Paloma
3655 S Grand Avenue
Los Angeles, CA 90007
Open 8 am-9 pm Sunday-Thursday, 8 am-10 pm Friday & Saturday
You can't get much closer to the USC village than Mercado La Paloma. As one of the best brunch spots that are within walking distance of campus, it is a favorite of many students and young professionals. You'll find a group of food stalls that feature a wide range of different cuisines. We love that this space is very community-oriented, with the chance to pick and choose your meal as well as appreciate the local art scene.
You'll find fair prices, a clean area, and some of the best brunch food around! If you are homesick for food made with love and a ton of experience, Mercado La Paloma is the place to go for some of the best food in the city.
Conclusion: Many Delicious USC Brunch Options
Finding the right kind of brunch spot to visit this weekend all depends on what you are looking for. Whether it is an authentic dive into Mexican cuisine at Mercado La Paloma or a quick bite to eat at Cafe Dulce, you can't go wrong with any of the best brunch spots on this list.
USC campus is the prime spot to easily get to all of these places without much effort, time stuck in traffic or if you're looking to move to the area. You can easily access the fancier downtown spots that sit high above the street or take in the smaller hole-in-the-wall places that rival the big guys with flavor and superior service.