Congratulations on getting into the University of California Los Angeles, one of the oldest colleges in the world-renowned UC system! Founded in 1919, this school is considered to be one of America's most prestigious universities. As a Bruin, you will soon have access to a wide range of undergraduate programs and a Film & Television archive that includes 200,000 movies titles and TV shows.
As a future resident of Los Angeles, you will soon live in an area where there is always something to do. LA is loved for its amazing year-round weather, with mild winters and dry summers. Locals, students, and young professionals are able to experience immense ethnic and cultural diversity.
People living in Los Angeles enjoy all the benefits of a sprawling metropolitan area, like world-class dining, huge shopping malls, and a large assortment of museums and music venues. Los Angeles has countless beaches, beautiful boardwalks, hiking trails throughout the city and in the nearby Santa Monica and San Fernando mountains, and over five ski resorts within less than two hours driving distance.
Known for its suburban sprawl, Los Angeles is home to over 9.5 million people. Most residents of LA live in coliving spaces, residence halls, high-end condominiums, or apartments. Due to a tight and pricey market, single-family homes are a distinct rarity. Coliving companies like Tripalink help provide peace-of-mind to anybody who may struggle with finding the right place to live.
Before you move in, be warned: from Santa Monica to the Hollywood Hills, the sheer amount of things to do and places to see in Los Angeles can be dizzying. So that you can quickly jumpstart your life as a Los Angelenos and stay focused on studies, here are a few things to do with your UCLA roommates!
Bruin Things to Do
At this UC, you'll be joining over 10,000 undergraduates. If you are coming to the University of California Los Angeles from abroad, don't sweat as you will still feel right at home amongst over 12,000 international students. Bruins have countless opportunities for interactions that contribute to academic success and personal growth. Unlike many schools, incoming Bruins are not required to live in a residence hall.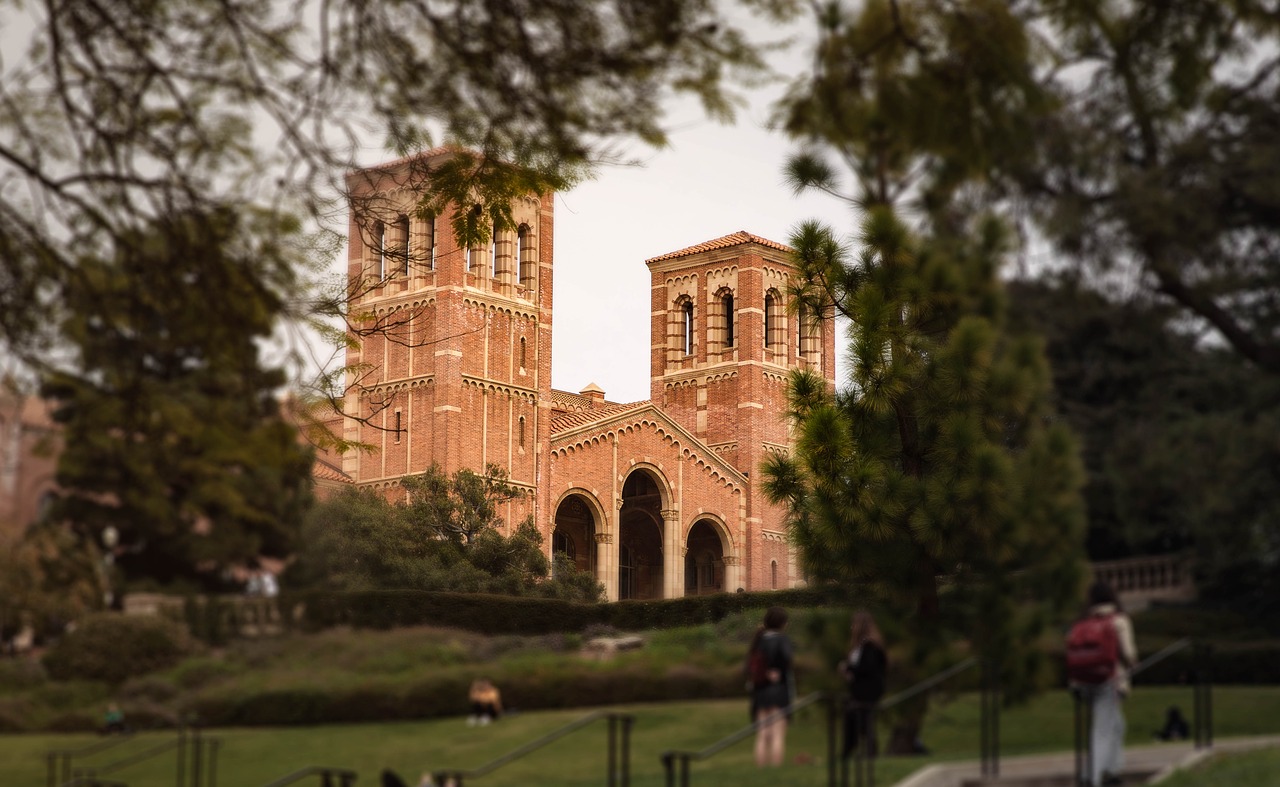 If you're a student submitting a housing application… or not… you will be able to attend many events and get to know your fellow Bruins! Residential Life, or ResLife for short, hosts thousands of programs and events a year for its residents. These events include TEDx and Geek Week. Student-run committees and organizations lead health and wellness workshops, hackathons, open mic nights, and much more.
Once you and your roommate wrap it all up on move in day, exciting events held during "True Bruin Welcome" will go on for two weeks! This is a great time to meet other Bruins.
Den Pass
Bruins are encouraged to purchase a "Den Pass," which gives them access to all football and basketball games, in addition to priority playoff tickets. Students can purchase their "Den Pass" on the Bruins app, which lets you view your ticket and manage parking. Although you and your roommate need your own "Den Pass," you can still share a vibe!
Transit Pass
It's highly recommended that you and your roommate sign up for a university-subsidized transit pass, which is available to those without a vehicle (and parking permit). If you have a car, sign up for the Bruin Commuter Transit Benefit program, which offers one free quarterly transit pass. Transit passes are good for use on seven LA transit agencies, including LACTMA's bus and rail lines. With over 97 miles of bus service, subway lines, and four rail lines, you can avoid traffic, relax, study, or read while promoting sustainability. Discounted transit pass pricing is available in the summer.
True Bruin Welcome
Once you are moved in, residential life at this school will be a sweet deal. "True Bruin Welcome" will help you adjust and thrive as a new student! "True Bruin Welcome" has dozens of events, which are all geared towards helping you to connect with new communities, make lifelong friends, understand Bruin traditions, and enjoy a taste of everything this UC has to offer. Weeklong interactive displays welcome you to the school and introduce you to its history.
Bruin Bash
"Bruin Bash" is the largest Welcome Event for new and returning students. This annual concert and festival takes place outdoors and also has secondary livestreams, which have been shown at Sunset Canyon Recreation Center. Screenings are festival-style, so attendees can sit in the amphitheater or bring blankets to enjoy the show from the grass. Last year's "Bruin Bash" saw performances from Tkay Maidiza, Yung Baby Tate, and Rico Nasty. Enjoying music is a great way for you and your future roommate to connect, so buy tickets now!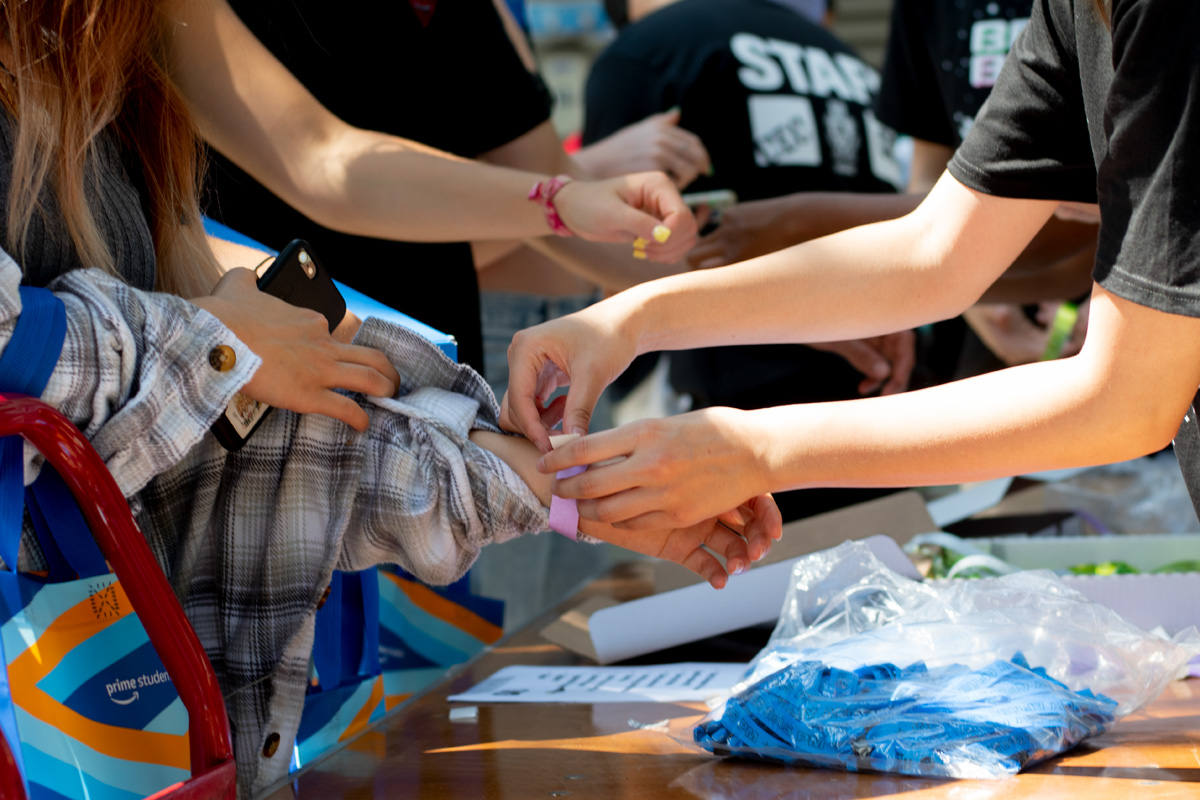 This is Bruin Life
"This Is Bruin Life" will feature artistic performances and welcome speeches from the Chancellor, student body president, leadership, current students, and alumni. Each speaker will share with you their passion for the school and how they continually work to create Bruin Life.
Westwood Block Party
The annual "Westwood Block Party" brings over 15,000 visitors to the Westwood community and is open to all students and local neighbors. The block party is held until the evening on move in day. There are games, activities, and vendors. Attending this event is a great way for you and your roommate to step-out into Los Angeles for the first time and discover everything this world-class city has to offer.
Bruin Athletics
It goes without saying that UCLA has a rich legacy of college athletics. This UC offers 14 varsity sports programs for women and 11 for men. Both Bruin women's and men's teams participate in NCAA Division I as part of the Pac-12 Conference and Mountain Pacific Sports Federation (MPSF). Bruins have 119 NCAA team championships, making them second only to Stanford University. In 2024, the Bruins will join the Big Ten Conference.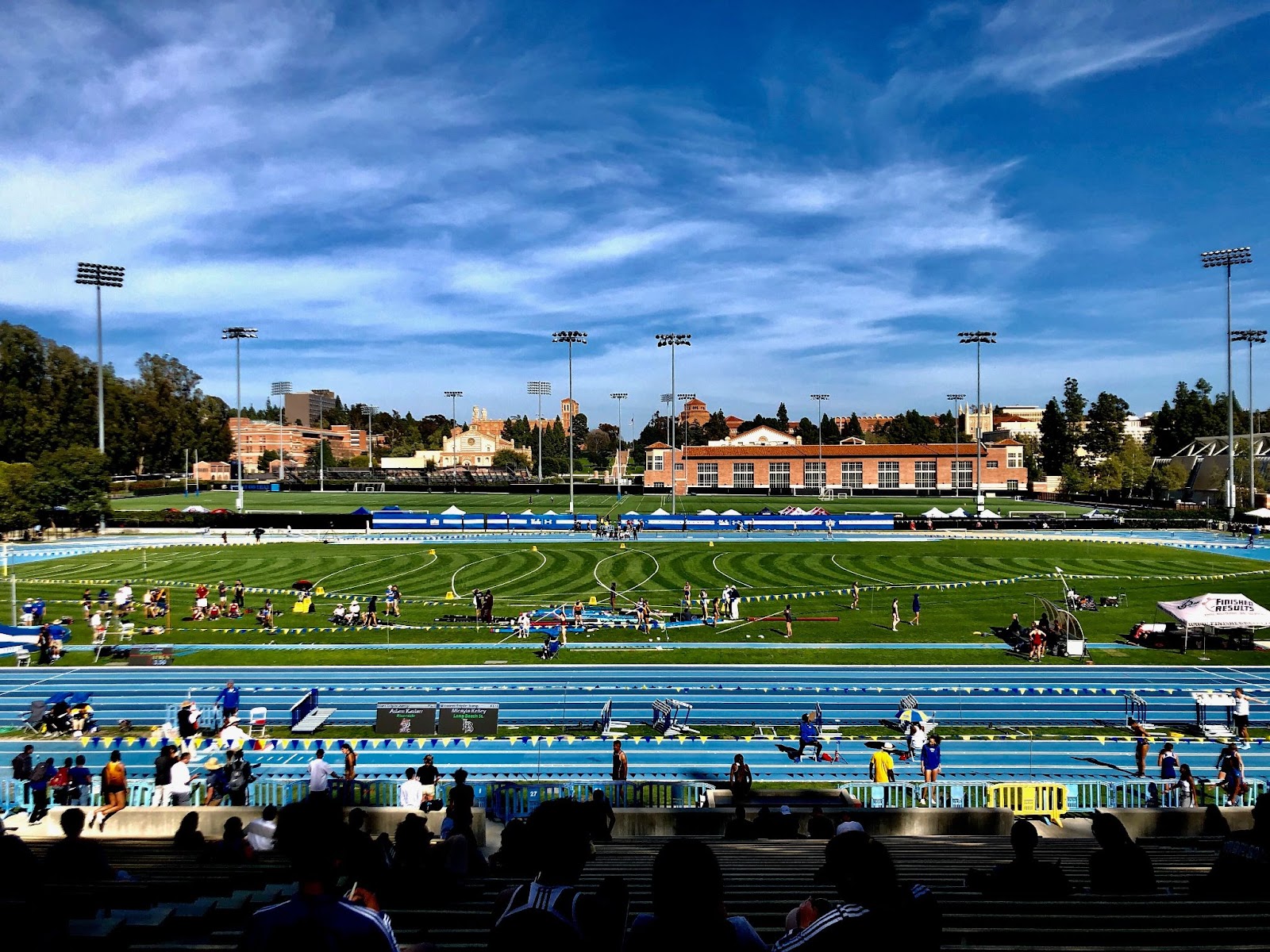 Track Meet at Drake Stadium, Photo by Jonathan Kaufman
The Rose Bowl, America's most famous college football stadium, has been the home of Bruins football since 1982. This iconic stadium has hosted the 1932 Olympic Games, was the soccer site for the 1984 Olympics, four Super Bowls, the 1994 World Cup, and the 1999 Women's World Cup. The Rose Bowl has a seating capacity of just over 90,000.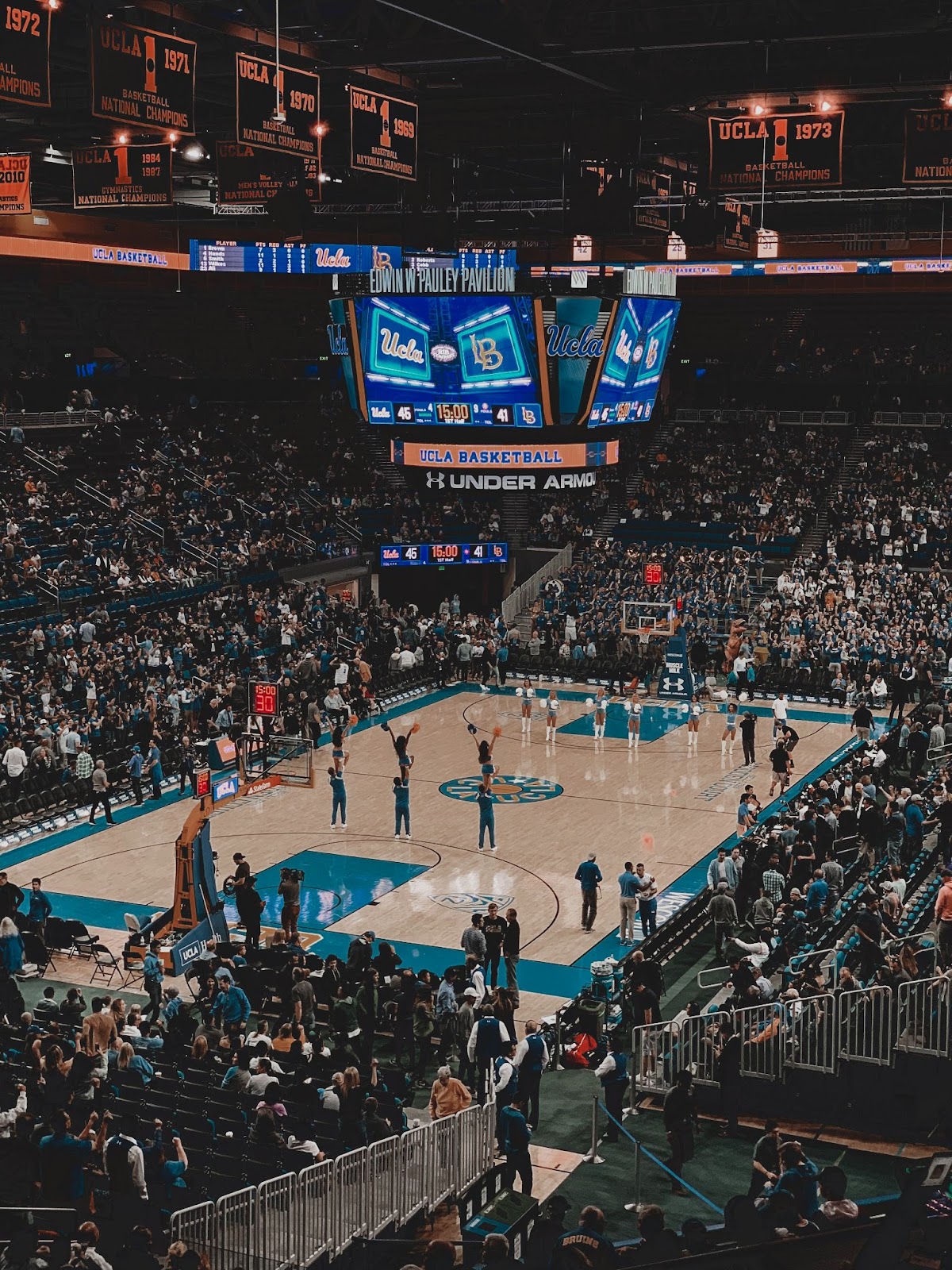 Pauley Pavilion, Photo by Francisco Lerma
If you're a fan of basketball, you will be able to catch games at Pauley Pavilion, an indoor arena located at the university, in the Westwood Village. Bruins Basketball is usually the NCAA favorite for championships. Mick Cronin, the programs 14th head coach, was named Pac-12 Coach of the Year in his first season (2019-20). As a Bruin, you and your roommate will be able to do your part and cheer your basketball teams on to fame.
Make no mistake, outside of events thrown by ResLIife, you will have plenty of opportunities to support, meet, and connect with fellow students and get to know your roommate. Once you've gotten used to Bruin life, the city of Los Angeles has plenty more to keep you inspired during your studies.
University Dining Options
There are several highly-rated university food options that you and a roommate can check out. Here, the culinary choices on offer are as diverse as the student body and include restaurants to fast food take-out and coffee shops to award-winning residential cuisine.
At The Hill, there are several options including Epicuria, De Neve, the Spice Kitchen at Feast, Bruin Cafe, The Study, The Drey, and Rendezvous.
North University offers Jimmy's, Burger Assembly, Fusion, and Epazote Mexican Grill while the South University has Blaze Pizza, Subway, Cafe Synapse, and Yoshinoya.
Central University is home to Plateia, Kikka Sushi, Carl's Jr, Rubios, and Panda Express.
Here's a quick rundown of some of the top food options you and your roommate can walk to:


Epicuria (The Hill) – A Mediterranean marketplace guided by Epicureanism, which is the idea that pleasure and comfort can be found by living a life of simplicity. This is reflected in the food, which are made with simple, fresh, and healthy ingredients



De Neve (The Hill, Central De Neve Plaza) – De Neve offers a large diversity of cuisines inspired by North, Central, and South America. Dishes served here include Chicago deep dish pizza, Texas barbecue brisket, chili spaghetti, pollo en crema, churrasco, sopa de caracol, and poutine.



The Study at Hedrick (The Hill, Lower level of Hedrick Hall) – A European-style artisan bakery cafe with a central fireplace and ample chairs, making for an ideal place to… you guessed it… study with your roommate. They serve coffee and a mix of European-influenced cafe foods.



Burger's Assembly (North University, LuValle Commons) – This is the go-to joint for burgers, chicken sandwiches, and wings. Bruins tip: the burgers are great, but the other spots are better for anything (and everything) else.



Blaze Pizza (South University, Court of Sciences) – One of many chain options at this university, students have left remarks about the excellent service. Blaze Pizza sells fast-fired, fresh, made-from-scratch pizzas with your choice of toppings.



Cafe Synapse (South University, across from Ronald Reagan Hospital) – This is a place where researchers and doctors of the Gonda Center and MacDonald Laboratories can connect. They serve Peet's Coffee and feature all-day breakfast, which include panini sandwiches and gourmet salads.
Roommate Adventures in Los Angeles
As Bruins, you and your roommate have a plethora of places you can check out at the university. Additionally, within walking distance, there are many sights to see.
University attractions that are roommate friendly:


The Fowler Museum – Located at the north-side of the university, this museum has free admission. Fowler explores global arts and cultures with an emphasis on works from Afriica, Asia, the Pacific, and the Americas. By exploring this museum with a roommate, you will both gain an enhanced understanding and appreciation of diverse people, cultures, and religions.



Sunset Canyon Recreation Center – As mentioned above, this is where "Bruin Bash" is live streamed. The university rec center is located on the west-side. Facilities nearby include a bike shop, fitness center with 60+ cardio machines and 50+ pieces of strength equipment, challenge course, basketball courts, tennis center, Marina Aquatic Center, rock walls and swimming pools. The Sunset Canyon Recreation Center itself features a park-like facility with an outdoor lounge space and community gardens.



Mildred E Mathias Botanical Garden – Named after a renowned North American Botanist, this 7-acre garden is located on the Southeastern-side of the university. The garden has a beautiful assortment of tropical and subtropical plants, including a unique collection of ferns, palms, eucalyptus, and figs. This garden has over 1,500 varieties of plants and is open year-round.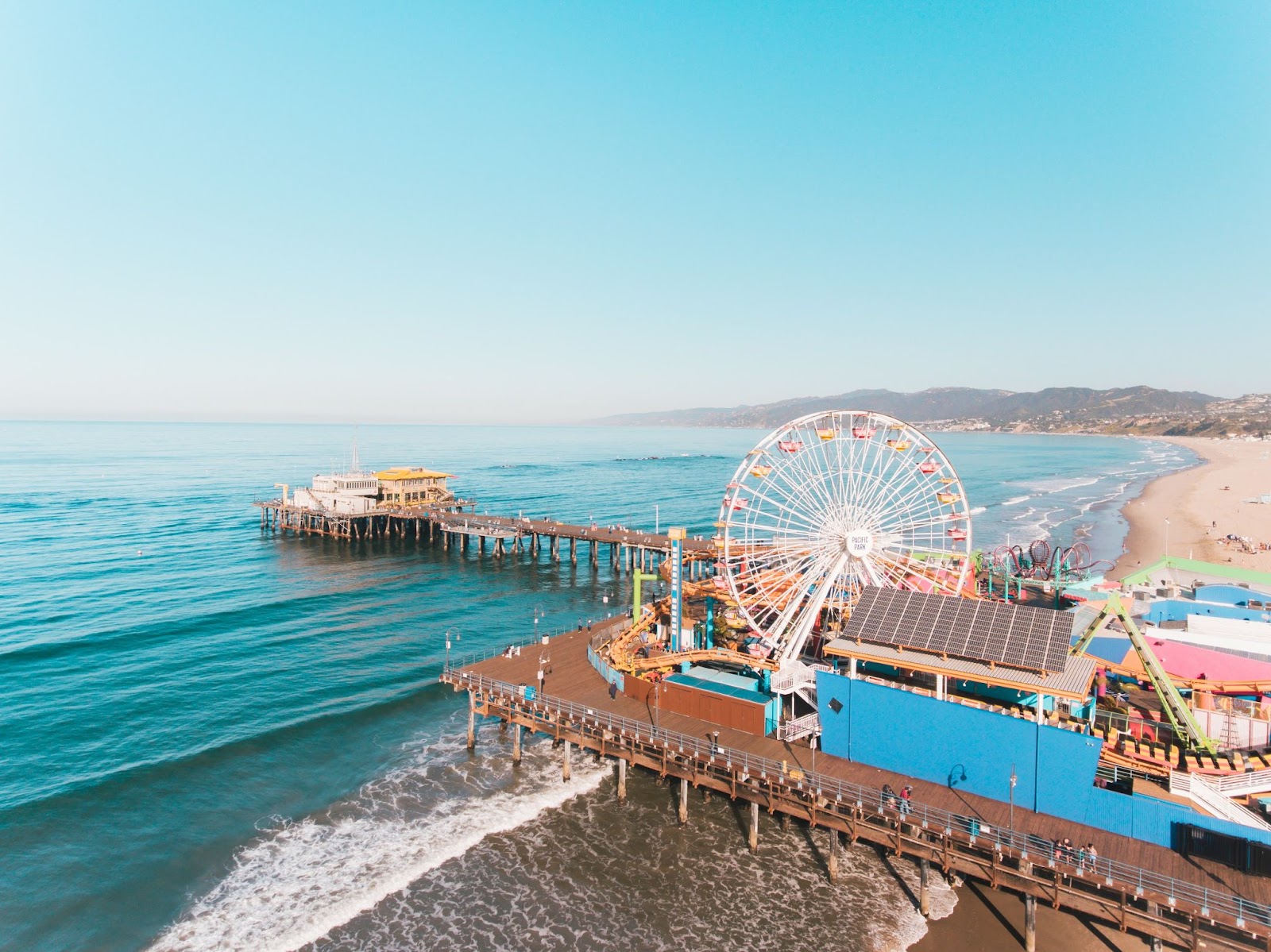 Santa Monica Pier, Photo by Matthew LeJune
Local attractions that you and a roommate can walk or transit to:


The Hammer – Located in the heart of Westwood Village and close to many West LA coliving spaces offered by Tripalink, The Hammer is a gallery with a permanent collection of historical works and special exhibits that feature contemporary art. Current exhibits include pieces from Andrews Bowers, sculptures by Kiyan Williams, and a functioning hot tub installation.



Geffen Playhouse – Also located in Westwood Village, you and your roommate can vibe like it's still the Roaring Twenties at Geffen Playhouse. This is a historical 1920s theater that showcases plays from original works to classics.



Koreatown – It might be cheating to mention a whole neighborhood, but you'd be cheated out of experiencing a vibrant 24/7 cultural marker of Los Angeles if a plug wasn't dropped. People living in Los Angeles make it a point to stop by Koreatown, and you should to! Koreatown is 10 minutes away by transit options, making it an ideal place to live off campus in a coliving unit. Koreatown has dozens of Korean BBQs, speakeasies, clubs, spas, bubble tea cafes, specialty grocery stores, and the art-deco Wiltern Theatre. If you need to freshen up your wardrobe, there are countless boutique and high-end shopping options.



The Getty – Perched high above Brentwood Heights, The Getty features art from the Middle Ages to today. A Los Angeles landmark designed by Richard Meier, the building highlights nature, culture, and features a stunning seasonally-updated garden that frames a maze topiary. If art is unappealing to you and your roommate, the breathtaking view of Los Angeles still provides a million reasons to visit.



Santa Monica Pier – You and your roommate wouldn't experience Los Angeles without stopping by the Pier and nearby Venice Beach. This massive 3.5 mile long power juts into the Pacific Ocean at the intersection of Colorado and Ocean. This is one of the most photographed locations in the world! From foods to a small theme-park, there is always something new to enjoy at Santa Monica Pier.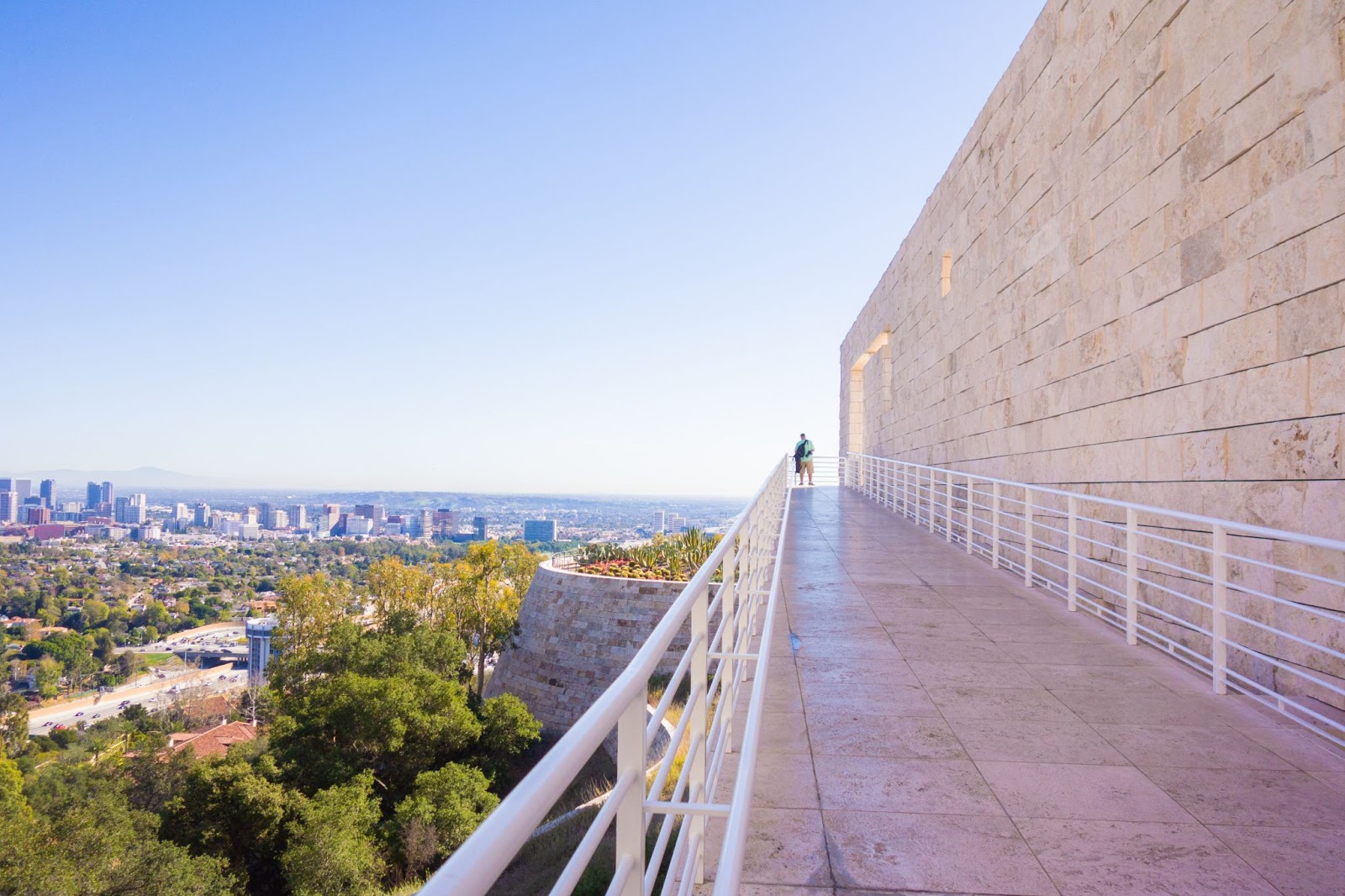 West LA view from Getty Center, Photo by Lydia Koh
Now that you're amped about living in Los Angeles, here's what you need to know about living at University of California Los Angeles. As a Bruin, you have many options from traditional residence halls to living in town at a high-end, fully-furnished, serviced, and spacious apartment.
On Campus Dorming
ResLife provides several housing options for incoming students. Bruins are able to choose from 17 residence halls. These buildings provide a variety of alternatives, which include living with roommates in double or triple occupancy residence halls, Plazas, or Suites.
The school guarantees that all undergraduates will have access to a dorm for the duration of their studies. This provides relief for incoming freshmen who may be worried about finding housing in California, which is known for having a tight rental market. Coliving companies are a great way to find both your ideal roommate and space ideal for hosting friends and study groups.
Reslife primarily offers triple-occupancy living options, even in newer buildings like De Neve Holly. There are a few doubles and singles available, but most Bruins are assigned a triple. Triples consist of a bunk bed and one lofted bed that has a desk and closet underneath. Double rooms have two beds on the floor that can be moved, each bed has a desk. Storage can be tight, as these dorm-style rooms are small and will typically only have a single dresser or cabinet for each student. If you want more space for your studies, coliving companies offer many alternatives in Westwood and Koreatown.
Move in day starts in the Fall, typically mid-September. This is a great time to introduce yourself to other Bruins and get to know them, as class generally begins the week of September 25th. ResLife hosts "True Bruin Welcome," which consists of dozens of events that help you meet other Bruins, learn about the university, and introduce you to techniques to be successful during your studies.
International Student Housing
International students typically live in university-sponsored off campus living options which include privately-owned residence halls, homestays, and furnished apartments. Some of these options are available year-round, account for preferences in terms of length of stay, are in close proximity to the English Language Center, and may include daily meals. Unfortunately, due to scarcity, placement is not guaranteed in a sponsored dorm.
If your international student housing application does not pan out, it's a great idea to work with a coliving company. Tripalink, one of LA's most popular coliving companies, can help you find your home away from home. Coliving spaces are a great alternative for international Bruins. They offer more space allowing for storage and hosting study groups. Many of these units are turnkey-ready, fully-furnished, feature weekly maid service, and provide extra amenities.
If you choose to find a place to live in Los Angeles through Tripalink, you will enjoy:


Private room: every member has their own room to allow peaceful studies and rest

Spacious common area: a place to hang with friends and new study buddies

High-end modern kitchen: up-to-date appliances can help you develop your cooking skills while staying on budget

Fully furnished: don't worry about any heavy lifting, just bring yourself and your books!

Utilities included: taking care of utility bills can become messy, coliving companies like Tripalink take care of the hassle just like reslife would

Security system: apartments are secured with FaceID, fingerprints, or a password

Matching system: your preferences are considered to ensure an ideal match

Weekly cleaning: don't worry about disagreements over dirty dishes and unkept bathrooms, instead focus on living in beautiful LA and your studies
Off Campus Living
Sold on having a private room? Interested in connecting with fellow young professionals in a furnished apartment? Worried about a late housing application? Want to host networking parties somewhere other than a dorm? Want a weekly maid service that freshens up your space? Don't want to worry about splitting utility bills with a roommate? Stop being concerned, because Residential Life does not require you to live in a hall, even if you and your roommates are freshmen!
Don't worry if De Neve Holly and other university-sponsored living options don't appeal to you. Coliving spaces are an ideal option for students and young professionals who wish to live closer to cafes, restaurants, and shopping options. If you desire extra living space that allows you to connect with like-minded people and have a roommate "study zone," then UCLA off campus housing is for you!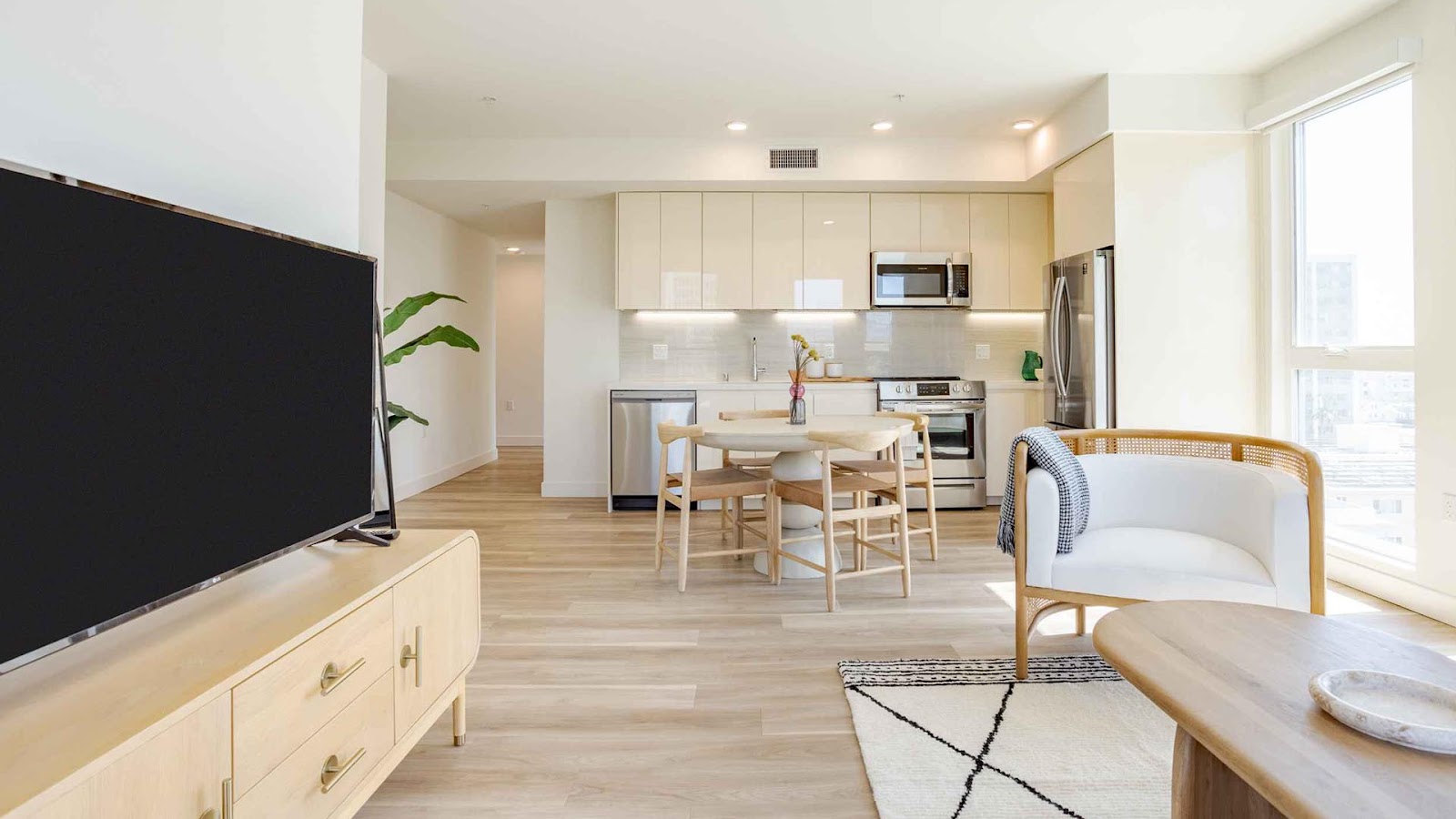 Photo by The NEXEN
Living in a residence hall is not the only way for new Bruins to get acquainted with fellow Bruins and learn LA's ropes! This UC holds plenty of events year-round, so you will always have ample opportunities to hang with other Bruins. Los Angeles is home to a large and diverse diaspora of young professionals with varying cultural, social, and educational backgrounds. Living in the city is a great way to meet LA locals and make yourself part of the community. Any Bruin who opts to live off campus will still have ample opportunities to network and build lifelong relationships with their roommate and others they meet.
If a relaxed lifestyle, extra amenities, and more space for studying seem appealing, there are plenty of coliving options in Westwood that won't break the bank. If you're a future Bruin who wants access to Kpop, 24/7 dining and entertainment options, and premium shopping, check out these newly-built studio apartments in Koreatown. These spaces are a popular choice as they combine the benefits of living in a residence hall with full-fledged premium amenities and access to the city!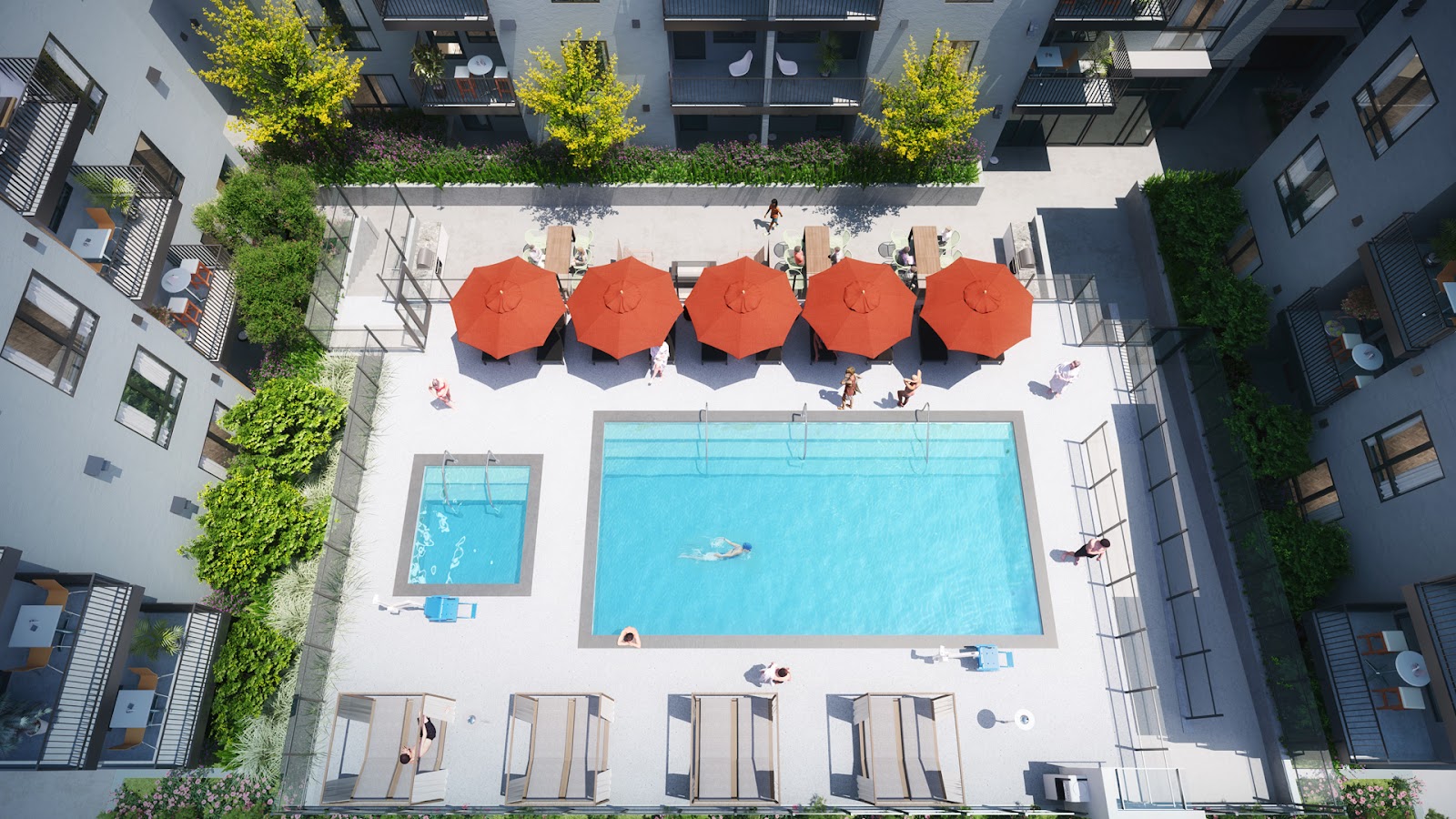 Photo by The NEXEN
Coliving companies are a great resource for anybody moving to the Los Angeles area. Students seeking to balance the ability to socialize, network, and study in comfortable housing, should consider Tripalink's wide selection of private, high-end, and furnished apartments and coliving units. You and your roommates can move in and start studying or enjoying city-living within minutes of arriving in LA and take advantage of UCLA off campus housing. Weekly cleaning service for some properites and other benefits help future young professionals save time and focus on what matters most.
Live life and study easy. No matter who you are, living in the city is a great way to jumpstart your Bruin life and solidify yourself as a Los Angelenos.